View the article online at http://citywire.co.uk/money/article/a597204
Market Blog: 'QE trade' helps FTSE to 100 point gain
Imagination Technologies (IMG.L) tumbles as analysts reckon the iPad chip designer is too highly valued. FTSE 100 and global markets rise.
16.21: 'The QE trade is back in fashion' remarked Chris Beauchamp, an analyst at IG Index, as the FTSE 100 extended this morning's gains to rise over 100 points to within a whisker of 5,600 on hopes that the US Federal Reserve's FOMC committee will step in and provide monetary support at the conclusion of its two-day meeting tomorrow.
US markets were also powering higher on that same intangible hope, while the euro and Brent crude oil futures – earlier pushed to a 16 month low – also benefited.
To sum up today (with more detail in posts below):
US markets open higher, following FTSE and other European markets up
Imagination Technologies (IMG.L) shares dropped despite profits surge
Analysts rain on Home Retail Group's parade
Whitbread perks up FTSE with strong Q1
Central banks ready to intervene, says BoJ
UK inflation drops more than expected
Oil price drops sharply to 16 month low, but recovers
14.49:
Investors in US stocks are again betting on action from the Federal Reserve, pushing up shares after a mixed report on US housing.
The Dow and S&P 500 were both up around 0.5%, following gains across Europe. The move higher comes as the US Fed's decision-making panel begins a two day meeting which some economists believe could result in stimulus, possibly the continuation of 'Operation Twist'.
Government figures on the US housing market showed an 8% jump in building permits in May to their highest level since September 2008. But other stats – including housing starts – fell, allowing different interpretations of the data.
Oil price drops sharply, but recovers
13.55: The oil price continued to plumb new lows for 2012 this morning, with Brent crude futures at one point falling to a 16 month low of $94.44 per barrel.
Oil price: Click to enlarge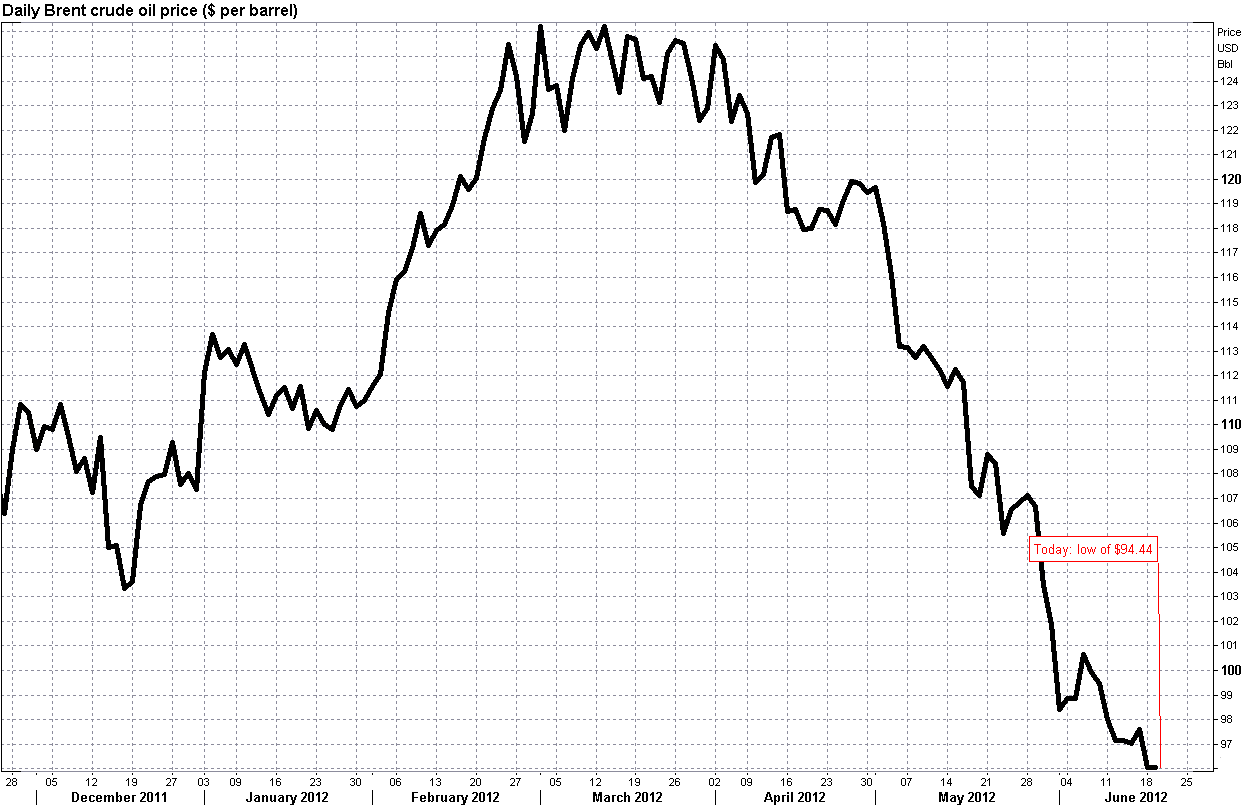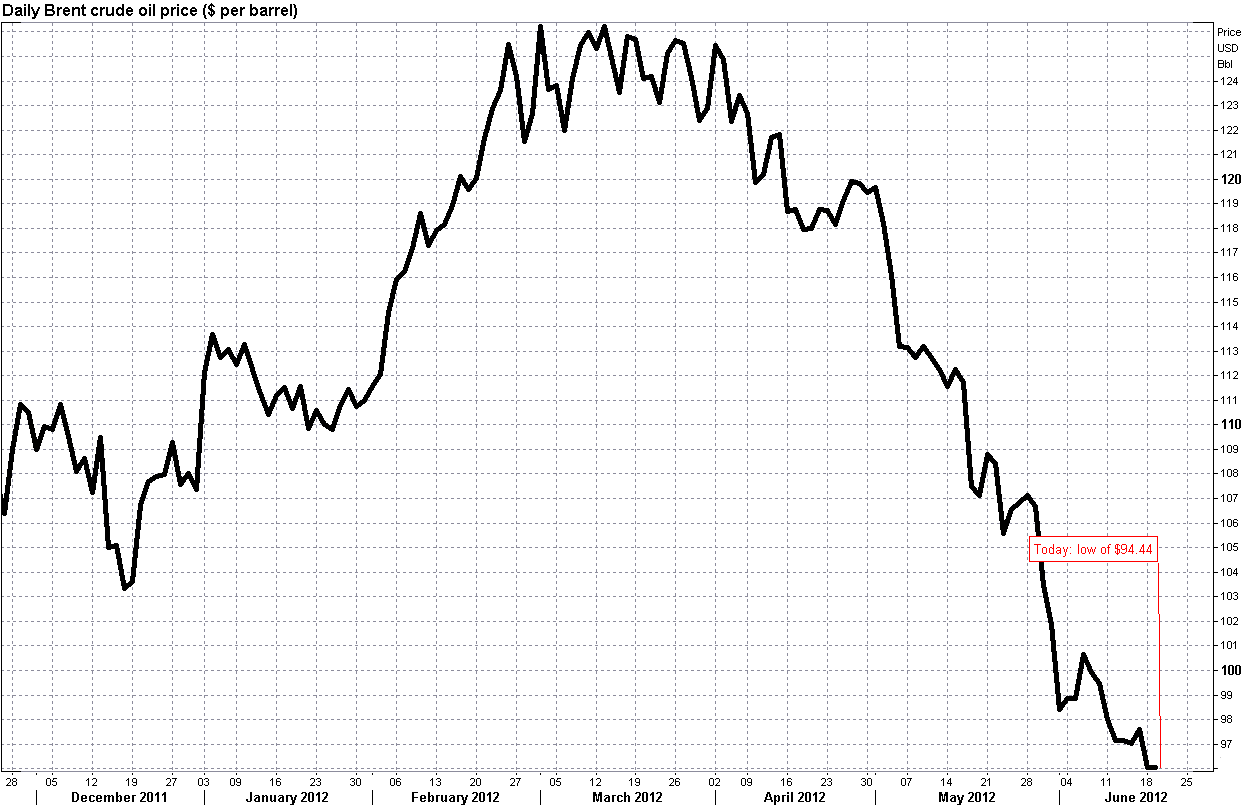 The eurozone crisis and global economic languor have taken their toll, alongside continued oversupply, analysts note. After hitting that low this morning, Brent crude climbed again to $95.77.
Having started the year on the rise – and prompting fears of a damaging spike – prices have been tumbling since mid-March, in line with stock markets and worsening sentiment over the eurozone's fate. Lower oil prices do of course help the consumer, and are partly behind the fall in UK inflation reported this morning.
A warning against German optimism
10.31: A quick update on today's eurozone news – none of it pretty.
An index of investor sentiment in Germany – Europe's supposed economic powerhouse – has plummeted, with the ZEW indicator marking its strongest decline since October 1998.
Wolfgang Franz, president of the ZEW think tank, was downbeat on the survey's implications: 'The financial market experts' expectations are a strong warning against a too optimistic assessment of Germany's economic perspectives in the remainder of this year.
Elsewhere, Spain tested the market with an auction of one year and 18 month government bonds, and ended up paying the highest average yield in the euro-era: 12-month T-bills at an average yield of 5.07% and 18-month paper at an average yield of 5.107%, or 'prohibitively expensive' as Marc Ostwald of Monument Securities described it.
UK inflation drops more than expected
10.11: Some rare good news for the UK economy: inflation dropped to 2.8% in May on the CPI measure. Full story here.
This chart, from data company Markit, shows how falling commodity prices - in line with the weakening global economy - are dragging down inflation around the world:
Global inflation fall: Click to enlarge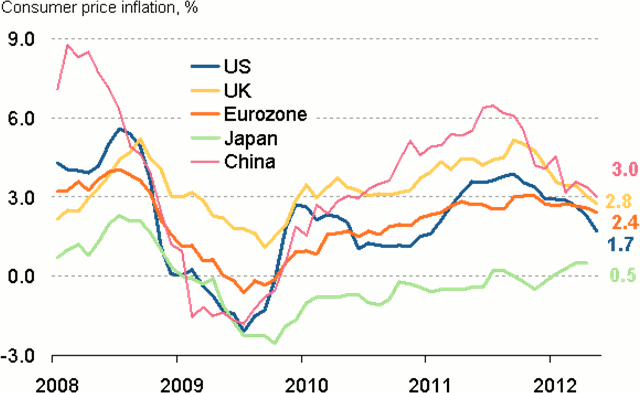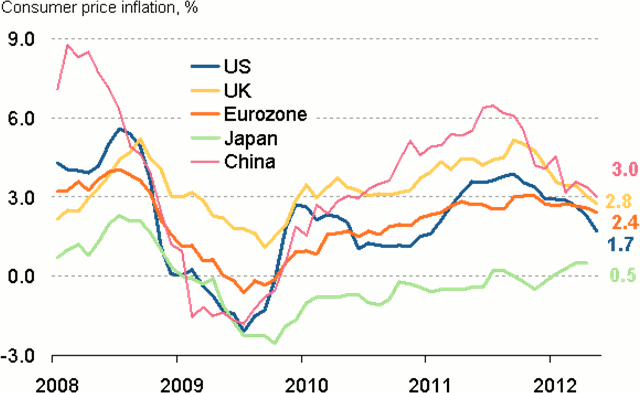 Imagination slides despite profits surge
09.50: Talking of iPads. Imagination Technologies (IMG.L), which designs the chips that power Apple's iPhone and iPad, has delivered a 53% surge in full-year profits but the shares continue to slide.
Chief executive Hossein Yassaie said he was 'confident of our continued good progress' as adjusted pre-tax profit for the year to 30 April came in at £36.8 million.
Imagination is a long-term top 10 holding of Nigel Thomas' AXA Framlington UK Select Opportunities fund, which also puts it in Citywire Top Stocks. The company ships over 1 million devices every day and is on track to hit its target of 1 billion by 2016.
However, even after a steep fall since March, the shares are expensive trading on 36.5 times Liberum's forecast earnings for next year. Although it says the results were broadly in line, with weak licensing revenue offsetting higher royalties, Liberum analyst Eoin Lambe says 'sell'.
Imagination shares, which have risen 277% in five years, have fallen 6% or 29p to 456.5p. They have fallen 13% this year partly over increased competition fears from ARM Holdings (ARM.L), up 2.8% to 504p.
Analysts rain on Home Retail Group's parade
08.55: Home Retail Group (HOME.L) has shot up nearly 17% or 12.5p to 87p following its first quarter trading statement but analysts aren't impressed saying the Homebase and Argos operator has big problems.
Homebase like-for-like sales fell 8.3%, hit by the bad weather in April, although margins improved. Argos sales held up better with like for likes (LFLs) down 0.2% but on weaker margins. Seymour Pierce reckons the better than expected performance from Argos is the result of strong demand for laptops and iPads.
'Although the share price is likely to be marked up this morning, we remain concerned that the decline in profits is structural and set to continue. We note that Q1 LFLs have declined by almost 20% over the last three years,' analyst Freddie George said in a note, reiterating his 'sell' recommendation and 70p target price.
Philip Dorgan at Panmure agreed: 'We remain negative, because we believe that Argos has too many stores, too high a fixed cost base and is close to making losses.' His target price is 51p.
Home Retail Group shares have halved in the past year.
Whitbread perks up FTSE with strong Q1
08.25: Whitbread (WTB.L) surges to the top of the FTSE 100 as first quarter sales smash expectations. A strong performance from its Costa Coffee chain and its budget hotel business Premier Inn, both of which it plans to expand, lifts the shares nearly 6% or £1.12 higher to £19.61.
Underlying sales rose 4.5% in the 13 weeks to 31 May, with like-for-like sales at Costa up 8.4% and up 4.3% at Premier Inn. Jeffrey Harwood of Oriel Securities said 'the group has significant growth opportunities'.
Chief executive Andy Harrison (pictured) cautioned that the second quarter could be affected by the Olympics. 'For the second quarter we face tougher comparatives against a strong result last year, together with the uncertain impact of this summer's major sporting events.'
The FTSE 100 extends its gains to trade 42 points higher at 5,533.
Central banks ready to intervene, says BoJ
8.10: The FTSE 100 gets off to a good start after the governor of the Bank of Japan, Masaaki Shirakawa, says central banks are working closely together and are prepared to pump more money into the global financial system.
According to Reuters Shirakawa told Japan's parliament: 'As we experienced after the (collapse of) Lehman Brothers, once financial system stability falls apart it has a very severe impact on the global economy, as well as on Japan's economy. We central banks are ready to cooperate closely in providing liquidity to markets', he said.
The promise of fresh liquidity comes amid growing fears over the position of Spain and a perception that a €100 billion bailout of its banking system may have backfired and weakened its credit rating on bond markets. The country will attempt to raise money in a bond auction today.
The FTSE 100 rose 32 points, or 0.6%, to 5,523 in early trading.
News sponsored by:
The Citywire Guide to Investment Trusts
In this guide to investment trusts, produced in association with Aberdeen Asset Management, we spoke to many of the leading experts in the field to find out more.
More about this:
Look up the funds
Look up the shares
More from us
Archive
Today's articles
Tools from Citywire Money
Weekly email from The Lolly
Get simple, easy ways to make more from your money. Just enter your email address below
An error occured while subscribing your email. Please try again later.
Thank you for registering for your weekly newsletter from The Lolly.
Keep an eye out for us in your inbox, and please add noreply@emails.citywire.co.uk to your safe senders list so we don't get junked.