View the article online at http://citywire.co.uk/money/article/a417507
Morning Line: is Vince Cable signing out?
Vince Cable's minimalist ministerial signature is gathering attention. What do you think it says about the nation's favourite economist? Is he cool or depressed?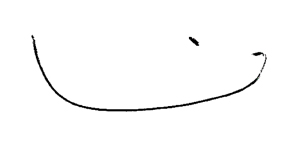 Vince Cable's minimalist ministerial signature is gathering attention. What do you think it says about the nation's favourite economist? Is he cool or depressed?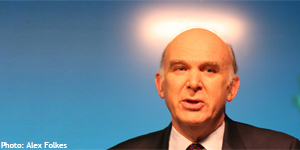 After all the spin about further crackdowns on bank profits and talk of relaunching regional stock exchanges the most striking thing about yesterday's government green paper on lending to businesses during the downturn was the sight of Vince Cable's signature at the start of the document.  
Signatures can be idiosyncratic things, obviously, but rarely do you see a personal sign-off pared down so far.
The minimalist feeling is accentuated by the presence under the report's foreword of a co-signature from Cable's arch rival, the chancellor George Osborne. His offering is far more conventional.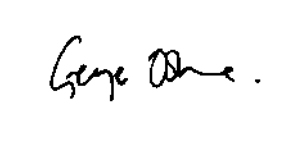 What do we make of this? Is Cable a man in a hurry or is he trying to tell us something about the pain of working with the Tory number two? I'm no graphologist but I'd say the signature could be the sign of frustration or feigned indifference of a man who is not engaging with the task in hand because he knows he does not have the power to do what he wants.
I'm not alone in thinking it is all a bit odd. Blogging on the Telegraph website yesterday David Hughes felt Cable needed to lighten up or he was doomed.
Kevin Maguire, Daily Mirror political editor, has previously picked up on the strange signature, as has an amusing contributor to the Sunderland Message Board.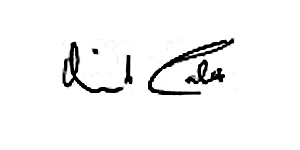 The funny thing is that Cable does know how to do a proper signature, as we can see on his website.
Perhaps he was doing some creative drawing. The start of a self portrait in the style of Kandinksy perhaps?
PS - The 'financing a private sector recovery' paper really was a disappointment, full of analysis as to why something had to be done to ensure small and medium-sized businesses get the financing they need, but committing itself to nothing. 
The government needs to take control of the situation and give either Osborne or Cable responsibility for resolving this important issue or a double dip recession is what we might get, despite last week's surprisingly good economic growth figures.
News sponsored by:
Greater Europe and Emerging Europe A comprehensive approach to investing in Europe
Making the most out of Europe's potential means seeing things differently. Learn more about how BlackRock's focused approach to investing in Europe helps investors unlock the continent's vast potential.
The Citywire Guide to Investment Trusts
In this guide to investment trusts, produced in association with Aberdeen Asset Management, we spoke to many of the leading experts in the field to find out more.
More about this:
What others are saying
Archive
Today's articles
Tools from Citywire Money
Weekly email from The Lolly
Get simple, easy ways to make more from your money. Just enter your email address below
An error occured while subscribing your email. Please try again later.
Thank you for registering for your weekly newsletter from The Lolly.
Keep an eye out for us in your inbox, and please add noreply@emails.citywire.co.uk to your safe senders list so we don't get junked.