Citywire printed articles sponsored by:


View the article online at http://citywire.co.uk/money/article/a709751
Neil Woodford to leave Invesco Perpetual
(Update) Star fund manager quits to set up a new firm. Invesco lines up managers to take over his £26 billion funds amid talk of of an exodus by investors.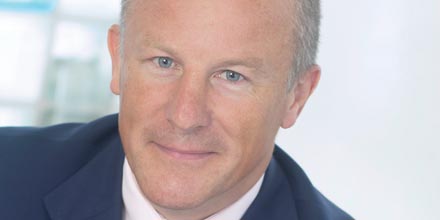 Neil Woodford, the country's best known and most powerful fund manager, is to leave his employer of 25 years and set up on his own.
Citywire A-rated Woodford, manager of £26 billion of investors' money in the Invesco Perpetual Income and High Income funds and the Edinburgh investment trust, will leave Invesco Perpetual in six months' time.
In a statement Woodford said: 'My decision to leave is a personal one based on my views about where I see long-term opportunities in the fund management industry. 
'My intention is to establish a new fund management business serving institutional and retail clients as soon as possible after 29 April 2014.'
The decision to set up a rival investment group presents a huge challenge to US-based Invesco, which has benefited from Woodford's high profile for many years.
The group, which has £70 billion in funds under management, will be desperate to retain as many of Woodford's investors as it can but, despite the calibre of the managers it has, this will be difficult.
The £11 billion Invesco Perpetual Income and £14 billion High Income funds will pass to Mark Barnett (pictured) ahead of Woodford's departure. Citywire AA-rated Barnett is currently manager of the Keystone and Perpetual Income & Growth investment trusts and the Invesco Perpetual UK Strategic fund.
He will also succeed Woodford as head of UK equities, a role the manager made famous as he engaged with the companies in which he invested. Most recently he clashed with the boss of BAE Systems after the defence contractor attempted a merger with EADS, which would have endangered the group's attractive dividend. 
Meanwhile the UK equity portion of the Invesco Perpetual Monthly Income Plus fund will go to Ciaran Mallon, also currently Citywire AA-rated, who runs Invesco Perpetual Income & Growth . The rest of the fund is run by the group's star fund managers Paul Causer and Paul Read.
Mark Armour, chief executive of Invesco Perpetual, the UK division of Invesco, said it had been 'a privilege for us all to work alongside him, and I understand that, after 25 years, he is ready for new challenges.'
He said : 'We have planned for succession for many years and have built a world-class investment culture that develops and supports gifted and experienced managers.'
He added: 'Our over-riding priority is to look after our clients' interests through a well-ordered transition process.'
Woodford's way
Woodford's long-term track record has seen him dominate his peer group, with his two unit trusts taking first and second spot in the competitive UK equity income sector over 10 years. In that time the High Income fund has grown investors' money by 230%, the Income fund by 224%. Apart from a spell around 2011 he has been fairly consistently rated by Citywire since our performance ratings began in 2003.
But his achievement is best shown in the 25-year performance of the Income fund. It has generated a total return of 1,688 per cent since he took over the fund, compared to the 669 per cent from the average UK equity income fund (see chart below)
Woodford has been widely admired for sticking to his investment beliefs. He came close to being sacked in 1999 as the dotcom bubble peaked, leaving his performance trailing. When the profitless tech stocks plunged, his funds soared as a modicum of sanity returned to the stock market.
Hold or fold?
Jason Hollands, managing director of Bestinvest, the investment broker, said there was no need for rash action by investors as Woodford and Barnett had worked together for nearly 20 years. 'Our research team met Barnett recently and their styles are very similar, with a high crossover of stock names between their respective portfolios.' Nevertheless, the firm had downgraded the Income and High Income funds to three stars from four stars.
Some investors were voting with their feet, however. Shares in Edinburgh investment trust fell 5% or 29.5p at the news of Woodford's departure. In a statement its board said it would review the situation and make an announcement in due course.
Speculation about Woodford's intentions had surfaced over the years but had died down in recent times given the  independence he had secured for his team in Henley on Thames.
Tim Cockerill, investment director at Rowan Dartington, said Woodford's move was bigger news than Anthony Bolton's decision to stop managing Fidelity Special Situations because of the amount of money he looked after. 'On the one hand, there is likely to be a very strong exodus following him to his new company but until that is set up and investors know what he is offering, there is little reason to move.
'On the other hand, the size of the outflow could potentially depress some of the stock values within the fund, so exiting sooner might be best.'
For more information see Invesco Perpetual's statement on today's management changes.
Invesco Perpetual Income (% total return since Woodford managed)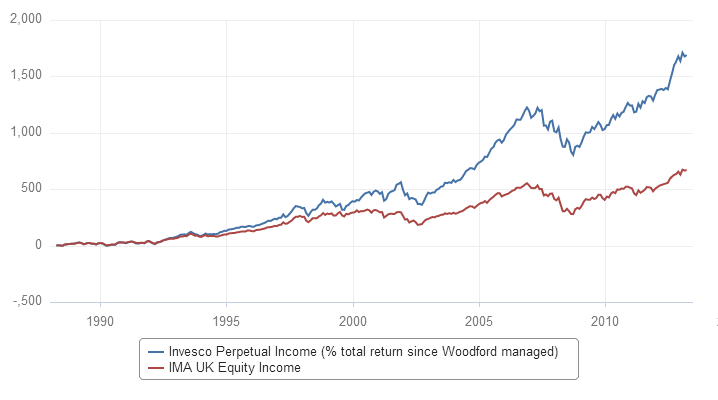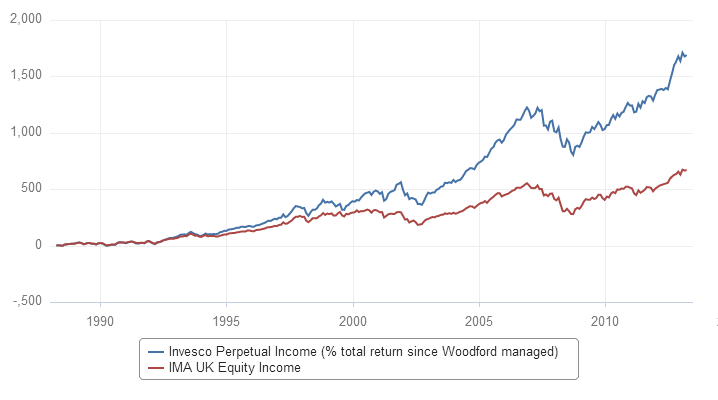 More about this:
Look up the funds
Look up the investment trusts
Look up the fund managers
More from us
What others are saying
Archive
Today's articles
Tools from Citywire Money
Weekly email from The Lolly
Get simple, easy ways to make more from your money. Just enter your email address below
An error occured while subscribing your email. Please try again later.
Thank you for registering for your weekly newsletter from The Lolly.
Keep an eye out for us in your inbox, and please add noreply@emails.citywire.co.uk to your safe senders list so we don't get junked.