Citywire printed articles sponsored by:
View the article online at http://citywire.co.uk/money/article/a892253
Pension, ISA or Lisa: which is best for young savers?
Those under 40 now have more choice about how they save. But how does the new 'Lifetime ISA' stack up?
by Michelle McGagh on Mar 17, 2016 at 16:29
Younger savers now have the choice of stashing their cash in a pension, ISA, or 'Lifetime ISA' (Lisa) – but which one is best?
In the Budget this week, chancellor George Osborne was true to his word and didn't tinker with pensions, but he did give them some competition by bumping up the ISA limit to £20,000 (from next year) and introducing the Lisa.
The Lisa is for those aged 18 to 40 and has been designed as a cradle-to-grave savings account. Individuals will be able to save up to £4,000 a year in the new ISA and the government will top it up with a 25% bonus, meaning for every £4 saved the government gives you £1.
The £5,000 saved in the Lisa each year, including the government top up, will count towards the new £20,000 ISA limit, which will increase from £15,240 next April.
The money in the Lisa can be used to buy a first home worth up to £450,000 or individuals can continue to save, and receive the 25% bonus, until the age of 50.
If the money is accessed after age 60 it can be taken tax-free, but if it is accessed before age 60, unless you are buying a home, the government bonus will be lost – including any interest or growth – and you will have to pay a 5% charge.
With more incentives to save for homes and retirement being thrown at young people, there are more decisions to make on where to put your savings.
Pay £80 to get £100
The Institute of Fiscal Studies (IFS) said the Lisa provided a clear saving incentive.
Stuart Adam, senior research economist at the IFS, said if a person saved the maximum £4,000 a year from age 18 to 40 'they can get a maximum top up of £32,000 from the government for a contribution of £128,000 that you make yourself'.
Adam analysed how much a person would have to contribute personally into an ISA, Lisa, and pension in order to reach a £100 contribution.
Pension, ISA or Lisa? Click to enlarge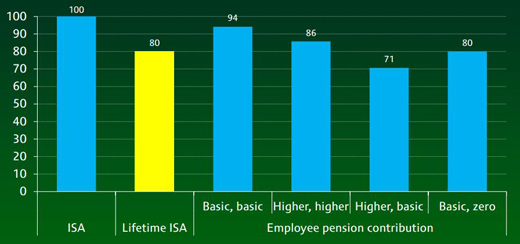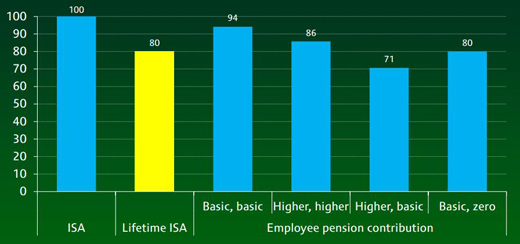 Saving £100 into an ISA costs £100 as there is no government top up, whereas saving £100 into a Lisa would only cost £80.
The amount saved into a pension is slightly more complex as Adam took into account the income tax rate paid while saving (which determines the tax relief received) and the income tax rate in retirement – he also factored in the 25% tax-free lump sum.
For a person who is a basic rate taxpayer paying 20% income tax in working life and in retirement, a £100 pension contribution would cost £94.
An individual who pays higher rate tax of 40% in both working life and retirement, would only have to make a contribution of £86 to receive £100.
Someone who is a 40% taxpayer in working life and pays zero rate income tax in retirement would only need to contribute £71 and someone who pays 20% income tax in working life and no tax in retirement (which applies to most workers) would have to contribute £80 - the same as saving into the Lisa.
Adam said the incentive to save into a pension 'depends on the tax band at the time of putting money in and at the time of withdrawing it'.
For higher rate taxpayers he said paying into a pension was still the best deal as it was unlikely they would pay 40% tax in retirement as the amount you can save into a pension had been reduced.
'It will be hard to be a higher rate taxpayer in retirement and most people who are working will be a basic rate taxpayer in retirement,' he said.
He added that half of basic rate taxpayers would pay no tax in retirement and 'in tax terms the pension and the Lisa look pretty much exactly the same'.
What about employer contributions?
However, Adam's calculations do not take into account the employer contribution that individuals receive through their workplace schemes, just the government incentive.
By 2017, the auto-enrolment rules will insist all employers pay 3% into their employees' pensions as long as employees are contributing 4% - the government then tops up the contribution with a further 1%.
'What [the calculations] show is the tax incentive, and what the government does to incentivise [saving],' he said. 'If you put money in and the employer matches it then that will be an incentive.
'The way auto-enrolment works, if you contribute a certain amount of earnings your employer will march that, which is an incentive to contribute that amount. But if you are putting more in [to the pension] the employer does not have to put more money in.'
Adam said once workers had received their total employer match on their pension contributions, they should look at which savings vehicle would offer them the best deal.
Sponsored By:
More about this:
More from us
Archive
Weekly email from The Lolly
Get simple, easy ways to make more from your money. Just enter your email address below
An error occured while subscribing your email. Please try again later.
Thank you for registering for your weekly newsletter from The Lolly.
Keep an eye out for us in your inbox, and please add noreply@emails.citywire.co.uk to your safe senders list so we don't get junked.
Latest from Investment Basics