View the article online at http://citywire.co.uk/money/article/a651948
Pensioners in drawdown to receive income boost from March
The limit on the amount of income that can be taken in drawdown is to be increased in March.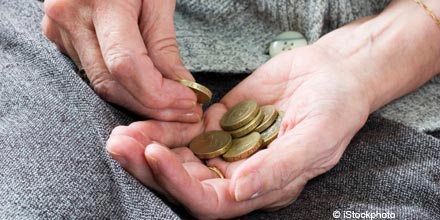 Pensioners in drawdown will be able to take an increased income from 26 March.
Following the Autumn Statement, the limit on income that can be taken in capped drawdown has increased from 100% to 120%.
Drawdown allows retirees to keep their pension invested and take an income from it each year. The amount of income that can be taken from an income drawdown policy is based on calculations made by the Government Actuary's Department (GAD), known as GAD rates.
These GAD rates are linked to the annuity rates offered by insurance companies, which have fallen dramatically. This meant that drawdown income falls and so the government decided to decrease the amount of income that could be take from 120% of the GAD rate to 100%.
After much outcry, however, the government agreed to increase the GAD rate back to 120%.
Draft legislation published yesterday indicates that the 120% limit will apply to drawdown years starting on of after 26 March 2013. However, investors currently in a drawdown year will remain on the 100% GAD rate until their new drawdown year starts.
A person aged 60 with a fund of £100,000 in drawdown currently gets £4,800 a year under the 100% GAD rates but will receive £5,760 at the 120% rate.
A 65 year old with £100,000 in drawdown will receive £5,500 a year under the 100% rate, increasing to £6,600 under the new rate.
Tom McPhail, head of pensions research at Hargreaves Lansdown, said although the changes are good news he recommended only taking an income that matches the return from the fund's investments.
'These proposals will help those who have suffered the double whammy of falling gilt yields and weak investment performance,' he said.
'This issue does show how important it is to moderate the amount of income taken from income drawdown. In my view, taking an income no more than the natural yield generated from the underlying investments is the optimum way to protect a drawdown fund over time.
He said income from a drawdown fund should be broadly taken at the same rate as an escalating annuity would pay out 'to maintain the spending power of pension income over time'.
News sponsored by:
Understanding the value in commodity investing
Here at BlackRock, we help investors make more out of commodities with a range of innovative, flexible and resilient investment strategies.
New Economies - Frontiers and Latam Exciting markets, unrealised investment opportunities
From Brazil and Mexico, to Vietnam and Nigeria, the rapidly developing economies of Latin American and frontier markets, which are some of the smaller, less developed economies in the world, provides investors with a wealth of potential opportunities. Discover why BlackRock's investment trust range is well placed to help you make more of these exciting regions.
The Citywire Guide to Investment Trusts
In this guide to investment trusts, produced in association with Aberdeen Asset Management, we spoke to many of the leading experts in the field to find out more.
More about this:
More from us
Archive
Today's articles
Tools from Citywire Money
Weekly email from The Lolly
Get simple, easy ways to make more from your money. Just enter your email address below
An error occured while subscribing your email. Please try again later.
Thank you for registering for your weekly newsletter from The Lolly.
Keep an eye out for us in your inbox, and please add noreply@emails.citywire.co.uk to your safe senders list so we don't get junked.