Citywire printed articles sponsored by:


View the article online at http://citywire.co.uk/money/article/a693898
Q&A: how Help to Buy works
The government has made the surprise decision to bring forward the second part of the Help to Buy scheme. Here's our guide to both parts of the scheme.
by Michelle McGagh on Sep 30, 2013 at 13:11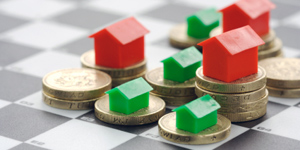 Help to Buy was the centrepiece of chancellor George Osborne's Budget this year. He said it was 'about getting behind those who want to aspire to own a home'. Unlike other government initiatives, the scheme, which comes in two parts, isn't just aimed at first-time buyers but also helps those wishing to move home.
What's happened?
The second part of Help to Buy is a 'mortgage guarantee' designed to encourage lenders to lend to more home buyers. It was supposed to start in January but has been brought forward by the prime minister to next week. It follows the successful launch in April of the first part of the scheme, which was a government loan to aspirant home buyers and movers.
How does the mortgage guarantee work?
This will see the government back borrowers who have a small deposit and wish to buy either a new-build or existing property.
It will guarantee up to 15% of a home as long as the property is worth £600,000 or less and is open to first-time buyers, second steppers and those who are hoping to move to a bigger home.
The 15% guarantee is an insurance for lenders still cautious about advancing money to borrowers, particularly those wanting big mortgages.
People who want to use the guarantee have to put down a deposit of at least 5% of the value of the property. This means you can't apply if you if you are in negative equity, ie, if your home is worth less than the loan secured on it.
Is there a catch?
We don't know yet as details of the scheme have still not been confirmed. We do know that Lloyds, Halifax, RBS and NatWest have signed up. Other big high street names, HSBC, Santander, Nationwide and Barclays, have yet to do so.
There could be a catch in the mortgage rates lenders offer borrowers in the scheme. The bigger your deposit the lower the interest rate you borrow at. It could be that a 5% deposit mortgage incurs a high interest rate particularly if banks are told to hold more capital to cover the risky loan.
What's the first part of Help to Buy?
This is an 'equity loan' from the government and is only available for the purchase of new-build properties, not existing property, up to a value of £600,000.
Borrowers need to raise a 5% deposit on the property they want to buy and can then borrow a further 20% from the government interest-free up to a value of £120,000.
Access to the scheme is through participating house-builders.
What's the catch?
The loan really is interest-free but only for five years and must be repaid when the property is eventually sold. A borrower can repay the loan early but they must also have paid off their main mortgage at the same time.
A 1.75% annual fee will kick in after five years. It will increase each year by 1% over inflation, as measured by RPI, the retail prices index.
Has it been popular?
The equity loan scheme will cost the Treasury £3.5 billion and will help up to 74,000 buyers.
So far it has been popular, with 7,000 new-build homes already reserved for purchase. The average price of a reserved property is £187,543, which totals around £1.3 billion in loans.
Who can apply for Help to Buy?
In order to qualify for either the equity loan or the mortgage guarantee you must have a 5% deposit to put down.
The good news is you do not have to be under a certain income threshold to use it but you will have to pass a rigorous financial stress test to make sure you can afford to repay the loan. Those who don't meet the Financial Conduct Authority's impaired credit standards will not be offered help, including anyone with a county court judgement aginst them for a debt over £500 in the past three years.
Although both first-time buyers and existing homeowners will be eligible for the scheme, it will not be able to be used for those wishing to buy a second property. Borrowers will have to sign a declaration confirming they do not have an interest in any other property anywhere else in the world and that they are not purchasing a second home.
Buy-to-let landlords are also excluded.
What if I miss a mortgage payment?
If you are part of the equity loan scheme and cannot pay your mortgage you will probably have to sell the property, or the bank will repossess it and sell it for you. The 20% equity loan will still need to be paid to the government either way.
It is important to realise the mortgage guarantee does not cover your mortgage payments. The guarantee is there for the lender; if you do not pay your mortgage and the property is repossessed any money which is lost by the lender will be made up by the government.
Are there any problems?
The government wants to boost the property market and house-building to kick-start the economy. However, the chancellor has been criticised for making short-term decisions without thinking of the longer-term impact.
In May the International Monetary Fund said the measure 'may temporarily help boost confidence in the housing market, but there is a risk that, in the absence of an adequate supply response, the result would ultimately be mostly house price increases that would work against the aim of boosting access to housing'.
In other words, without more houses being built, Help to Buy could inflate the prices of existing houses leaving people still unable to afford a home or burdening them with huge mortgages.
Graeme Leach, chief economist at the Institute of Directors, said Help to Buy was 'a drug homebuyers and politicians could get hooked on' and warned that the UK is facing an 'addictive economy'.
'When the scheme is withdrawn any rise in prices that has taken place will be undermined, with potentially disastrous results,' he said.
Critics of Help to Buy had urged the government to not to go ahead with the second part of the scheme but those concerns have fallen on deaf ears and the coalition is pressing ahead regardless. The first part of Help to Buy, along with the Funding for Lending scheme which made £80 billion available to lender to loan out as mortgages, have helped boost the housing market in the UK.
Latest figures from Nationwide showed the average house increased £2,000 in value over the past month to £172,127 and house prices are up 5% in the past year.
Sponsored By:
Weekly email from The Lolly
Get simple, easy ways to make more from your money. Just enter your email address below
An error occured while subscribing your email. Please try again later.
Thank you for registering for your weekly newsletter from The Lolly.
Keep an eye out for us in your inbox, and please add noreply@emails.citywire.co.uk to your safe senders list so we don't get junked.
Latest from The Lolly