View the article online at http://citywire.co.uk/money/article/a619551
QE 'wealth effect' not working, says Dan Roberts
MARKET BLOG: Quantitative easing forces investors to take more risk but not does not help economies grow, says Fidelity fund manager.
FTSE 100 follows Asian markets higher after the Bank of England extended its version of quantitative easing
Monetary policy committee minutes show the Bank of England considering yet another round of QE
Income fund manager Dan Roberts questions the economic impact of all this money printing
Don't trust the rally in risk assets, warns MAM fund manager Martin Gray
ASOS shares gain as US sales rise but French Connection drops on first-half losses
Oil price falls as Saudis pledge production boost
Central banks forcing us to take more risk
16.25: Dan Roberts, manager of the Fidelity Global Dividend fund, has cast doubt on whether the escalating wave of quantitative easing by central banks across the world will have a positive economic impact.
Speaking on a conference call on the day that the Bank of Japan extended its QE - or 'money printing' - policy by a further 10 trillion yen (£78 billion) and minutes from the Bank of England's monetary policy committee showed it was minded to continue its policy of creating money to buy government bonds, Roberts repeatedly expressed his doubts that the measures would have the 'wealth effect' that is claimed. 
Last month the Bank of England claimed that its injection of £375 billion of new money had saved the UK economy from depression and made everyone a bit richer.
However, commenting on the US Federal Reserve's decision to launch a third round of QE last week and the previous week's intervention in eurozone bond markets by the European Central Bank under its 'OMT' programme, Roberts said: 'I'm very sceptical as to whether it yields real benefits to the economy.'
Roberts said the three years of the extraordinary efforts to stimulate economies with QE had pushed gilt and government bond yields to 'unprecedented' lows, requiring income investors to move into higher yielding corporate bonds and shares. 'Central banks are forcing us up the risk spectrum,' he said.
He cautioned that markets had probably rallied too far following the recent central bank moves. However, he said big defensive pharmaceutical and consumer staple stocks were not too expensive in the UK, with price-to-earnings ratios in low single digits and yields of 3.5%-5%.
Roberts' fund has generated a 9% total return since its launch in January. He is looking to find new 'dividend aristrocrats', companies such as Procter & Gamble and Munich Re which have grown their dividends in each of the past 10 years. He thinks companies like Microsoft, the cash rich tech colossus that is 'priced for decline' and Astellas, a Japanese healthcare provider, could take their place in future.
US markets traded sideways after good figures on the numbers of new houses being built were offset by a cautions outlook from 3M, the diversifed technology group. The S&P 500 added just 1 point to 1,460, a pattern repeated in Europe where the Euronext 100 index added 2 points to 667.5.  
In the UK the FTSE 100 did a bit better closing 21 points or 0.4% higher at 5,890, led by United Utilities, up 3.5% at 732.
It was a good day for the dollar which rose against the yen, pound and euro. With so many developed countries printing more money and 'racing to the bottom', the dollar's status as the reserve currency seems to make it a better bet in traders' eyes.
ASOS susses US market
13.30: Online retailer ASOS (ASOS.L) added 72p, or 3.5%, to £21.13 after it reported a 31% rise in fourth-quarter retail sales and total group revenues up 37% in the year to end of August.
US retail sales have sprinted ahead 91% in the past year, and the group now expects profits to be in line with expectations.
Eithne O'Leary, analyst at Oriel Securities, reiterated a 'buy' stance on the stock with a target price of £21.
'Overall the statement suggests that ASOS will be able to hold its 4% market share in the UK and that its path to growth in the US and the rest of the world is clear. We remain confident in ASOS's ability to build a meaningful share of the global online apparel market,' she said.
Environmental consulting group AEA Technology (AAT.L), meanwhile, is on its last legs with the share declining 0.03p, or 33%, to 0.06p.
It has been struggling under a £165 million pension liability without long-term bank funding. Although short-term capital has been made available and the company is considering its options, Paul Golby, chairman of AEA Technology, said at its AGM: 'the board remains of the view that such options will result in little or no value for shareholders'.
The consultancy was spun out of the UK Atomic Energy Authority as part of privatisation plans under John Major, and shares have lost 99.99% of their value since they were first floated at 904p in early January 1999.
'Distorted' FTSE 100 edges higher
12.15: Risk assets jumped up with the announcement of the third round of quantitative easing from the US Federal Reserve last week, but have the gains been warranted?
Martin Gray, fund manager at MAM Funds, isn't convinced and says risk assets have got ahead of themselves
Gray said: 'The FTSE 100 is very distorted by the mount of commodity and mining stocks, which are cyclical and should always be valued as such. Commodities and properties are being quite highly priced on every bit of QE, which is rather dangerous, and every time there more liquid in the system miners are going up, which is dangerous for inflation in developing economies.'
Gray, who features in Citywire Selection and manages the Select Assets, Strategic Portfolio, Special Situations Portfolio and Arcturus funds, added that he holds no commodity stocks and only holds a little gold across the funds.
The manager also warned investors to look beyond price-to-earnings (PE) ratios when buying equities. He added: 'It's very difficult to price in terms of P/Es for equities but they're definitely on the climb because of market rises but we're going to see earnings on the decline as you can't go on cutting jobs and costs forever. I'd expect more PEs in low double digits.'
French Connection faces 'long road to recovery'
09.30: Fashion retailer French Connection (FCCN.L) gave up 1.5p, or 6%, to 22.95p and dipped as much as 19% in Wednesday morning trade on first-half losses.
The group reported a £6.3 million loss before tax, compared with a marginal £0.7 million profit in 2011. A shake-up of the business is under way to help sort out the books.
Stephen Marks, chief executive at French Connection, said: 'The last six months have continued to be very difficult for French Connection's UK and Europe retail business which has had an impact on the group results for the period.' 
Plans are under way to sell loss-making stores, improve merchandise management and develop its product offering, and the group expects to regain strength over the next two years.
Freddie George, analyst at Seymour Pierce, upgraded his target price from 20p to 25p and kept a 'hold' rating on the stock. 
George said: 'We are provisionally retaining our full year 2013 pre-tax loss forecast of £3 million to reflect the weak trading outlook in the UK.
'Although it will be a long haul to get the company back on the recovery track we believe the business does have value. It has a number of brands including Toast and Great Plains and has a relatively strong balance sheet with net cash forecast at £25 million at January 2013.'
Analysts at Oriel Securities weren't too concerned by the figures either. Analyst Alistair Davies said: 'The interims revealed expected headline numbers, and the statement gave a broad outline of strategic measures designed to restore UK retail to profitability.
'The road to recovery will be a long one, with the group expected to post a loss next year, but measures being implemented today should help put French Connection on a sounder footing.'
The FTSE 100 shed some of its earlier gains to trade five points higher at 5,873.
Oil price falls as Saudis pledge production boost
09.10: Oil fell to a two-week low as Saudi Arabia pledged to increase its supply of oil to customers in the US, Europe and Asia in an attempt to lower prices.
The cost of Brent crude has increased by a third since mid-June to $116.9 a barrel on Friday, raising concerns about the impact on the cost of goods, but the move to lower prices pushed the price down by $4.
Brent crude ($ per barrel): Click to enlarge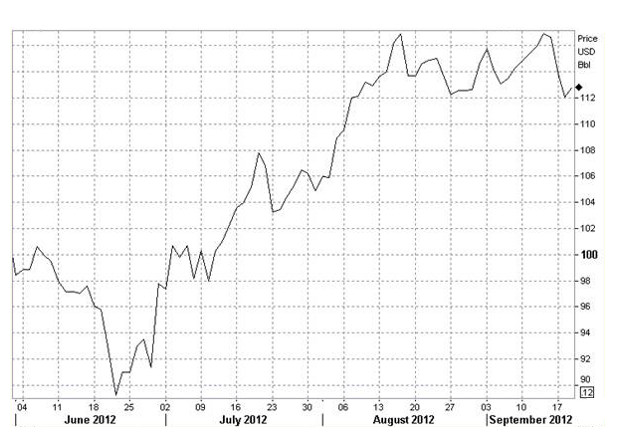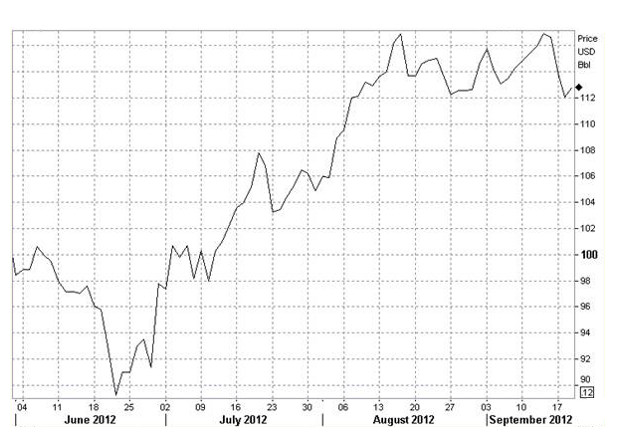 However, prices moved higher as the Bank of Japan announced further economic stimulus of 10 trillion yen (£78 billion).
Markets bounce back on Japanese stimulus
08.35: Britain's markets rebounded, tracking Asian markets overnight, after Japan announced further monetary easing to boost its economy.   
The FTSE 100 added 15 points, or 0.25%, to 5,882 points and the FTSE 250 index took on 36 points, or 0.31%, to 11,970 points.
The Bank of Japan increased its asset-buying and loan programme by 10 trillion yen (£78 billion) to 80 trillion yen (£622 billion) in an effort to boost exports. The yen fell to a one-month low against the dollar after the programme was announced.
Housebuilder Redrow (RDW.L) added 0.3p, or 0.2%, to 152p as pre-tax profits soared 70%. Its house prices increased 15% in the year to end June.
Falling sales at fashion retailer French Connection (FCCN.L) caused the shares to tumble 4.5p, or 18%, to 20.5p as the chain reported a half-year loss in what it called a 'very difficult' first half.
PZ Cussons (PZC.L) added 3p, or 0.98%, to 310.3p with the management saying it remains confident about returning to profitability despite challenging conditions.
News sponsored by:
The Citywire Guide to Investment Trusts
In this guide to investment trusts, produced in association with Aberdeen Asset Management, we spoke to many of the leading experts in the field to find out more.
More about this:
Look up the funds
Look up the shares
Look up the fund managers
More from us
Archive
Today's articles
Tools from Citywire Money
Weekly email from The Lolly
Get simple, easy ways to make more from your money. Just enter your email address below
An error occured while subscribing your email. Please try again later.
Thank you for registering for your weekly newsletter from The Lolly.
Keep an eye out for us in your inbox, and please add noreply@emails.citywire.co.uk to your safe senders list so we don't get junked.