View the article online at http://citywire.co.uk/money/article/a567213
Retirees in drawdown pensions braced for 30% income drop
Income from pension 'drawdown' arrangements, an alternative to annuities, could be reduced as much as 30% if gilt yields push lower.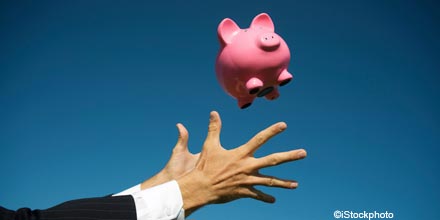 Retirees in 'capped drawdown' pension arrangements, an alternative to annuities, could see a reduction in income of up to 30% as falling gilt yields, poor stockmarket returns and changes to the government's calculations weigh on their savings.
Pensioners coming up to their compulsory five year capped drawdown review, when income is recalculated, are most at risk of seeing a reduction in their income, according to Rowanmoor Pensions. 
Around 300,000 people are currently in pension drawdown arrangements, with up to 75,000 coming up to their five year review.
Capped drawdown replaced unsecured pensions last year and allows those coming up to retirement to leave their pension invested and take a yearly income from it, as an alternative to buying an annuity. The amount of income you can take each year is capped and the amount you can take determined by the Government Actuary Department (GAD), which produces tables of annuity income rates.
The GAD rates were reduced last year to reflect people's increasing longevity and those in capped drawdown can now take a maximum income of 100% of the GAD rate, compared to the previous GAD rate of 120%.
As GAD rates are calculated on gilt yields, the further round of quantitative easing (QE) seen last week will push gilt yields and therefore annuity income rates down further, meaning the amount of income capped drawdown pensioners can take will reduce.
'When you drill down into the detail of the figures, you realise just what a shock pensioners coming up to their five year compulsory capped drawdown review are about to face. Their desire for well-funded retirement is sadly about to go out the window,' said Rowanmoor Pensions head of pensions technical services Robert Graves.
'Pensioners currently undergoing their five year reviews are seeing their incomes further reduced by the fall in gilt yields from 4.5% in February 2007 to 2.25% in February 2012. This fall in gilt yield reduces income by over 20% per annum.'
He added that if the latest round of quantitative easing drives the gilt yield to 2%, income would be reduced by 30%.
Despite income being impacted Graves said drawdown arrangements would become more popular, following the abolition of the rule making annuitisation compulsory at age 75 and the need for more flexible income in retirement.
News sponsored by:
Understanding the value in commodity investing
Here at BlackRock, we help investors make more out of commodities with a range of innovative, flexible and resilient investment strategies.
New Economies - Frontiers and Latam Exciting markets, unrealised investment opportunities
From Brazil and Mexico, to Vietnam and Nigeria, the rapidly developing economies of Latin American and frontier markets, which are some of the smaller, less developed economies in the world, provides investors with a wealth of potential opportunities. Discover why BlackRock's investment trust range is well placed to help you make more of these exciting regions.
The Citywire Guide to Investment Trusts
In this guide to investment trusts, produced in association with Aberdeen Asset Management, we spoke to many of the leading experts in the field to find out more.
More about this:
More from us
Archive
Today's articles
Tools from Citywire Money
Weekly email from The Lolly
Get simple, easy ways to make more from your money. Just enter your email address below
An error occured while subscribing your email. Please try again later.
Thank you for registering for your weekly newsletter from The Lolly.
Keep an eye out for us in your inbox, and please add noreply@emails.citywire.co.uk to your safe senders list so we don't get junked.