View the article online at http://citywire.co.uk/money/article/a1006488
Ruffer: US 'working man' could send market tumbling
The US 'working man' is worse off and has started to fight back. 'This is very bad for profits', says Jonathan Ruffer.
Ruffer investment group founder Jonathan Ruffer believes the plight of the US 'working man' could be the catalyst to send markets falling from their highs.
Investment group Ruffer has long warned that stock markets looked overvalued – a view it stands by today. Founder Ruffer points to the price-to-earnings ratio of the US market, which measures share prices relative to per-share earnings. This currently stands at over 20 times earnings, which Ruffer views as a warning sign. This is because it represents a level that was reached during the early sixties and the dotcom boom at the end of the nineties, coinciding with 'profitless years'.
'If profitability is set to decline, we should expect a lower valuation on lower profits – and this is why falling markets shock people – they don't see the double-punch of a lower rating on lower profits coming,' he explained.
When markets look dangerous, there needs to be a reason for them to fall. 'If the markets discern a reason, they will fall sharply. We believe that it is now clear what that reason will be,' he added.
The answer is what Ruffer describes as 'the working man' who earns and spends. According to the ratio of middle-America's earnings compared to the US stock market, he is three times worse off than those with investments.
'The working man has started the fight back, and our judgment is that they are set to win the coming battle. This is very bad for profits,' Ruffer said.
In Ruffer's (pictured) opinion, Unilever's (ULVR) rejection of Kraft Heinz's recent bid 'encapsulates the failure of the ancien regime to hold its ground'. The fund management veteran points out that Kraft is prepared use the extra muscle of its buying power to squeeze prices to retailers and gain more shelf space, to close manufacturing divisions and streamline production.
'Not good for wages or communities, but good for market valuations,' he added.
However, the fact that it was not able to progress with the deal suggests other forces at work. Ruffer suggested investors should prepare for 'a setting sun for corporate prosperity', given that wages as a proportion of corporate income have fallen from a historic average of 61% to 57% today.
Meanwhile, corporations today can be bigger than the countries in which they operate but pay little or no tax. This suggests the balance could finally tip in favour of the working man.
'What is the message we must take from this? It is, I think, that we all get used to a status quo, however different from other days, however hard to explain,' he concluded.
Ruffer formerly managed the Ruffer Investment Company (RICA ) and was chief executive of the business. He stepped down from both positions in 2012, passing over full responsibility to Steve Russell and Hamish Baillie. He still has input on the company's macro-economic views and continues to serve as chairman of the business. He has also built up a reputation as a philanthropist and is best known for donating £15 million to preserve Auckland Castle in Bishop Auckland.
News sponsored by:
The Citywire Guide to Investment Trusts
In this guide to investment trusts, produced in association with Aberdeen Asset Management, we spoke to many of the leading experts in the field to find out more.
The Citywire guide to investment trusts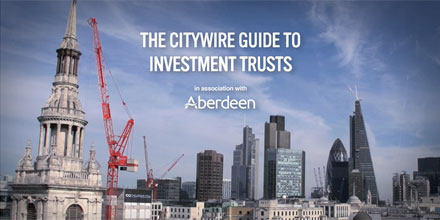 Investment trusts have proved to be a highly effective way to invest in the market. Citywire has interviewed the experts to find out more.
More about this:
Look up the shares
Look up the investment trusts
Look up the fund managers
More from us
Archive
Today's articles
Tools from Citywire Money
Weekly email from The Lolly
Get simple, easy ways to make more from your money. Just enter your email address below
An error occured while subscribing your email. Please try again later.
Thank you for registering for your weekly newsletter from The Lolly.
Keep an eye out for us in your inbox, and please add noreply@emails.citywire.co.uk to your safe senders list so we don't get junked.