View the article online at http://citywire.co.uk/money/article/a456999
Smart Investor: calculating a company's return on equity
Return on equity (ROE) is a crucial yardstick which investors can use to compare companies' share performance.
Return on equity is a crucial yardstick which investors can use to compare companies' share performance.
Profits to size
When all the shouting is over, when all is said and done, when chairmen and chief executives have highlighted all the positives, business comes down to profitability. In other words how much profit is a company making relative to its size?
Comparing profit and size is crucial for the simple reason that two companies could be making identical profit. One is a FTSE 100 company employing a vast amount of assets, the other a small family firm employing 50-60 people. Compare their profit and they would be on a par, thus investors must take size into account too.
A simple method of doing so is a measure called return on equity (ROE). This is calculated by dividing net profit by net assets and multiplying by 100 to give a percentage figure which compares profit to net assets. There are other similar methods to calculate profitability relative to size but I feel that ROE is simple, straightforward and does the job.
ROE is a highly significant figure for investors because it gives an idea of how quickly and at what rate the net assets and intrinsic value of the firm will grow. This is good to know because a growth in value should eventually be translated into an increase in the share price.
Two examples of ROE
For example, the net assets of Firm A and Firm B are the same: £100. However, their net profit is £5 and £20 respectively, giving ROE figures of 5% and 20%. Assume profit remains constant at £5 and £20 per year and no dividends are paid. The net assets of company A would go from £100 to £125 in five years, whilst company B's net assets would rise from £100 to £200 over the same period.
Furthermore ROE has a direct impact on the intrinsic value of a company. As I alluded to in my previous article, most large companies are valued at net assets plus a varying amount of goodwill; how much goodwill you pay is at your discretion. However in the above example, say you were willing to pay up to five years of future profit as goodwill, and the future profit figure (as calculated in my previous article) was £5 for company A and £20 for company B. In this scenario the valuations would be very different. Company A would be valued at £125 whereas company B would be valued at £200 simply because it has a higher ROE.
Moreover the present valuations equate to the value of future net assets (future being five years). Therefore goodwill would need to be applied on top of future net assets in order to arrive at intrinsic value in five years' time. Indeed a sum invested in company A would return 20% over five years if bought and sold at intrinsic value. Whereas an investment in company B would return 50% over five years if bought and sold at intrinsic value. Intrinsic value in this instance being net assets plus (5 * future profit).
Of course the above assumes a constant profit, no dividends paid and that you are able to buy and sell at intrinsic value. In reality the valuation of a company will fluctuate wildly and will rarely remain at intrinsic value, but over the course of an economic cycle it should be reached.
Furthermore profit will change and the amount of dividends paid out can have a significant impact upon ROE. When profit is paid out as a dividend, it is not added to net assets and a result of this is to reduce the decline of ROE. In other words if profit remains constant, any increase in net assets will reduce ROE; paying some net profit out as a dividend keeps net assets lower than they would normally be and offers support to the ROE figure.
Tesco, Vodafone and Admiral
Indeed maintaining a given rate of ROE is difficult to achieve, simply because no company has ever experienced exponential growth. Tesco has been able to grow considerably and consistently in recent years, preserving its ROE without paying out vast dividends. Similarly AstraZeneca enjoys a high ROE, although this is partly as a result of its generous dividend payments.
Applying ROE to real-life companies can throw up some interesting results. Take FTSE 100-listed Vodafone. Its ROE for last year was 9.5%; however last year's profit was not subject to income tax partly as a result of the severe loss suffered in 2006 when the company lost £17 billion. Therefore if we take a weighted average of net profit over the last five years and divide it by present net assets, we arrive at a figure of just 0.2% for ROE. Whilst I realise that using an average figure would reduce ROE for most firms whose profit had increased in recent years, it helps to give an indication of future ROE based on how the company has performed in the last five years. In Vodafone's case, it appears as though it has not delivered enough profit relative to its size in recent years.
News sponsored by:
The Citywire guide to investment trusts
In association with Aberdeen Asset Management
Henderson Global Investors: 2014 looks set to be another strong year for UK commercial property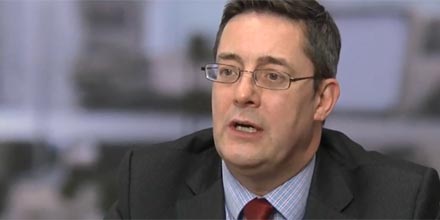 Andrew Friend, acting co-manager*, and Marcus Langlands Pearse, co-manager of the Henderson UK Property Unit Trust (HUKPUT), provide an overview of the key risks and opportunities for the UK commercial property market.
Today's articles
Tools from Citywire Money
Weekly email from The Lolly
Get simple, easy ways to make more from your money. Just enter your email address below
An error occured while subscribing your email. Please try again later.
Thank you for registering for your weekly newsletter from The Lolly.
Keep an eye out for us in your inbox, and please add noreply@emails.citywire.co.uk to your safe senders list so we don't get junked.