View the article online at http://citywire.co.uk/money/article/a634609
Standard Life joins trust shift to quarterly dividends
Read our exclusive report on the UK Growth & Income investment trusts sector following the decision of the Standard Life Equity Income Trust to start paying dividends four times a year.
The Standard Life Equity Income investment trust is completing its rehabilitation with a move to paying quarterly dividends.
In recent years the £130 million trust has been overshadowed in what is a highly competitive sector. The UK Growth & Income sector in which it sits boasts some of the best fund managers in the business, such as Neil Woodford on the Edinburgh investment trust, Nick Train on Finsbury Growth & Income, Francis Brooke at Troy Income & Growth, Alastair Mundy on Temple Bar and Gervais Williams at Diverse Income trust (see tables below).
The appointment of new fund manager Thomas Moore, however, has seen the trust switch its focus to high-yielding, medium-sized stocks, instead of the previous emphasis on the conventional income giants of the FTSE 100.
This has improved performance and almost completely removed the discount at which the shares were trading. Full-year results released yesterday show that in the 12 months to the end of September shareholders enjoyed a total return (ie, share price rise and dividends combined) of nearly 23%, higher than the 17.2% total return from the FTSE All Share index.
The trust announced a final dividend of 9p, taking the total for the year to 12.75p, an increase of 2.8% on last year. This is the 12th year in a row it has increased dividends.
The move from biannual to quarterly dividends is meant to further improve the trust's standing with investors and follows discussions with leading shareholders.
Increasing the frequency of dividends has become a trend in this popular sector. According to figures from the Association of Investment Companies, Standard Life Equity Income is the 13th out of 19 UK Growth & Income investment trusts in the sector to adopt quarterly dividends.
John Newlands, head of investment companies research at Brewin Dolphin, the stockbroker that owns 13% of the trust's shares on behalf of its clients, welcomed the move, saying 'shareholders appreciate the regularity of the cash flow'.
He praised Moore for the improved returns, and said the trust was still worth investing in because even though the shares were no longer cheap, they were not as fully valued as some of its rivals.
'It [UK Growth & Income] is quite an elite sector in my opinion, and he's taken it on well. Most of its peers are at premiums so people should not be put off,' Newlands said.
The tables at the bottom of this article show which trusts in the UK Growth & Income sector pay quarterly dividends and which pay out just twice a year. They also show who the trusts are managed by, the current level of income they are yielding, and whether the shares are trading at a discount (below the net asset value of their investments) or a premium to NAV. Many of the best trusts trade at premiums, reflecting the huge demand from investors for shares paying good, consistent levels of income.
First, let's hear what fund manager Thomas Moore had to say.
Escaping the FTSE 100 storm
Moore says the move towards medium-sized  or 'mid cap' stocks and away from fully valued 'large cap' income stocks was one of the main drivers in the trust's improved performance in the past year.
In doing so the Standard Life Equity Income trust is becoming a bit more like the Standard Life Investments UK Equity Income Unconstrained fund, which Moore also runs, and for which he has gained a Citywire A rating.
However, as you can see from the chart, the investment trust still stands in the shadow of the unit trust. It generated a total return of 37% in the year to 30 September, reflecting its punchier and more conviction-led approach.
Standard Life trust and fund: Click to enlarge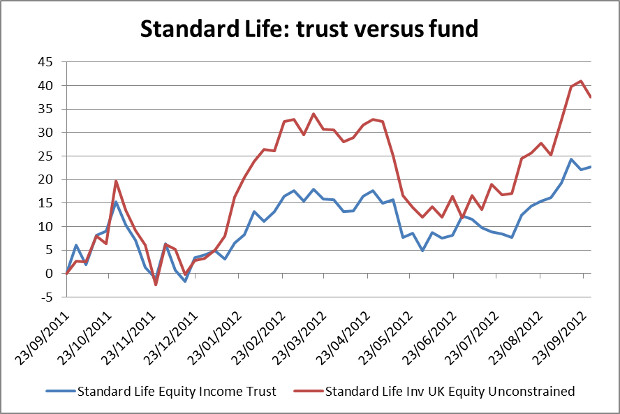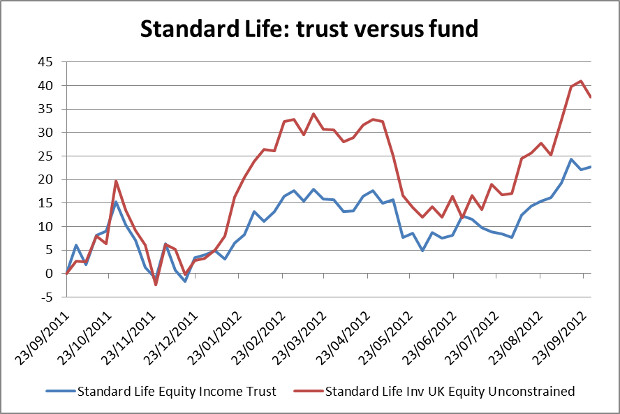 Among Moore's successes was his decision to buy travel & leisure stocks such as Cineworld (CINE.L), betting company Ladbrokes (LAD.L), pub operators Greene King (GNK.L) and Marstons (MARS.L) and satellite operator Inmarsat (ISA.L). Existing industrial and engineering holdings such as Bodycote (BOY.L) and Fenner (FENR.L) also did better than many expected during the trust's financial year.
Meanwhile, Moore also benefited from reducing his exposure to big income stocks such as Vodafone (VOD.L) and Imperial Tobacco (IMT.L), both of which suffered choppy trading over concerns about their prospects.
Referring to the latest figures from Ibis World, Moore says mid cap stocks have not suffered the fall in earnings of the big blue chips in the FTSE 100. Companies in the FTSE 250 have grown earnings by 25% on average this year, compared with a 9% fall for FTSE 100 companies.
Sectors that dominate the FTSE 100 have suffered, most notably mining, where earnings have slumped by a third, but also in pharmaceuticals and food where earnings are down by 7% and 9% respectively.
Moore said: 'This reflects that in each of those large cap sectors you have headwinds reflecting the slowdown in China (mining), fiscal austerity or government spending cuts (pharmaceuticals) and fierce competition (food).'
By contrast, the more domestically oriented FTSE 250 stocks have benefited from resilience in consumer sentiment, which has held up as a result of the relatively good employment figures.
The quarterly dividend payers in UK Growth & Income
| Investment trust | Fund manager | Yield % | 5-year total return | Discount - / premium + % |
| --- | --- | --- | --- | --- |
| City of London | Job Curtis, Henderson | 4.5 | 36.9 | +4.1 |
| Diverse Income | Gervais Williams, MAM Funds | 3.9 | N/A | +4.4 |
| Edinburgh | Neil Woodford, Invesco Perpetual | 4.4 | 39 | +8.2 |
| F&C Capital & Income | Julian Cane, F&C Investments | 3.9 | 16 | +2.5 |
| Invesco Income Growth | Ciaran Mallon, Invesco Perpetual | 4.2 | 23.9 | -2.2 |
| JP Morgan Claverhouse | William Meadon & Sarah Emly, JP Morgan AM | 4.3 | 0.9 | -6.7 |
| JP Morgan Elect Managed Income | John Baker, JP Morgan AM | 3.9 | -3.8 | -2.1 |
| Lowland | James Henderson, Henderson | 3.1 | 13.8 | -1 |
| Merchants | Simon Gergel, Allianz Global Investors | 6.2 | 10.9 | -1.7 |
| Murray Income | Charles Luke, Aberdeen AM | 4.4 | 27.8 | +3.6 |
| Schroder Income Growth | Sue Noffke, Schroders | 4.7 | 32.6 | -2 |
| Troy Income & Growth | Francis Brooke, Troy AM | 3.8 | 16.2 | 1.4 |
Source: Numis Securities 14 November 2012; Association of Investment Companies; Company websites; AM = Asset Management; N/A = not applicable
Those still paying dividends twice a year
Source: Numis Securities; #Numis categorises this trust in the UK High Income sector, the AIC in UK Growth & Income; *Standard Life Equity Income is moving to quarterly dividends next year;
News sponsored by:
The Citywire Guide to Investment Trusts
In this guide to investment trusts, produced in association with Aberdeen Asset Management, we spoke to many of the leading experts in the field to find out more.
More about this:
Look up the funds
Look up the shares
Look up the investment trusts
Look up the fund managers
More from us
Archive
Today's articles
Tools from Citywire Money
Weekly email from The Lolly
Get simple, easy ways to make more from your money. Just enter your email address below
An error occured while subscribing your email. Please try again later.
Thank you for registering for your weekly newsletter from The Lolly.
Keep an eye out for us in your inbox, and please add noreply@emails.citywire.co.uk to your safe senders list so we don't get junked.
Read more...
by Dylan Lobo on May 25, 2018 at 08:08