Citywire printed articles sponsored by:
View the article online at http://citywire.co.uk/money/article/a603177
State Pension Blog: back to the day job
Having lived on £70 last week to get a better idea of what life's like for those on the state pension, Greg looks back on what he's learnt.
by Greg Kingston on Jul 09, 2012 at 14:44
Greg Kingston (pictured), along with 100 of his colleagues at pension provider Suffolk Life, has accepted a challenge from his employer to live off £70 a week. That's how much charity AgeUK says a typical pensioner has left after bills, council tax etc. Here's part one of his blog in case you missed it.
I'm very glad to be back on my salary, but I certainly haven't left the experiences of last week in the past. I wanted to see how living off the state pension compares with living off my salary.
The methodology
Citywire readers clearly have an eye for detail, so this is worth explaining. It isn't perfect methodology, but it was designed by Age UK to raise the issue.
The state pension is £107.45 a week for a single person. Those taking part in this challenge were given £70, which assumes that the remaining £37.45 went towards the costs of utilities etc.
The results
My salary – I've taken my net income and then deducted all the outgoings. To ensure as much accuracy as possible I measured my spending over the entire previous month. I then converted everything to percentages.
Retired versus working: Click to enlarge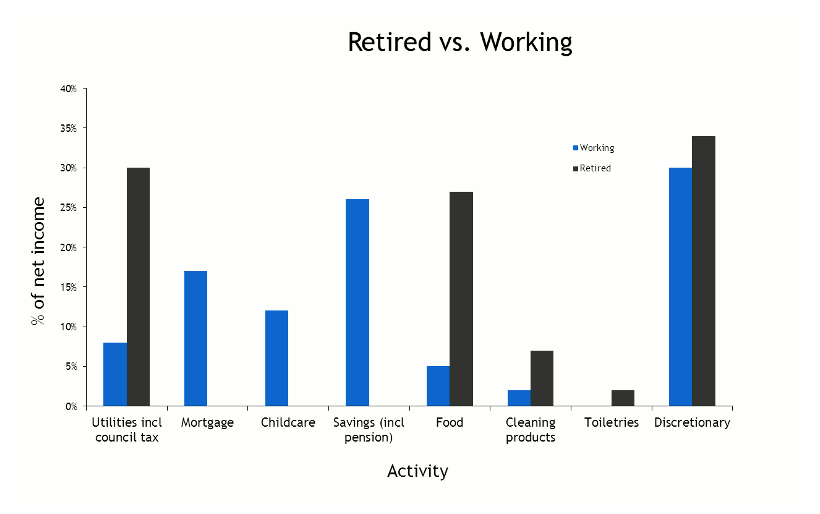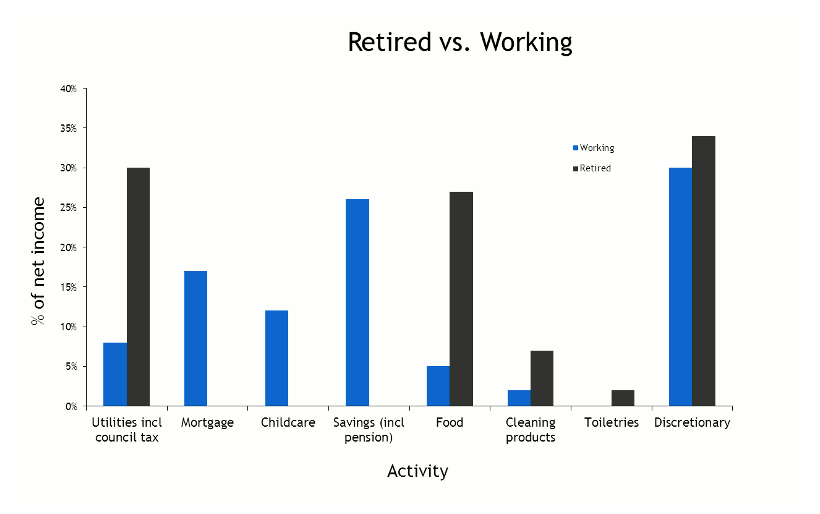 Some differences are to be expected. I'd be unlikely to face costs for a mortgage and childcare in retirement, and certainly wouldn't be able (or even need) to save as much.
But some of the differences are incredibly telling.
The percentage of my income needed to support running my house – electricity, gas, broadband, council tax etc. is far higher in retirement. In fact, they're my biggest outgoing, shortly followed by food. Despite spending a far higher monetary amount on food when on a salary, the proportional spend is much, much higher when on my low, fixed retirement income.
Discretionary money
I was surprised to see that discretionary spend, as a proportion of income, was broadly similar – in fact I experienced a slightly lower proportion of discretionary income from my salary. Of course, that is far from accurately representing the truth.
Where discretionary money goes: Click to enlarge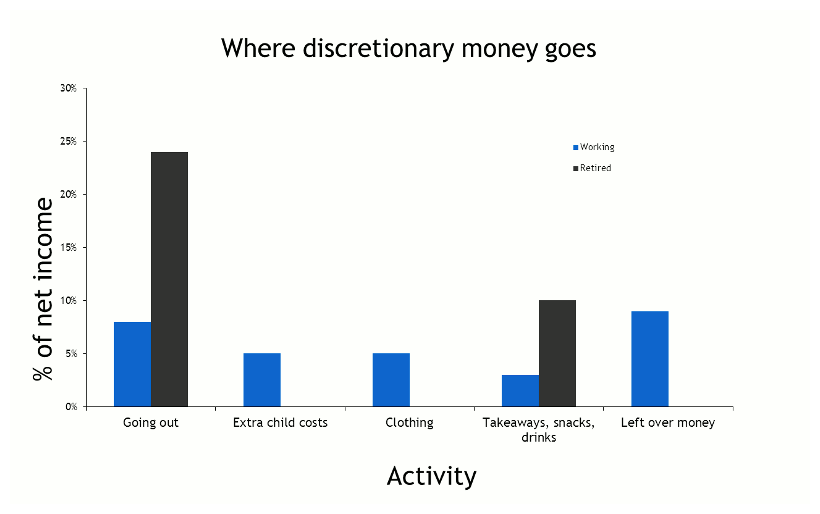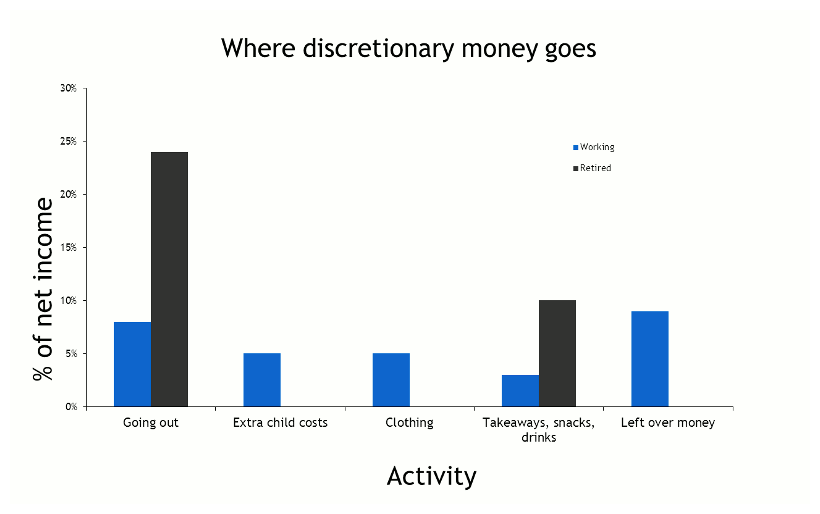 Despite spending far more on going out when on my salary, the proportion is less than half compared with retirement. As proved during my week-long experiment, I need to make very careful decisions. On a salary a more carefree approach is possible.
My salary allows me to have more choices of all kinds. I'm able to spend more on my son, buy clothes and even though I'm committed to saving, finish the month not using all of my discretionary expenditure. By contrast I finished my week as a pensioner with precisely £0.22.
Can I avoid a state pension retirement?
I sincerely hope so. I'm currently saving 26% of my net income into my pension, ISA and other savings arrangements. Whether it is enough I'm not entirely sure. I'll need to get a pension projection and I'm sure I'm not alone in meaning to see a financial adviser but never quite managing to sort it out.
Since leaving university and nearly defaulting on a credit card I've also been paranoid about debt. Ever since interest rates dropped to their current levels I try, if possible, to make an overpayment on my mortgage as I'd like to try and whittle down some of the capital.
What this does tell me is that whether or not I need to save more, I can save more. I spent much of the last week talking about how choices and decisions were taken away from me because I didn't have enough money. I now find myself in a position where I can make a decision – a decision to save more that should give me the chance of having more choice in the future.
I'd have to be an idiot not to take it, wouldn't I?
Finally, thanks to all the readers and commentators who have followed my blog. Even if I didn't always enjoy my state pension week, I certainly enjoyed sharing it.
Sponsored By:
More about this:
More from us
What others are saying
Archive
Weekly email from The Lolly
Get simple, easy ways to make more from your money. Just enter your email address below
An error occured while subscribing your email. Please try again later.
Thank you for registering for your weekly newsletter from The Lolly.
Keep an eye out for us in your inbox, and please add noreply@emails.citywire.co.uk to your safe senders list so we don't get junked.
Latest from Investment Basics