View the article online at http://citywire.co.uk/money/article/a609314
This Japanese property company could be back in the fast lane
Japan Residential Investment Company (JRIC) appears to be one of the few investment companies unaffected by the volatile climate. James Carthew explains why.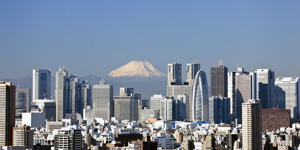 In the midst of all the doom and gloom there are a few investment companies that seem to be unaffected. One of these is Japan Residential Investment Company (JRIC) – a company that has had a terrible time in the past but now seems to be moving in the right direction.
The Japanese residential property market is the second largest in the world. It went through a spectacular boom and bust – peaking early in 1992 and not showing signs of life again until the second half of the 2000s. The recovery, after 15 years of falling prices, sparked the interest of overseas investors.
JRIC listed in October 2006, one of a number of property funds launched around that time.
KK Halifax (part of Colliers), the managers, geared up the £100 million proceeds of the issue and built up a £240 million residential property portfolio. It was (and still is) incentivised to maximise the gearing on the portfolio because its fees were based on 0.5% of the gross asset value of the fund. As you might know, I am not a fan of fees based on gross assets.
As the credit crisis hit, the shares plunged – falling from more than £1 in July 2007 to about 30p in April 2009.
The problem was overleverage. When it was acquiring the initial portfolio, debt financing was done at loan-to-value (LTV) ratios up to 71%. In the crisis, capital values fell at the same time as banks were making their LTV covenants more restrictive. One tranche of debt was due to be repaid early in 2010.
At first, it was optimistic it would be able to refinance this, but by March 2009 it had decided to suspend the dividend to conserve cash. It managed the February 2010 refinancing, after selling an asset to boost its cash position, but it was clear that the company would not be able to refinance the rest of its debt when it fell due in 2011 and 2012.
Selling more property to pay down debt was going to be difficult and would destroy value. More equity was needed.
Equity dilution
In May 2010 the company was recapitalised through the issue of 87.5 million shares at 40p. At the time, this was more than a 50% discount to the net asset value, so the issue was highly dilutive.
To address this problem, existing shareholders were allowed to apply for new shares pro-rata to their existing holding. Since then, the company has been on the path to a full recovery.
The refinancing permitted the resumption of dividend payments and as confidence in the company improved, so did the share price (currently 55p – about a 22% discount to the net asset value).
News sponsored by:
Understanding the value in commodity investing
Here at BlackRock, we help investors make more out of commodities with a range of innovative, flexible and resilient investment strategies.
New Economies - Frontiers and Latam Exciting markets, unrealised investment opportunities
From Brazil and Mexico, to Vietnam and Nigeria, the rapidly developing economies of Latin American and frontier markets, which are some of the smaller, less developed economies in the world, provides investors with a wealth of potential opportunities. Discover why BlackRock's investment trust range is well placed to help you make more of these exciting regions.
The Citywire Guide to Investment Trusts
In this guide to investment trusts, produced in association with Aberdeen Asset Management, we spoke to many of the leading experts in the field to find out more.
More about this:
Look up the shares
Archive
Today's articles
Tools from Citywire Money
Weekly email from The Lolly
Get simple, easy ways to make more from your money. Just enter your email address below
An error occured while subscribing your email. Please try again later.
Thank you for registering for your weekly newsletter from The Lolly.
Keep an eye out for us in your inbox, and please add noreply@emails.citywire.co.uk to your safe senders list so we don't get junked.