Citywire printed articles sponsored by:
View the article online at http://citywire.co.uk/money/article/a659745
Tomorrow's world: the global projects investors back
We hear from fund managers which infrastructure developments they are investing in around the world.
Across the globe architects, engineers and builders are hard at work putting together the infrastructure systems that will underpin international trade in the years ahead. Among the keenest observers of these vast projects are the fund managers on the lookout for untapped investment potential.
From Brazil's frantic preparations for the 2014 World Cup to a huge rail expansion in South East Asia, there's no shortage of investment targets. The question is, which regions will deliver their ambitious plans? 
Below we take a look at how fund managers are seeking access to some far-flung regions with major infrastructure development plans under way.
Click on the highlighted areas below to find out more about the region's investment opportunities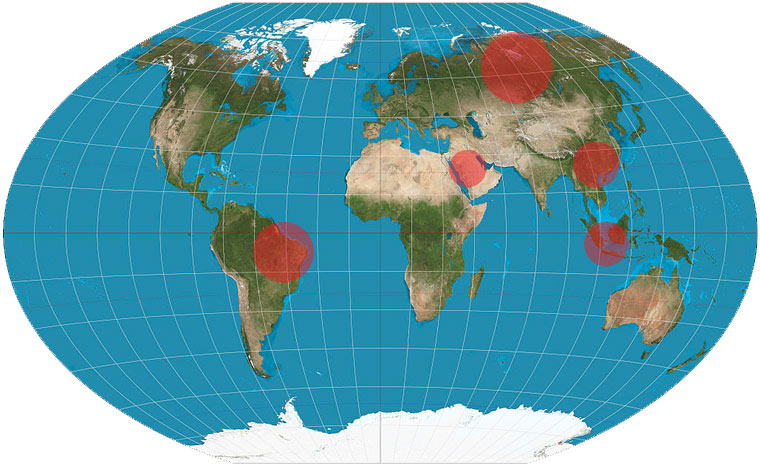 Globe image source: Creative Commons via Wikipedia, creator Strebe
How top managers are playing infrastructure development
Brazil
In August last year Brazilian president Dilma Rousseff announced a $66 billion (£43 billion) plan to stimulate economic growth in the country through massive investment in the infrastructure network. Designed to boost trade and improve commuting routes, the money will also help its infrastructure system cope with the huge influx of visitor expected for the 2014 FIFA World Cup and the 2016 Olympics Games in Rio.
Although sceptics have questioned how much of the cash is really new, with parts of it looking suspiciously similar to the $50 billion (£33 billion) PAC-2 infrastructure project currently stuck in the Brazilian bureaucratic edifice, it's all grist to the mill for investors in the region.
BlackRock's Latin American specialist Will Landers, who manages the group's BSF Latin American Opportunities and BGF Latin American funds, is among the investors backing the country's infrastructure sector.
CCR, a tollroad operator in the country, is currently the favourite stock of the Citywire A-rated manager: 'We continue to like CCR as our favoured stock among infrastructure plays in Brazil. The company remains very disciplined with its acquisition strategy while managing a current portfolio of assets effectively and generating significant cash,' he told Citywire earlier this month.
Landers sees infrastructure as a key growth area for Brazil, and although he is awaiting better liquidity to trade in the growing sector, he is encouraged by the government's dedication of a new department to oversee the growth in infrastructure projects which are much needed to keep the country competitive.
Michael Konstantinov, manager of the Allianz BRIC Stars fund, meanwhile, struck a more cautious tone following the announcement of the stimulus package. 'The announcement is one thing and the implementation is another,' he said. 'We don't know whether these plans will actually happen. It looks like they are asking for much lower internal rates of return, so these projects could be a bit less profitable.'

Russia
Massive investment in road and transport networks is on the cards for Russia, with the 2014 Winter Olympics and the 2018 FIFA World Cup obvious near-term catalysts.
The country's reputation for corruption and opaque bureaucracy remains a burden for investors, but economist Anders Aslund is among those who believe change is afoot.
'Russia is too rich, too pluralist and too educated to be so authoritarian and corrupt,' Aslund told attendees at the East Capital summit in St Petersburg in April. 'This can't continue.
'Status quo is not really an option for Russia. It is at a crossroads. Either it maintains state capitalism, which means growth of around 3-4%, or there is increased political and economic liberalisation, which means growth levels of 6-7%.'
Plamen Monovski, chief investment officer at Renaissance Asset Management, is among the investors backing the region, and he agrees with Aslund that the era of state capitalism is drawing to a close.
'I think we have reached a crunch point where it has become too prevalent and the returns on state capitalism are beginning to fall sharply,' Monovski said last year. He added that the Western perception of Russia as an economy where graft is rife is flawed – while state ownership of large companies names is common, small and medium-sized firms still offer investors opportunities.

Middle East
A notable absence of the red tape that dogs infrastructure development in the West makes the Middle East an exciting prospect. The downside, of course, is that the region isn't easy to access, with many of the biggest players state-owned.
Peter Meany, manager of the First State Global Listed Infrastructure fund, is one manager trying to tap this significant, if elusive, potential. 
Towards the end of last year he met 12 investors from the region, primarily from the ex-pat community, who had a combined $1.5 trillion (£1 trillion) to potentially invest in the asset class, and he contrasted the ease of getting projects off the ground there compared with in the UK.
'A lack of infrastructure development will impact economic growth and reduce international competitiveness and while the UK debates the expansion of airport capacity in the south east, Dubai will have expanded its existing airport capacity to 75 million passengers and should soon be well advanced in developing a new airport with capacity for a further 160 million passengers,' he told Citywire.

China
Just as with the Middle East, the potential returns from infrastructure investment in China are vast, but accessing the market isn't without pitfalls.
Steef Bergakker, manager of the Dutch firm Robeco's Infrastructure Equities fund, argues that investing in infrastructure companies based emerging markets such as China and India will limit potential returns.
'Currently many of the emerging companies that are listed in the emerging countries are very expensive, maybe not in an absolute sense, but relative to their peers in developed countries they are much more expensive,' he said back in 2010. As such, he's seeking exposure to the region through Western companies with operations in the country.
East Capital's Gustav Rhenman, who runs the firm's East Capital (Lux) China fund, believes declining US and European demand for Chinese products means now could be the time China's leaders to up their economic stimulus efforts, with infrastucture development an obvious beneficiary.
'These projects include the much-needed subway systems, high speed rail lines, power production and telecoms infrastructure. There's no doubt that all those measures will impact on China's economic growth going forward,' he said last summer.

Association of South East Asian Nations
The Association of South East Asian Nations region is buzzing with infrastructure development at the moment, with roads, airports and ports all under construction.
One project that has attracted particular attention is the planned railway from China to Singapore, with analysts at the Prusik Investment Management's Asia Fund, which is run by Heather Manners, likening the plan to America's 'gilded age'.
'There is nothing that promotes wealth creation quite like a railroad network and communications,' they noted in a quarterly investment report in December.
'What excites us now is that the bulk of the infrastructure spending is still to be done. Thailand has just doubled its budget for infrastructure spending to $72 billion in the next six years following a period of the lowest level investment in infrastructure in 50 years. In 2013 alone this will result in a 500% year on year increase in government spending on infrastructure.' Large-scale expansion of the region's power grid and a trans-Asean gas pipeline project are also on the drawing board.
Spending of this type is being seen across the region, according to Prusik, and the firm believes the region's construction companies will experience a boom the likes of which have not been seen for over a decade.

More about this:
Look up the funds
Look up the fund managers
More from us
Archive