Citywire printed articles sponsored by:


View the article online at http://citywire.co.uk/money/article/a566840
UK economy to 'zig-zag', says King
While warning over a slow recovery, Bank of England governor stresses the impossibility of making inflation forecasts with any certainty.
The UK economy will 'zig zag' over the coming year between negative and positive readings, Bank of England governor Mervyn King said today as he warned again of 'substantial headwinds' hampering the recovery.
Amid fears that the UK is slipping back into a technical recession, the governor reiterated his warning that the recovery is likely to be 'slow and uncertain'.
'For much of this year, there is likely to be a "zig-zag" pattern of alternating positive and negative quarterly growth rates reflecting the additional Bank Holiday for the Queen's Diamond Jubilee, so that it will be harder than usual to interpret the official estimates of growth,' King said.
He said that the Bank had only slightly changed its forecast for inflation, which will be 'slightly higher' than previously thought, but still likely below the 2% target for a good part of the next three years.
Currently inflation is falling from its peak, but remains above target, while the economy has just suffered a quarter of contraction and could slide into a technical recession.
Figures yesterday showed that inflation dropped to 3.6% on the annual consumer prices index (CPI) measure, caused mainly by the statistical impact of a VAT rise last year dropping out of the annual comparison. This reading remains above the Bank's 2% target, and King was forced to send another letter explaining why this was the case to chancellor George Osborne.
King stressed today that it was 'impossible to judge with any certainty' some of the factors behind the Bank's inflation forecasts. 'Disruptions to the supply of oil, for example from Iran or Nigeria, would pose an upside risk to the inflation outlook,' he said at a press conference for the launch of the Bank's quarterly inflation report.
'Inflation is now expected to be a little higher throughout, reflecting the looser stance of monetary policy and some increase in oil and commodity prices,' he said.
The inflation report, which is published every three months, is closely scrutinised for clues on the Bank of England's next steps to keep inflation on track and stabilise the economy.
The Bank does not publish an exact forecast figure for inflation and economic growth in its report, but rather includes charts (see below) showing probabilities, with central projections. The inflation chart appears to show that CPI will drop to around 1.8% in two years, higher than its November forecast of 1.27%.
The probability of various outcomes for CPI inflation in the future according to the Bank of England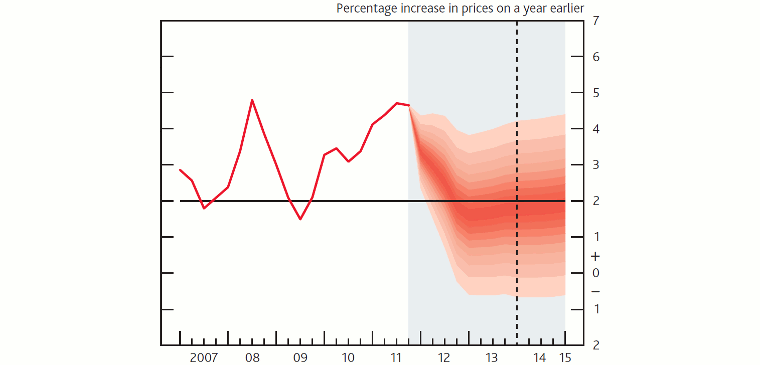 The probability of various outcomes for GDP growth according to the Bank of England
More about this:
More from us
What others are saying
Archive