View the article online at http://citywire.co.uk/money/article/a609973
US housing market shows signs of recovery
The housing market moves slowly but surely into recovery mode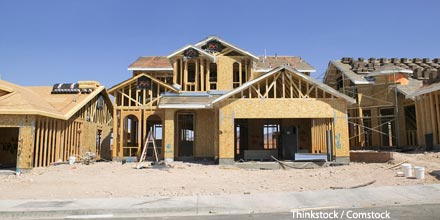 There is growing evidence that the US housing market has bottomed out, with the latest indicators all pointing towards the nascent recovery continuing through the second half of the year.
The Federal Housing Finance Agency (FHFA) said last week in its latest monthly report that house prices rose by 0.8% month-on-month in May, reaching their highest level since August 2010.
The April to May increase was the fourth consecutive month-on-month rise in the FHFA's Home Price index and the largest single monthly gain since the autumn of 2005. This means house prices actually rose by 3.7% in the 12 months to the end of May, the biggest yearly rise since September 2006.
Passed the nadir?
Dr Mark Perry, professor of economics and finance at the University of Michigan's Flint School of Management, said: 'The evidence continues to mount that we've passed the bottom of the US housing market, as we continue to see sales gains for both new and existing homes and gradual but ongoing increases in home prices, according to various sources.'
Other US housing indicators virtually all point in the same direction. Real estate data provider Zillow's US Homes Values index posted a 0.2% year-on-year rise in June, and its quarterly index jumped by 2.1% in the second quarter.
In keeping with the FHFA index, Zillow reported that house prices rose for a fourth consecutive quarter, and it said the appreciation in values in the second quarter was the highest since the last three months of 2005. Despite the positive newsflow, Zillow chief economist Stan Humphries expects the rate of house price growth to slow in the second half of the year.
'Nationally, home values reached their bottom in February of 2012 and have since appreciated at very robust monthly growth rates,' he said. 'Despite encouraging monthly growth, we do not believe this monthly rate is sustainable and expect it to taper off towards the end of the year. According to the Zillow home value forecast, we expect national home values to appreciate by 1.1% over the next year (June 2012 to June 2013).'
Humphries noted that the rate of recovery has varied markedly between different areas but he believes that 96 out of the 156 markets Zillow cover have already bottomed.
A V-shaped recovery
'In some of the hardest hit markets, the bottoming process has been quite different than we had initially expected,' he said.
'Due to very low inventory levels – paired with greater consumer and investor appetite and low mortgage rates – home values have appreciated faster than anticipated in markets like Phoenix and Miami, creating a V-shaped recovery in home values.'
The National Association of Realtors (NAR) has reported similar inventory problems, particularly at the lower-valued end of the market. The NAR said this explained why pending home sales fell by 1.4% month-on-month, but remain 9.5% higher than the previous June and the last 14 months have all marked month-on-month gains.
Lawrence Yun, chief economist at the NAR, said inventory shortages are undoubtedly a factor behind the June slip. 'Buyer interest remains strong but fewer home listings mean fewer contract-signing opportunities,' he said. 'We've been seeing a steady decline in the level of housing inventory, which is most pronounced in the lower price ranges popular with first-time buyers and investors.'
Underlining this, according to the Realtors Confidence index, the buyer traffic index stood at 60 in June while the seller index was 41. A value of 50 implies neutral market conditions as a guide to just how stark the imbalance between buyer and seller interest has become.
'Any bank-owned properties that have been held back in markets with inventory shortages should be released expeditiously to help meet market demand,' Yun said. 'Housing starts will likely need to double over the next two years to satisfy the pent-up demand for both rentals and ownership.'
News sponsored by:
Greater Europe and Emerging Europe A comprehensive approach to investing in Europe
Making the most out of Europe's potential means seeing things differently. Learn more about how BlackRock's focused approach to investing in Europe helps investors unlock the continent's vast potential.
The Citywire Guide to Investment Trusts
In this guide to investment trusts, produced in association with Aberdeen Asset Management, we spoke to many of the leading experts in the field to find out more.
More about this:
Archive
Today's articles
Tools from Citywire Money
Weekly email from The Lolly
Get simple, easy ways to make more from your money. Just enter your email address below
An error occured while subscribing your email. Please try again later.
Thank you for registering for your weekly newsletter from The Lolly.
Keep an eye out for us in your inbox, and please add noreply@emails.citywire.co.uk to your safe senders list so we don't get junked.