Citywire printed articles sponsored by:
View the article online at http://citywire.co.uk/money/article/a603686
Which financial services firms do you trust?
A new campaign aims to put the issue of consumer trust at the heart of every financial services company, but who can you really rely on?
by Michelle McGagh on Jul 12, 2012 at 09:41
Turning financial services' 'trust deficit' into a 'trust dividend' is the aim of a new campaign that wants financial institutions to look past the pound signs and do right by their customers.
Doing the right thing by consumers should be a no-brainer for financial companies – after all, customers are the ones that pay the bills and the huge bonuses, and let us not forget that consumers have bailed out some of the high-street banks.
However, numerous scandals – from the mis-selling of payment protection insurance to giving poor advice to the elderly – show financial institutions are not putting consumers at the heart of what they do.  
But now one man is hoping to change all that with his Question of Trust campaign.
Independent financial adviser Shane Mullins, managing director of Nottinghamshire-based Fiscal Engineers, has launched the campaign and aims to get the issue of trust on the agenda of major financial companies.
Mullins believes financial companies are too concerned with short-term rewards, profits and shareholder returns, meaning they are overlooking the needs of consumers.
'There has been a run on trust over many year and we are now at a crisis point. If we fail to arrest those problems, we are likely to breed a generation of mis-trust,' Mullins said.
'If we are to change, we need to build a culture of doing the right thing and built on delivering future promises, this must be on the agenda of every company. The industry is starting to understand this and we are hoping to create a model to tackle this.
'Shareholder value is the mantra for business but what about consumers? There is a conflict of interest.'
Decline of trust
The campaign to improve trust comes at a crucial time. A study by the Financial Services Research Centre (FSRC) at the University of Nottingham, which is working with Mullins, shows low levels of trust in financial services.
A study by the FSRC, undertaken over three years with 15,000 consumers, shows brokers and advisers are the most trusted people in financial services, but life insurance companies languish at the bottom, followed by general insurance companies and banks.
Active trust by institution type: Click to enlarge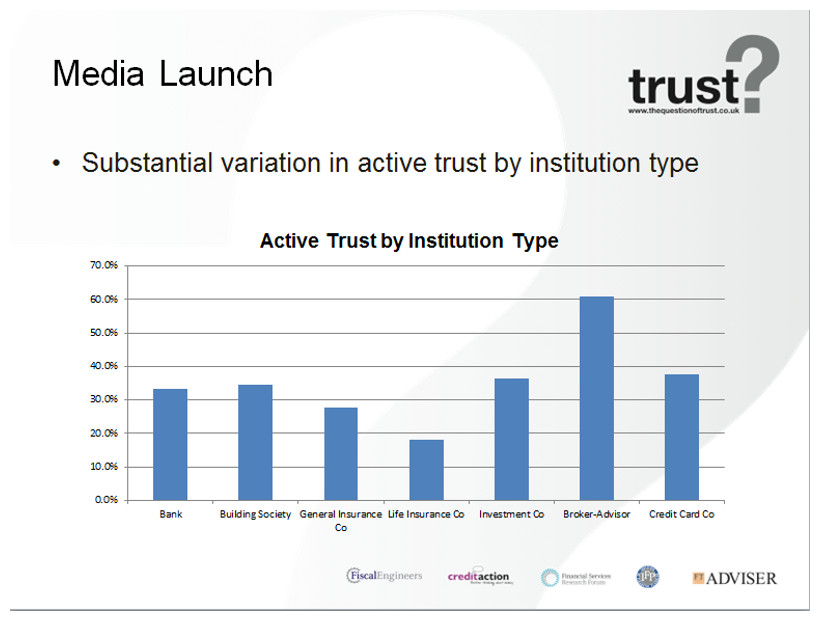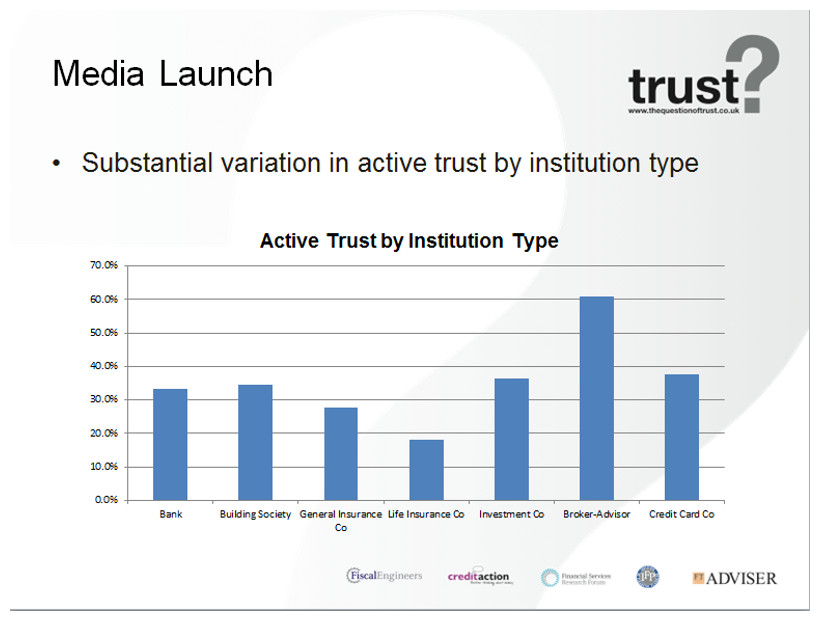 Professor Christine Ennew of the FSRC said: 'When there is risk and what happens to us is interdependent on someone else, then we are vulnerable. When we are vulnerable trust matters, because it lets us make decisions about people and organisations.
'Most relationships rely on trust and in financial services it is significant because risk is an inherent part of financial services.'
The trust shown in advisers and brokers could reflect the fact that people tend to trust individuals and organisations more when they have built up a relationship. Also, the closer to the consumer the financial services employee is the more trust the consumer has in them.
This means people have a fairly positive view of the financial services people and organisations they deal with directly.
Trust in FSIs: Click to enlarge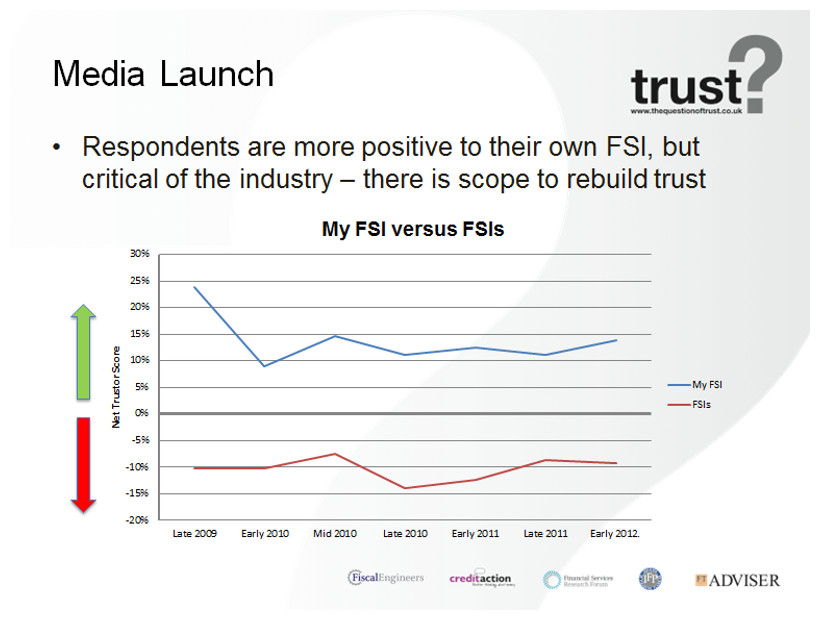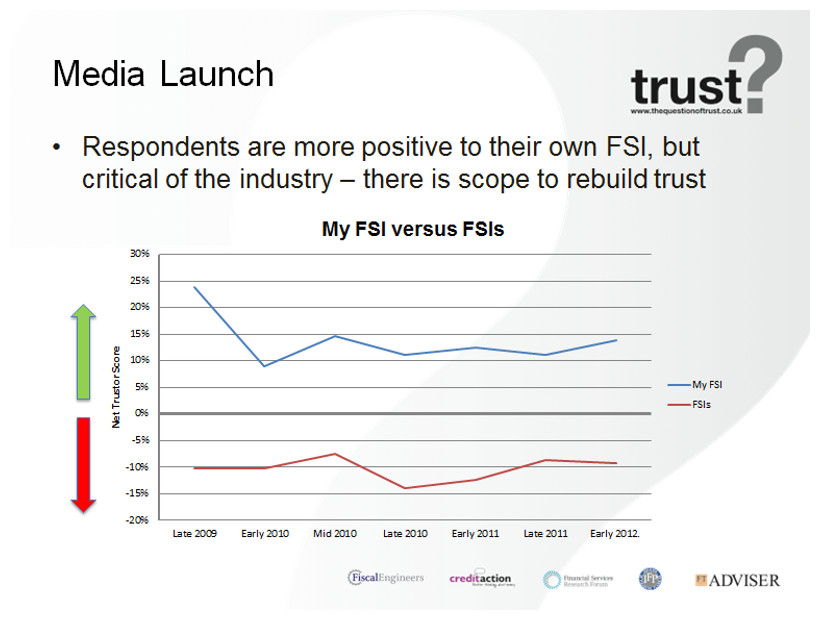 Managers less trusted than staff: Click to enlarge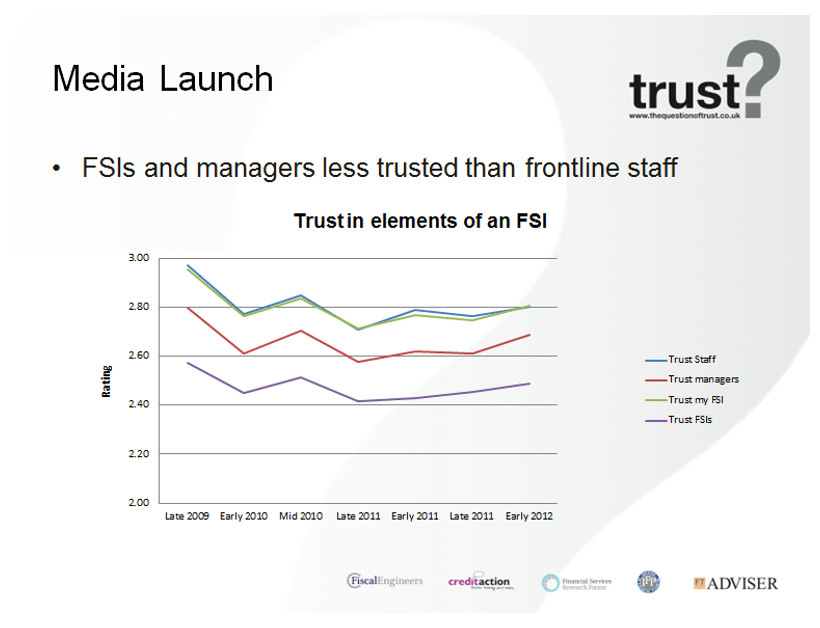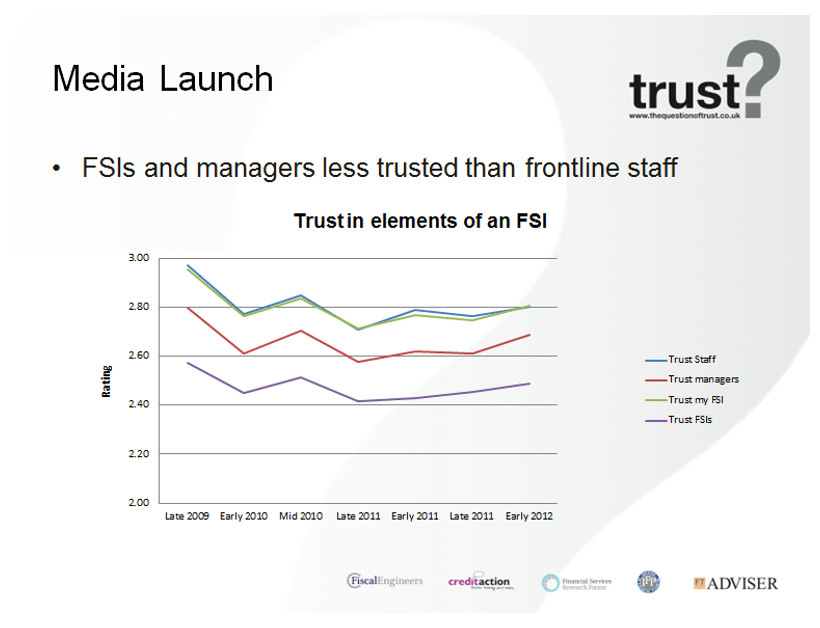 'People have a reasonably positive view of their own financial services institutions but do not trust the industry as a whole. Where a relationship is built trust has emerged… the further away from the front line the lower the level of trust,' Ennew said.
There is also a worrying increase in the levels of 'forced trust' versus 'active trust', and people feel that they have no choice but to trust financial institutions although they do not chose to trust them.
In the past three years, active trust has declined and forced trust has increased.
Active and forced trust: Click to enlarge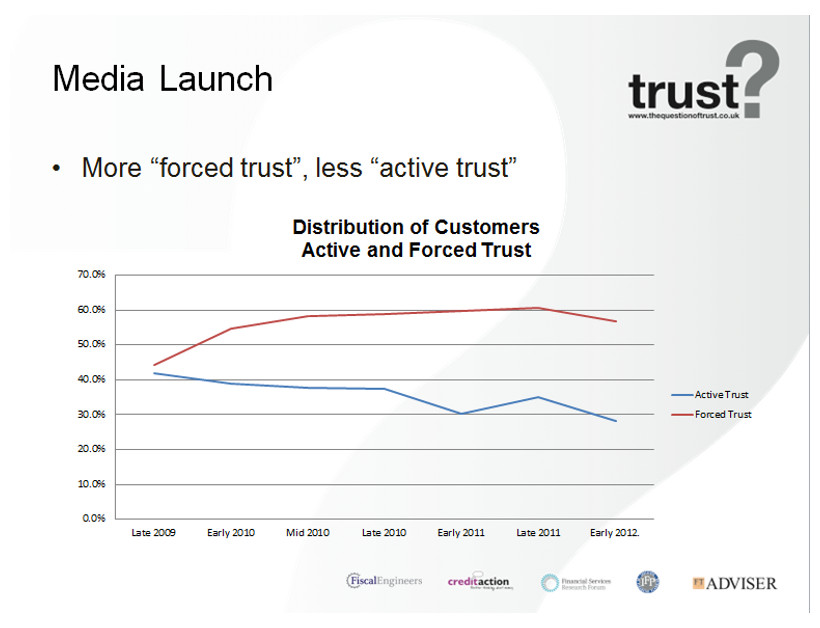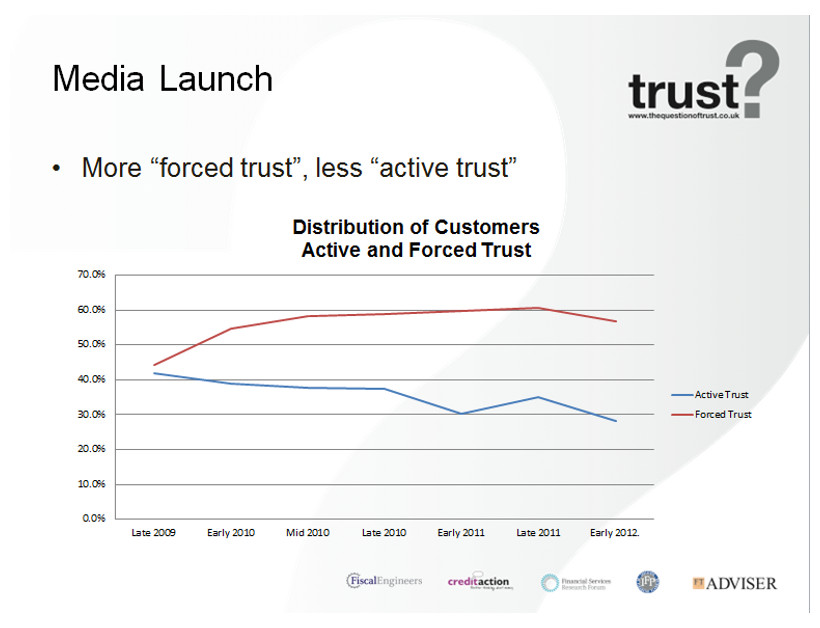 'Consumer trust is complex, and in many cases they feel they have no choice but to trust,' Ennew said. 'There are consumers who have actively trusted and have their own evidence for doing so and then there are those who trust because they have not got a choice.'
Ennew said financial companies know there is a problem with the levels of consumer trust, but no one believes it is their problem – preferring to say increasing trust is the responsibility of the government or regulator.
'The industry is very clear trust that is fundamental to financial services and that this is a problem… that present real economic importance,' she said.
'[Financial institutions] know there is an issue but none of them…review how to manage it. It is someone else's problem and there is no sense of owning trust.'
Time for change
The Questions of Trust campaign aims to address the issue of trust and push financial institutions to take ownership of consumer attitudes towards the industry.
Through the campaign Mullins is hoping to establish a unified professional standards body, which would define a level of standards that financial services companies should be working to and ensure they are working in the consumers' best interest.
'We need a unified approach to standards – companies should be doing the right thing, whatever your business model,' said Mullins. He added that the development of a standards kitemark or the introduction of a fiduciary duty to put customer first could improve trust in the long term.
Question of Trust also wants to implement a 'baseline measure of trust' which companies can use to measure whether consumer trust in their company is moving up or down, and act accordingly.
A long-term education and engagement programme for consumers is also part of the campaign's plan, believing that if consumers have a better understanding of financial products, they will be more empowered in the relationships they have with companies – leading to greater levels of trust.
But the main change which the campaign wants to implement may be the biggest hurdle – aligning the industry's activity with the consumers' needs.
'We need a humble response and root-cause action right across the industry, coupled with strength of leadership and a commitment to take the long-view to change things for the better,' Mullins said.
Click below to watch an interview with Shane Mullins
Sponsored By:
More about this:
More from us
What others are saying
Archive
Weekly email from The Lolly
Get simple, easy ways to make more from your money. Just enter your email address below
An error occured while subscribing your email. Please try again later.
Thank you for registering for your weekly newsletter from The Lolly.
Keep an eye out for us in your inbox, and please add noreply@emails.citywire.co.uk to your safe senders list so we don't get junked.
Latest from Investment Basics