Citywire printed articles sponsored by:


View the article online at http://citywire.co.uk/new-model-adviser/article/a384627
Active v passive: what happens when you pit Bolton versus a value index
Keith Robertson's assertion earlier this month that the arguments for passive investing don't work provoked a huge response.
In the debate that followed several readers wondered how the great exponent of active investing – Fidelity's Anthony Bolton – would look if his performance was compared with a value index rather than the conventional FTSE 100 or All Share benchmarks.
Would the comparison enhance or diminish his record? Our first chart taken from this week's issue of New Model Adviser® pits Bolton's Fidelity Special Situations fund against the Dimensional UK Value fund. Dimensional takes its inspiration from Eugene Fama, the founder of efficient market hypothesis underpinning passive investment.
It creates its own indices, many of them with a value bias, which makes its UK fund relevant as a benchmark for Bolton. The first chart shows that from January 2004 when the Dimensional tracker was launched until the end of 2007 when Bolton stepped back from his fund, Dimensional and Bolton finished neck and neck with a return of 82%, beating the All Share on 69.5%. You have to give Dimensional the edge here given the lack of manager risk in its performance. Round one to Fama.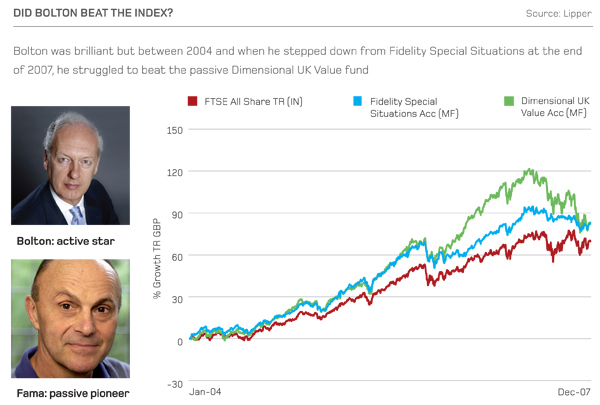 Does Bolton come back with a knock out blow in the second round? You tell me, but the second chart below shows that over the 11 years from 1997 to end of 2007 Special Situations trounced the FTSE World Value United Kingdom index with a return of 373% versus 175%.
What conclusions do we draw from this? It's a different index so it is not a like-for-like comparison. Yet it is surely possible to argue that gifted individuals do significantly outperform the stock market. However, given that Bolton is one of the best active fund managers the challenge from passives to less talented active fund managers is clearly very strong. Perhaps Bolton's great strength lies in his ability to vary his style when he needs to although he is most comfortable when value is in vogue.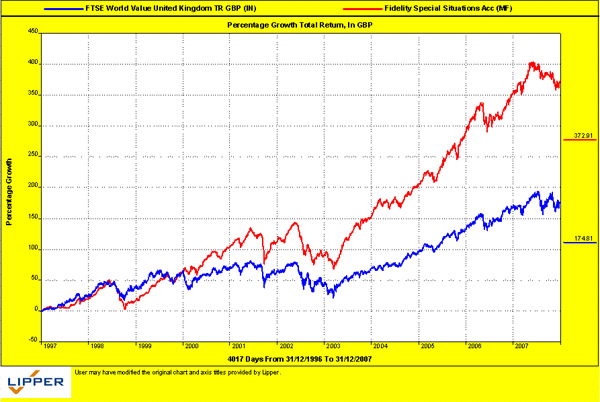 More about this article:
More from us
Archive