Brooks Macdonald Asset Management
About us
Brooks Macdonald Asset Management is a private client investment manager. Our client portfolios start from £200,000 and generally range between £500,000 and £15 million in size and are a mix of private, pension and trustee accounts. We offer a service combining a flexible, balanced and sophisticated investment management process with direct contact between clients and their portfolio management teams as well as fair, clean and transparent charges. We are a subsidiary of Brooks Macdonald Group plc, an AIM listed, integrated, independent wealth management group.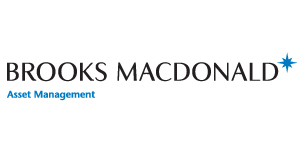 £800,000
average individual client portfolio size
£3.751 billion
assets under management
£200,000
minimum investment limit
Postal address
11 Park Street
London
W1K 7JL
Locations
London, Hampshire, Manchester, Tunbridge Wells, Edinburgh, Taunton, York
Last word
Understanding that investment management is only a part of the overall picture, we recognise the importance of working closely with professional advisers in order to ensure the best outcomes for clients. The competitive nature of our offering has encouraged high levels of professional and personal referral, while our service levels and consistent performance have led to high levels of client retention.
Relationship management
How are intermediary relationships managed?
Intermediary relationships are managed by our team of 12 intermediary sales managers providing national coverage.
How can portfolios be monitored?
Clients receive hard copy valuations, including a performance report, transaction schedule and income and capital statements along with a quarterly overview of global markets. Portfolios can also be viewed online via our website by clients and their advisers.
Are you able to remunerate advisers within your charging structure?
Brooks Macdonald has acted upon clients' instructions and facilitated payments to advisers from the client's account for many years and will continue to do so under RDR. As we know, the remuneration of an adviser is a matter between the client and the adviser and we will continue to ensure that the adviser is paid what has been agreed with their client via a deduction from the client's investment account.
How do you communicate with your intermediary partners?
Our partners receive regular market commentary and related communications from us at a frequency that is suitable to them. We engage advisers through a series of roundtable market discussions and seminars and our website also has an area exclusive to advisers where additional helpful and insightful information can be found.
Do you have a facility to link to an adviser's own technology platform?
We have links with four CRM systems, Avelo Adviser Office, Intelliflo, MoneyInfo and Enable.
Briefly describe your ideal intermediary partner
Professional, client-centric advisers with a robust risk profiling process who acknowledge that their advisory skills and our investment management skills complement one another.
Unique selling points
Briefly describe why financial planners should consider using you as a discretionary manager
We are professional adviser focused and have built our business model around the needs of advisers and their clients.
We aim to deliver long-term consistent outperformance against our benchmarks.
We operate with a dynamic and entrepreneurial approach.
Our proposition is service led, with regular points of contact with clients and their advisers.
We are pioneers of fee-only investment management.
We invest in all asset classes via all investment media in a risk controlled environment.
Portfolio construction
Our investment process provides a framework that allows us to create individual portfolios whilst controlling the risks taken. We employ a top-down strategy for the macroeconomic asset allocation element of our approach, to which we apply our risk management tools and a bottom-up strategy to provide the appropriate investments for clients' portfolios.
How extensively are collectives used within portfolios?
We use collectives for both UK and overseas exposure to complement direct investment into shares, fixed income securities and structured products. The amount held in collectives will vary depending on the investment objective and risk profile but we would expect to hold approximately 50% to 70% within most clients' portfolios.
What is your performance record over the past three years?
Over the last three years our performance has been consistently above our benchmarks with considerably less volatility than equity markets. Three year returns to the 30th June 2012 were up 25.4% for our Bespoke Portfolio Service Low to Medium risk balanced portfolio mandate compared to the ARC Sterling Balanced Asset PCI index which rose 22.6%. The Low to Medium risk balanced mandate has a strategic equity exposure of 40% to 60%.
Which benchmarks do you use to monitor performance?
We agree individual benchmarks for all client portfolios. Generally these include relevant equity and the ARC Private Client Indices.
Scope of investments
Direct UK equities*

UK equity long-only funds

Direct overseas equities

Overseas equity funds

Hedge fund of funds

Single strategy hedge funds

Private equity

Structured products

Other alternatives

Direct property

Property collectives

Direct government bonds

Government bond funds

Direct corporate bonds

Corporate bond funds

Exchange traded funds

Investment trusts