Citywire printed articles sponsored by:


View the article online at http://citywire.co.uk/new-model-adviser/article/a664490
Lothian reveals his strategic asset allocation approach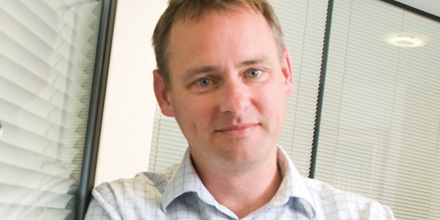 The importance of asset allocation cannot be overstated. Research shows 90% or more of a portfolio's returns can be explained by its asset allocation.
A2+B Wealth and Verus Wealth have a joint investment policy committee that convenes twice a year to review our investment approach, asset allocation and fund or vehicle selection. As advocates of a passive approach to investing, we seek to capture broad market or sector returns in our portfolios at a low cost without attempting to outperform via speculative activities, such as market timing, fund manager choice or stock selection. Our asset allocation approach is strategic rather than tactical.
We maintain seven distinct model portfolios with equity allocations ranging from 0% to 100%, with the balance invested in fixed income, including a 3% allocation to cash. The tables on pages three to six show the sector and fund allocation of each of these portfolios as well as their costs, yield, expected annual return and historic volatility. The return and volatility figures were derived from back-testing the portfolios to 1994.
The above graph and the one on the next page show actual (not back-tested) return and volatility figures over the past three years. We test the portfolios monthly to monitor performance and volatility.
Fixed income exposure
Our portfolios' fixed income exposure is equally divided between two funds: Dimensional Fund Advisor's Global Short Dated Bond Fund and Vanguard's Global Bond Index Fund.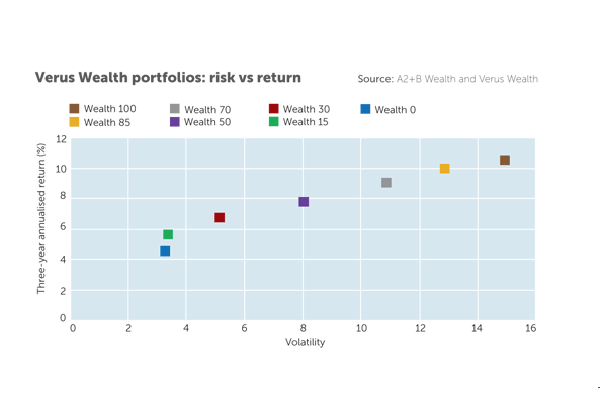 We believe Dimensional's approach to fixed income represents the optimal use of fixed interest exposure within an investment portfolio. The fund invests solely in high-quality, investment-grade, short-term fixed interest securities, which mature in five years or less, issued by governmental, quasi-governmental and corporate issuers in developed countries.
The average maturity of all holdings is 3.9 years and average credit quality AA+. Most of the assets of the fund held in foreign currency-denominated instruments are hedged back into sterling to minimise volatility.
Risk and return are related and therefore, fixed interest is likely to underperform equities over the medium and long term. Any exposure to fixed interest is there to reduce portfolio volatility at the expense of lower long-term returns. On this basis, there is no need to go significantly longer or junkier in our fixed income exposure.
If an investor seeks higher returns and is prepared to accept higher volatility, we would generally advocate increasing exposure to growth assets rather than increasing fixed income durations.
More about this article:
More from us
Archive