Britain's FTSE 100 inched up on Thursday, halting an eight-day losing streak, in the aftermath of an unsuccessful German debt auction that triggered fears that the eurozone's debt crisis was penetrating its biggest economy.
The UK index of blue-chip shares added 0.29%, or 15 points, to 5,155 and the All Share index improved 0.32%, or nine points, to 2,656.
'Yesterday's buyer's strike for German bunds sent chills of fear through Europe as investors saw the first signs that Germany was exhibiting the initial signs of contagion from Europe's debt crisis,' said Michael Hewson, market analyst at CMC markets.
He added: 'It also begs the question that if the strongest economy in Europe can't shift 10-year bonds, what does that mean for everyone else in Europe trying to raise funds in the open market?'
The yield, or implied interest rate, on benchmark 10-year German bunds rose further, climbing seven basis points to 2.17%, after hitting a one-month high of 2.18% earlier in the day. However, French, Italian and Spanish borrowing costs eased, in a more positive signal for the eurozone's other biggest economies.
Core contagion: Click to enlarge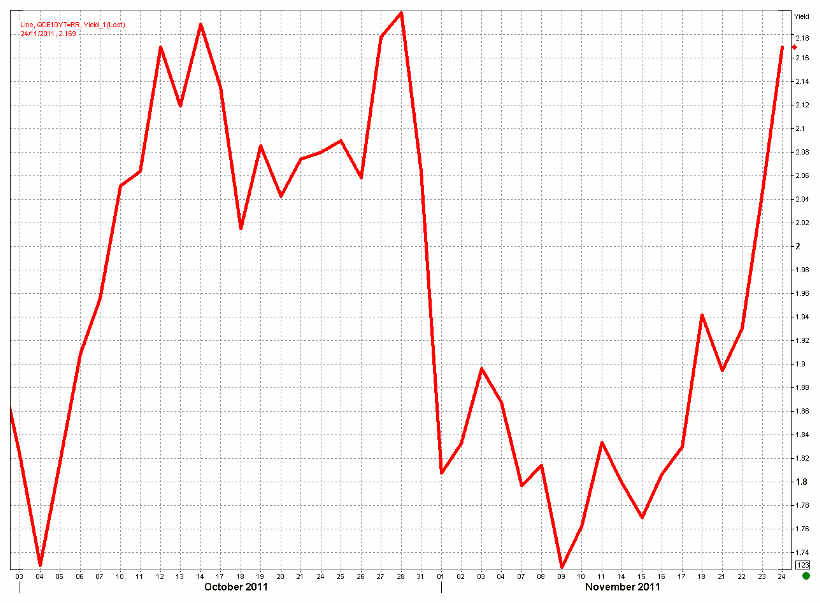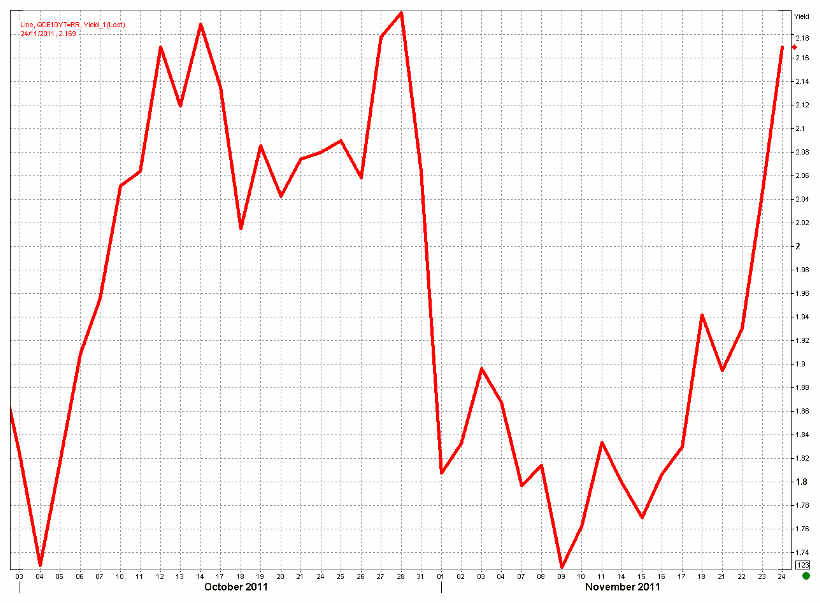 The chart shows yields on 10-year bunds from the start of October to Thursday morning. Source: Reuters
Stock markets elsewhere in Europe also bounced: Germany's DAX index gained 0.93% to 5,509, France's CAC 40 index strengthened 1.16% to 2,855, and the FTSEurofirst 300 index of top European shares rose 0.61% to 908.
Commodities prices staged a light recovery, with Brent crude oil for delivery in December hardening 0.55% to $107.61 per barrel, but concerns over the global economy persisted.
'Although we still think it unlikely that a collapse in global growth rates à la 2008 and 2009 will occur, this slowdown could easily rival what we experienced last summer – and has the potential to be much worse,' warned Viktor Shvets, strategist at Samgsung Securities.
'The combination of a raging fire in the eurozone and growing signs of a renewed slowdown in the US as well as China could easily reduce global growth rates to near recession levels,' he said.
Financials were among the biggest gainers on the FTSE 100, rebounding in the wake of Wednesday's sharp losses. Investec (INVP.L) bounced 10p to 328p, Royal Bank of Scotland (RBS.L) gained 0.5p to 17.8p and Lloyds (LLOY.L) advanced 0.5p to 22.3p.
Defensives dominated the loser board, ending a period of outperformance. Tate & Lyle (TATE.L) edged down 10p to 659p and Shire (SHP.L) lost 18p to £19.93.
On the FTSE 250, Thomas Cook (TCG.L) recovered a further 2p to 12.9p after Reuters reported that the travel group's banks have appointed Ernst & Young to advise them in a sign lenders are gearing up for a possible restructuring.
Sterling bounced 0.12% versus the dollar to $1.554 ahead of UK economic growht data, and eased 0.2% against the euro to €1.161.