Citywire printed articles sponsored by:


View this article online at http://citywire.co.uk/wealth-manager/article/a704025
How to cure the Fed's tapering cold feet? Buy some socks, experts say
He explained: 'Similar to the US, the Bank of England's minutes revealed a central bank that was not yet overly-excited about the strength of the recovery.
'Either central bankers are playing the game of keeping rate-rise forecasting in check, or they are genuinely very sanguine about the data. To some degree, it is starting to feel like a game of cat and mouse.'
In the long-term, though, tapering can only be a good thing, Chillingworth said.
'The impact of tapering should be one of a number of factors, proving a positive, by alleviating US inflation,' he said. As a result Rathbones has decided to remain overweight to US equities, where a stronger dollar has traditionally helped curtail inflation and boost consumers' spending power.
Fed Projections
Others, not convinced of the 'surprise' element of the Fed's decision, said Bernanke had avoided giving much in the way of forward guidance.
'The Fed continued to stress that their actions will only be guided by economic data , not market expectations,' said BestInvest's chief investment officerGareth Lewis, though he said new projections on growth, employment and inflation, shown in the three charts below, suggested the Fed was disappointed with the speed of the recovery.
i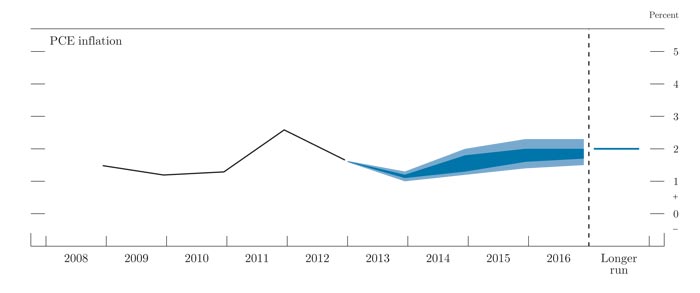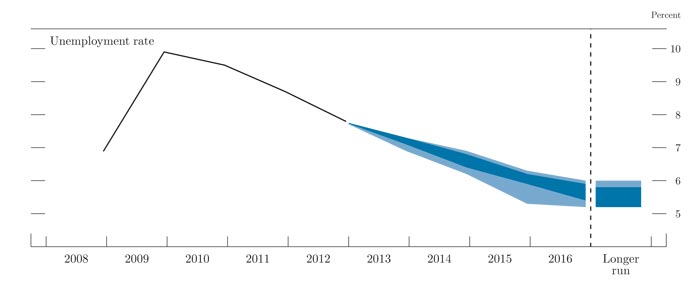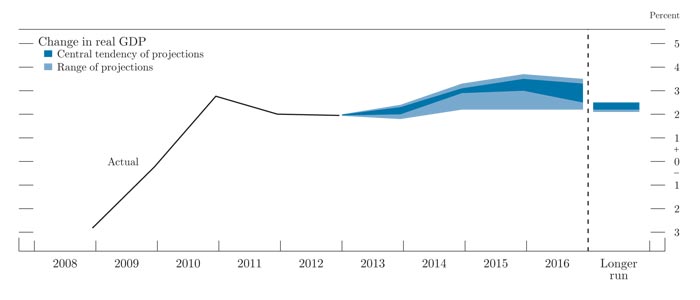 He pointed out that the new forecasts show expectations for GDP growth had been 'nudged down' for this year and next, and significantly, the majority of the Federal Open Market Committee (FOMC) now expected base rates to stay unchanged into 2015 and to remain at or below 2% until  the end of 2016.
The question of whether all this and the Fed's statement last night is something that Lewis confessed he had asked himself.
'Taken in isolation the economic data is sufficiently opaque to justify the decision not to taper, however taken in the context of the guidance given over the summer and the very sanguine response from investors, the decision looks to be a missed opportunity,' he said.
More about this:
Look up the fund managers
More from us
Archive