Citywire printed articles sponsored by:


View this article online at http://citywire.co.uk/wealth-manager/article/a661200
M&G's Leaviss: UK faces its own fiscal cliff within five years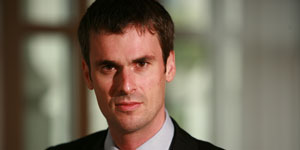 M&G's bond star Jim Leaviss has warned that while the UK's credit rating downgrade could have happened a lot sooner, it will have little impact on the country's ability to continue to borrow.
Leaviss is far more concerned about a prolonged slide in the price of sterling as the country's fiscal deficit continues to grow and weigh on the anaemic economy, and he warned that the UK could face its very own fiscal cliff crisis within five years without significant extra public spending.
The A-rated manager points out that when the US and France lost their AAA credit rating in August 2011 and January 2012 respectively, while government bond yields fell slightly, it did not affect their ability to borrow from financial markets.
Downgrade does not imply carnage
Leaviss said: 'The downgrade from Aa1 to Aaa does not imply carnage - it counts for around 20 basis points difference in borrowing and it means the government can consider some fiscal stimulus. Lending rates are still low so let's borrow some money for some infrastructure [projects] and get some growth going.'
He described the UK's AAA credit status as a 'white elephant' in that it was 'a valuable but burdensome gift whose cost far outweighed its true worth' and said that it spelled 'tremendously good news for the UK as it might spark a round of spending'.
'The US is now growing. It did its own fiscal stimulus but the UK didn't. I don't think you can have both debt coming down and growth. Although the [UK] government has talked about spending cuts and tax rises to help growth, so far it has done very little. Around 70% of the planned tax rises have come through, but only 30% of the spending cuts.'
And with spending cuts being pushed further and further back, Leaviss warned that the UK could shortly be in the same debt predicament as the US, but without the sustainable growth factor.
'Spending cuts are being pushed further and further back, and more government departments will need further spending cuts over the next few years. We could face our own fiscal cliff in the next five years.'
Zero exposure to sterling
The M&G Global Macro Bond A USD   manager has been underweight sterling for the past nine months and now has a zero weighting to the UK currency in the fund, with 70% exposure to the US dollar.
'One of the big losers of the downgrade will be George Osborne who put keeping the triple AAA rating at the centre of his policy. [The UK] doesn't look any different to the eurozone. Only Greece Spain and Ireland have higher budget deficits and we are way higher than the other AAA countries, and have even more debt than Italy with its well publicised problems.'
More about this:
Look up the funds
Look up the fund managers
Archive