Citywire printed articles sponsored by:


View this article online at http://citywire.co.uk/wealth-manager/article/a669076
Metal bashing: why copper prices are due to bounce back
One of the most reliable indicators of copper demand in recent years may be read on the faces of stressed commuters exiting London Bridge Station on a weekday morning. As the spot price of the bellwether metal topped out in 2011, thefts of copper wiring from UK railways rose 67% year-on-year, causing havoc on railways nationally, but particularly at the busy intersections of London suburban lines.
The past year has seen thefts fall 55%. While the British Transport Police would no doubt attribute that to their efforts to secure vulnerable infrastructure, the degree of volatility suggests metal thieves have simply concluded it is no longer worth giving up a night spent in bed.
Demand for copper – or the lack of it – is a particularly perplexing point right now. Traditionally, copper like equity, is seen as a fair proxy for future growth calculations, but the two have parted ways, with the metal trading sideways-to-down even as the Dow Jones has consistently broken through to fresh highs. Copper inventories recently hit a record global high.
The spread of the Dow Jones Industrial Average Index over the copper spot was similarly breaching fresh record highs day-by-day last week (figure 1). Opinions on what is driving the divergence, and whether copper, alongside other industrial metals, is now oversold, differ widely.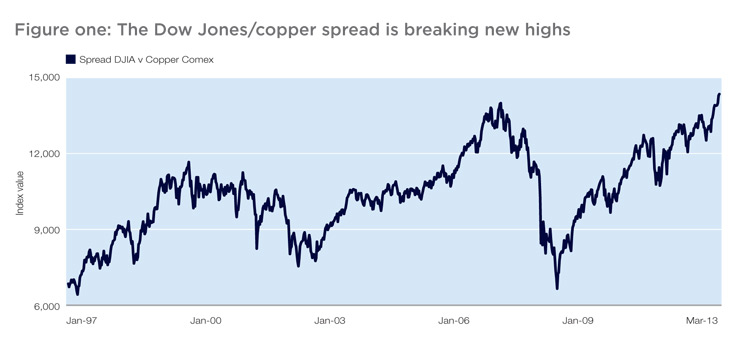 'Copper used to be regarded as a bellwether of the world economy,' said Julian Jessop, chief global economist at Capital Economics.
'However, China now accounts for at least 40% of global copper consumption, so copper prices are disproportionately sensitive to the health of China's property sector. Perhaps Dr Copper's field is simply more specialised than before.'
This suggestion is supported by Chinese import figures, with copper down 28% by volume over the course of 2013. Others question whether that is enough to cause the kind of divergence between metals and other forward indicators, though, and the falls pre-date China's economic slowing.
The Copper Comex spot price is down 22.3% from its 2011 high (figure 2). While recent trading has been choppy and rangebound, there has been growing downward momentum pressure on top of any fundamental considerations.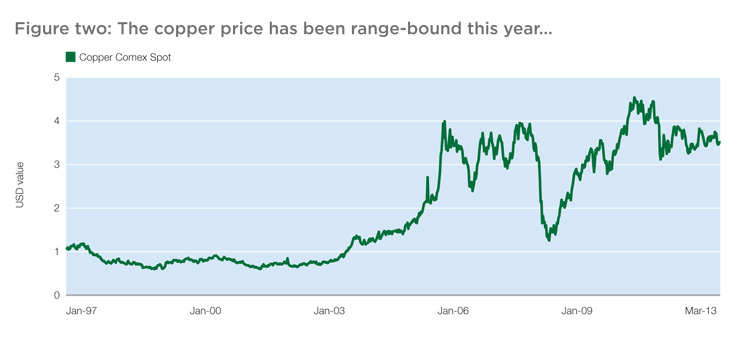 The number of copper short contracts outstanding is now within a single percentage point of its post-crash record high, reached last summer (figure 3). Goldman Sachs, in a note last week, said it believed those pressures were now overdone, and advocated going long September contracts.
More about this:
More from us
Archive