Citywire printed articles sponsored by:


View this article online at http://citywire.co.uk/wealth-manager/article/a708283
MRB's Insight of the Week: don't expect an EM bounce anytime soon
MRB recommends a moderately pro-cyclical regional equity portfolio posture, consistent with a gradually improving global economy and a reflationary monetary backdrop.
Higher-beta markets will have tailwinds in the form of rising global equity prices, as well as a pick-up in final demand and international trade that will boost operating leverage and corporate earnings.
However, global growth will need to strengthen materially before a full-on pro-cyclical regional posture is appropriate, with commodity-driven markets and emerging markets (EM) likely to lag until then. In the meantime, we are hanging on to a neutral weighting in the US to provide stability and balance against our higher-beta exposures.
Our recommendations are based on an assessment of the earnings outlook, policy thrust, price momentum and valuation, with earnings weighted most heavily in our overall scoring since relative earnings are the dominant driver of relative price performance.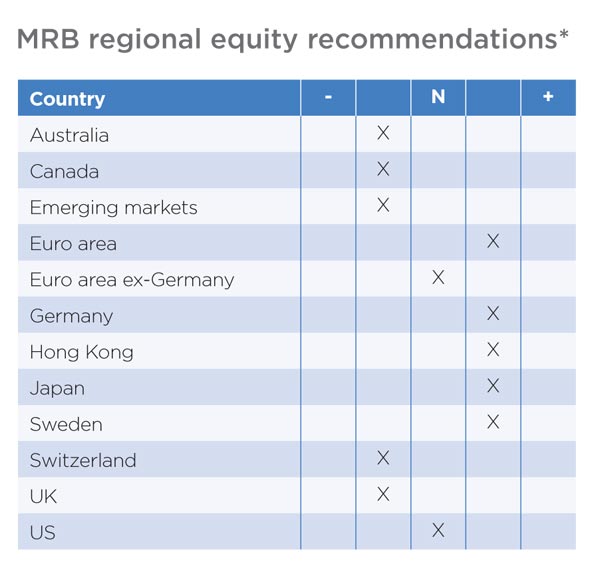 Germany, Sweden, Hong Kong and Japan score highest in overall terms, with all registering top marks on earnings and underpinning our overweight recommendations. Germany, Sweden and Japan are the most geared to an upturn in global industrial production, and should benefit from strong operating earnings leverage as activity strengthens.
Canada, the UK, EM, Australia and Switzerland score lowest given their comparatively poorer earnings outlooks, with all but the latter hamstrung by a less favourable policy thrust as well. The UK and Swiss markets are typically defensive markets, and should lag as global growth strengthens.
Our cautious view on commodities justifies maintaining an underweight stance on Australia and Canada. We also look to upgrade EM stocks and downgrade the US once global growth gets on a more secure footing.
Warren Smith is a partner at MRB - the Macro Research Board
Read more...
on Dec 10, 2013 at 12:57