Aberdeen Asset Management has updated its executive pay policy ahead of its annual general meeting (AGM) on Thursday as investor groups raise concerns over aspects of the remuneration policy.

Aberdeen is among the first listed companies to hold a shareholder meeting since shareholders were given a binding vote on directors' pay as a result of the Enterprise and Regulatory Reform Act 2013.

In its update Aberdeen said newly appointed executives at the firm run by Martin Gilbert (pictured) will not receive annual bonuses for their notice periods apart from in exceptional circumstances, such as ill-health.

Aberdeen's annual report had revealed the contractual position for current executives is they are eligible to receive annual bonuses for notice periods in the event of their contracts being terminated.
An 'amber top' alert on Aberdeen was issued by the influential Association of British Insurers ahead of the AGM and some shareholders have revealed their intention to vote against the proposed pay policy.
A spokesperson for Aberdeen said:  'We do not believe in rewarding failure and executive bonus awards take account of key financial performance indicators. Three-quarters of any bonus earned is paid in company shares and released in tranches over four years. Bonuses can be clawed back in the event of serious misconduct or a significant failure in risk management.'
The chart below shows executive directors minimum (fixed) remuneration using base salaries for this year and provides an indication of the total remuneration for a year of good performance using annual bonus figures for the year ending 30 September 2013. There is no cap on an individuals total remuneration at the group.
Aberdeen executive remuneration: Click to enlarge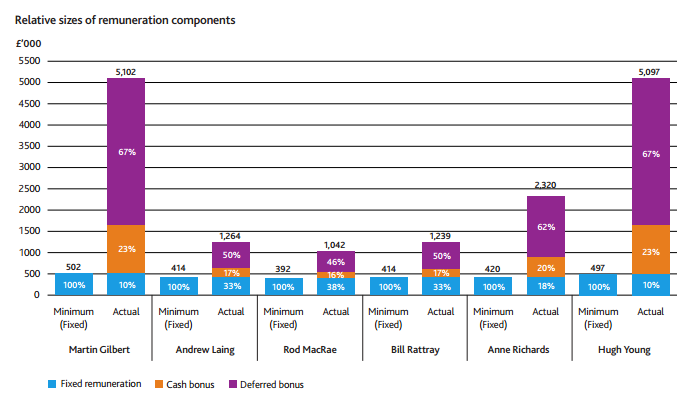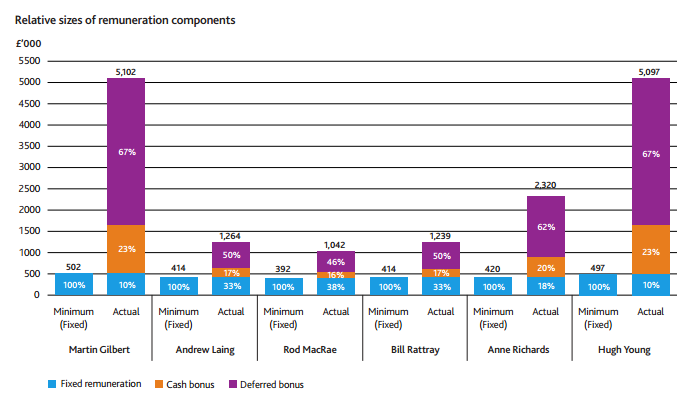 Source: Aberdeen