China funds suffer as investors await ECB action
Fidelity's unlucky Shah names the day's clangers
Theo Fennell soars 30% on takeover talks
Britvic set to merge with AG Barr
FTSE falls as BP tumbles on DoJ assault
16.15: As investors wait to hear what European Central Bank chief Mario Draghi will do to help distressed eurozone members tomorrow, it's interesting to see the winners and losers in the funds world over the past month.
New data from Lipper shows gold funds dominating the top 10 rising funds from 3 August to 4 September with gains of between 9% and 13% (see top table). Given that gold has risen 5% to $1,694 an ounce in the past 30 days this is a remarkable rally. Is it the result of a currency mismatch between the funds being priced in sterling and gold being measured in dollars? Or are some of the depressed gold mining shares finally starting to rally?
There could be more gold gains to come if Draghi commits to aggressive intervention in government bond markets in order to lower borrowing costs for Spain and Italy. However, the situation is confused with reports this afternoon saying the ECB plans 'unlimited' but 'sterilised' bond purchases, which sounds contradictory and is a long way from the Anglo-American style of quantitative easing which has boosted bullion prices each time it has been undertaken.  
This month's winners...
It's also striking to China and Asia funds leading the losers' list with falls over the month of between 5% and 6.5% as awareness of the slowdown in the region as a result of the eurozone crisis.
...and the losers
After a volatile day the FTSE 100 closed 13 points or 0.25% to 5,658 with the Euronext 100 slightly up at 651. Meanwhile, in the US the S&P 500 was flat at 1,404.
Unlucky Shah names the day's clangers
15.20: Poor old Sanjeev Shah. It's almost getting to the point that if the manager of Fidelity Special Situations mentions a stock you know there is bad news around the corner.
There is no doubt the man who succeeded Anthony Bolton on the fund is a tad unlucky. Earlier today he took to the airwaves for a webcast to update investors and advisers how things were going. As he did, Hibu (HIBU.L), the struggling Yellow Pages operator formerly known as Yell, which he used to tout as an example of the recovery stocks he liked, confirmed it was setting up a co-ordinating committee for the lenders who are taking control of the company, which will wipe out shareholders.
Not surprisingly, Shah wasn't taking questions on Hibu/Yell, which has hung like an albatross round his neck for some time. Today he preferred to discuss the opportunity in Lloyds (LLOY.L), rather than RBS (RBS.L), which is one of Hibu's lenders. How annoying for him that soon after the call ended reports emerged that the Financial Services Authority is investigating the incentives Lloyds uses to encourage (mis)selling of investment products!
However, it's not doing the shares any harm, which are up nearly a penny at 33.75p, as the market bounces back on an unconfirmed report that the European Central Bank will mount a no-holds barred buying of Italian and Spanish government bonds tomorrow.
But he does have an unlucky streak with timing. One of the turnaround situations he highlighted on the call was, guess what, BP (BP.L), the oil giant weighing the FTSE down today after an attack by the US government over its role in the Gulf of Mexico disaster knocked its shares 2.5% lower.
To be fair to Shah, he is having better luck with his other special situations such as ITV (ITV.L), F&C Asset Management (FCAM.L) and Qinetiq (QQ.L). His fund's performance has bounced back this year after a poor 2010 and 2011, which has hit his three-year figures (see chart). It was good to hear him sticking to his value philosophy. Let's hope his anti-Midas touch is on the wane.
Fidelity Special Situations: Click to enlarge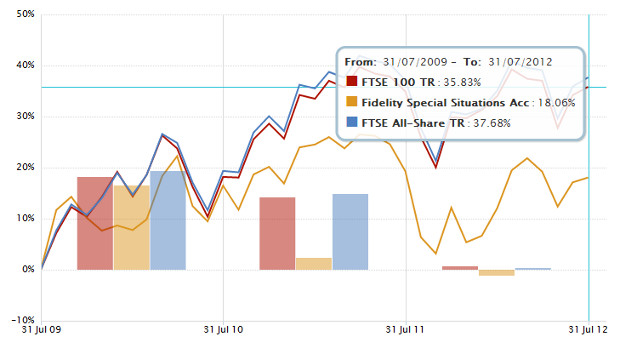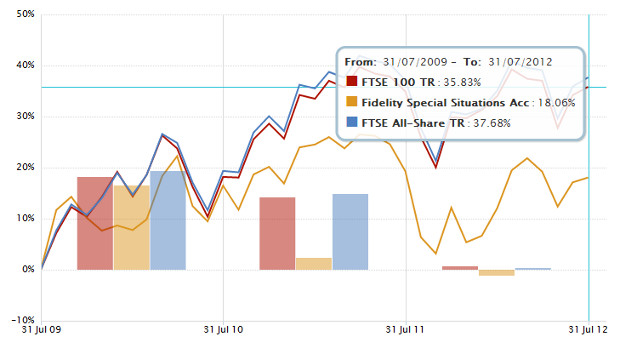 Theo Fennell soars 30% on takeover talks
12.10 Still on the bid theme Theo Fennell (TFL.L), the struggling luxury jewellery designer, soars 30% after disclosing it is in takeover talks with EME Capital.
Theo Fennell, whose customers include stars such as Victoria Beckham and Helen Mirren, has been loss-making since 2009 and even after today's 3.5p leap to 15.3p is valued at just £3.5 million. The company has recently turned its attention to China and emerging markets to drum up sales.
The company is off the radar of many investors but, according to Reuters, the Henderson UK Equity Income fund run by Citywire AA-rated James Henderson, holds a small stake.
Last year, it attracted the attention of Julian Barnett, a former hedge fund manager, but he subsequently reduced his stake below 3%. 
EME Capital is corporate advisory boutique with offices in London, Paris and Dubai. According to its website it advised private members club Soho House on the sale of a mamority stake to Yucaipa, a US private equity firm founded by supermarket entrepeneur Ron Burkle.
Meanwhile, on the other end of the scale, FTSE 100 insurer Prudential (PRU.L) completed its £417 million acquisition of SRLC America Holding Corp in the US. Its shares gained 9p to 779p.
A volatile FTSE 100 retreated again and is now 22 points down at 5,651.
Britvic set to merge with AG Barr
11.00 Britvic (BVIC.L), the drinks maker damaged by having to recall Fruit Shoots over a design fault in the caps, is set to merge with AG Barr (BAG.L), the owner of Irn Bru, Scotland's favourite soft drink.
The companies have confirmed they are in talks over an all share merger that will see Britvic shareholders own 63% and AG Barr shareholders 37% of the enlarged group.
Britivic shares, which slumped over the £25 million hit the company took over the product recall (see chart), soared nearly 14%, or 45.5p, to 374p, valuing it at £905 million. AG Barr advanced 5.4% or 22.5p to 438p.
In a joint statement the companies said the deal would create one of the leading soft drinks manufacturers in Europe. Its board would be drawn from both sides with AG Barr chief executive Roger White and Britvic chairman Gerald Corbett taking the same roles after the proposed merger.
Long-term shareholders in AG Barr include fund manager Nick Train who holds large positions in the company through the top performing Finsbury Growth & Income and Lindsell Train investment trusts.
The FTSE 100 has recovered some ground to trade eight points lower at 5,664.
FTSE falls as BP tumbles on DoJ assault
09.43: BP  has tumbled 4.2% to 418p in response to an aggressive attack on the oil giant by the US Department of Justice (DoJ) over the Gulf of Mexico spill.
Shares in BP, a Citywire Top Stock, slid nearly 19p after the DoJ said it would seek to prove at trial that gross negligence or wilful misconduct by the company caused the Deepwater Horizon disaster in 2010.
With an out-of-court settlement seemingly impossible, BP faces a lengthy trial process starting in January.
If found guilty of gross negligence BP could face a fine of up to $20 billion, according to Oriel Securities. BP has resisted this charge all along, saying the spill was the result of many factors and the responsibility of several parties, not just itself.
The DoJ's move will increase the pressure on BP chairman Carl Henrik-Svanberg who has been criticised by shareholders such as M&G's Tom Dobell for not vigorously enough to the challenges it faces after the disaster. As you can see BP's share price remains well below its pre-Macondo level.
BP's fall and continued nervousness over what the European Central Bank will announce tomorrow pushed the FTSE 100 some 30 points lower to 5,642. In Europe the Euronext 100 dipped two points to 648.