Date opened: 1 September 2011. Previously Anderson Strathern Asset Management was part of the law firm and traces its history back over 250 years.

Number in team: 20

Office clients: 525

Average portfolio size: £480,000

AUM: £260 million

Bullish or bearish?: Bullish, but as long-term investors we are more focused on longer term client outcome.

Top three fund picks:

Liontrust UK Smaller Companies – a sensible long-term approach to small company investing in the UK; should navigate Brexit uncertainty well.
Lazard Global Listed Infrastructure Equity – a conservative and selective approach to infrastructure; reduced exposure to equity market risk.
Neptune European Opportunities – a value play on Europe; should help to diversify the more 'quality' approaches to the sector and outperform as the region gets back on its feet.
Q&A with John Brett, CEO, Anderson Strathern, Edinburgh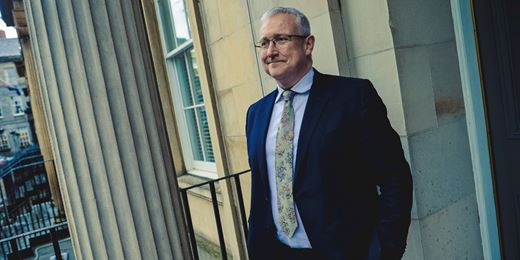 What is your typical client demographic?
Individual investors, trusts, charities and corporates.
What differentiates your location?
Scotland's inspiring capital offers an irresistible blend of history, natural beauty and modern city life.
An important international financial centre, with banking, life insurance and pensions, asset servicing and investment management activities.
It is currently the second largest financial centre in the UK, outside of London, adding upwards of £5 billion per annum of gross value and employing more than 40,000 people across the sector.
What challenges are facing your area?
Political uncertainty – Brexit and potential IndyRef2
Whether it be students from overseas contributing to research at our universities or talented staff helping to grow our industries, the Brexit negotiations will be crucial in ensuring Edinburgh retains its experienced, multicultural and eclectic workforce that helps drive the economy.
What's the best thing about living in your area?
Edinburgh is a beautiful and compact city with a rich history and thriving cultural scene. A massive 16% of people walk to work in Edinburgh, more than any other UK city.
The city's festivals will welcome more than 3,000 performers from 49 countries who will carry out 50,000 shows in 313 venues. Being a popular city with tourists, there are countless pubs, clubs and restaurants to keep you entertained.
What is a typical regional saying?
'Mony A Mickle Maks A Muckle.' An old Scottish slang expression, which effectively means, at the end of the day, small amounts of money add up and eventually lead to a pretty penny. An expression that although may appear obvious, is very relevant in today's UK economy.
Typical balanced portfolio: