Date opened: 2008

Average portfolio size: £400,000

Number in team: 3

Office clients: 150

Asset under Management: c£60 million for the Harrogate office

Top three fund picks:
1)Trojan Fund, Troy Asset Management
2)Scottish Mortgage Investment Trust, Baillie Gifford
3)Alquity Asia Fund
Q&A with (left to right) director, Mark Arkwright and investment managers Paul Stevens and Simon Hebb, Gore Browne Investment Management, Harrogate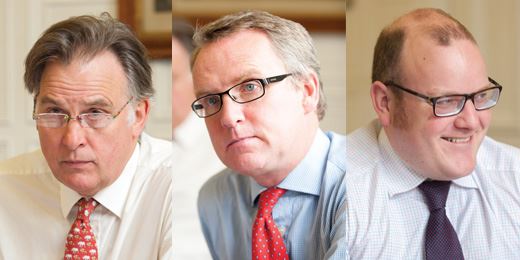 What is your typical client demographic?
Does not really apply as we have clients throughout the UK and overseas. Most of the newer business is pension fund related though and we are seeing an increasing number of the younger generation following their parents and establishing portfolios.
What differentiates your location?
It's Yorkshire! The main thing in Yorkshire is that clients are very keen on value for money followed by service, and this mentality is also very helpful at winning new clients elsewhere in the UK.
In terms of portfolio management, the vast majority of clients are more focused on long-term absolute performance rather than short-term performance relative against a benchmark or index. This does appear to have changed since the financial crisis.
What challenges are facing your area?
Earnings are not as high as other parts of the country, but we are experiencing the same price increases. The fallout from Brexit is still unknown, in particular how this will impact the rural community.
What's the best thing about living in your area?
It has to be the lifestyle, in that you have a range of cities and towns such as Leeds, York and Newcastle within easy access, but then you also have the other extremes, such as the Yorkshire Moors and Dales on the doorstep. There is something for everyone.
What's a typical regional saying?
'You can always tell a Yorkshireman, but you can't tell him much!'
What is your office motto?
'A satisfied customer is the best business strategy of them all.'
Bullish or bearish: A bit of both, compared to recent history we have more defensive holdings such as alternatives and infrastructure, but still retain a reasonable exposure to equity markets (developed and emerging).
Typical balanced portfolio: