European Central Bank chief Mario Draghi (pictured) outlines an 'outright monetary transactions' (OMT) plan to buy government debt to resolve the eurozone crisis
European markets rally in relief but questions remain over whether OMT will work 
OECD cuts developed world growth forecasts; UK suffers biggest downgrade
US employment stats beat expectations
Bank of England keeps interest rate at 0.5%
Morrisons, Dixons and Whitbread post strong results
Over to you Spain and Italy
17.10: Last word of the day goes to Tristan Cooper, European sovereign credit analyst at Fidelity Worldwide Investment. He writes: 
'Draghi seems to have met market expectations today, which is positive given fears of a disappointment. Peripheral bond markets are appropriately rallying in response. The ball is now firmly back in the court of Spain, which must now sign up to a programme or "enhanced conditions credit line". 
'Any prevarication would lead to a big sell-off, which [Spanish PM Mariano] Rajoy can ill-afford. Then the spotlight moves to Italy, which will find it very difficult to stay out of programme if Spain goes in. 
'Draghi's comments were marginally negative for Portugal and Ireland. Much of the recent buying in those markets has been premised on the ECB stepping in in the short term. However, Draghi stated today that ECB support would only be forthcoming at the time when bond market reaccess was envisaged under their existing troika programs, which is next year for both. On balance, though a positive day for peripheral Europe.'
However, Schroders' economist Azad Zangana has spied a fly in the ointment, saying the ECB's ability to buy bonds of distressed euro members may be restricted if investor demand falls for the bills it has to issue in return.
See 'Draghi's OMT: is this the ECB's big gun or big fudge?'
FTSE: Click to enlarge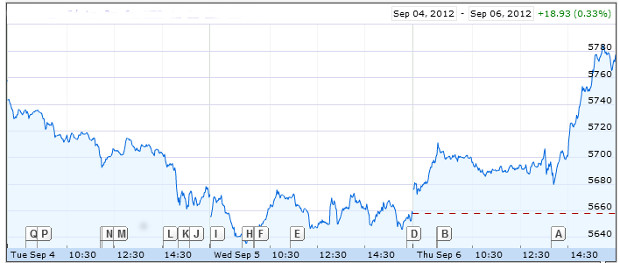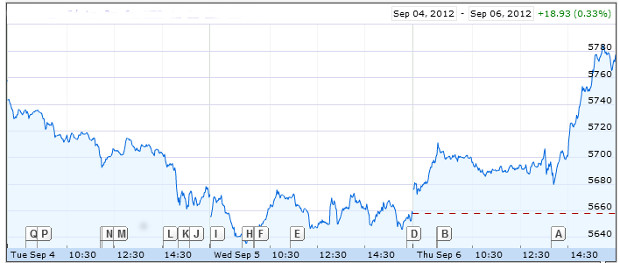 Gaining 117 points, or slightly over 2%, the FTSE 100 moved into its final hour of trade at 5,774, with Lloyds Banking Group (LLOY.L), Vedanta (VED.L) and steelmaker EVRAZ (EVRE.L) leading the charge.
Across the Atlantic, the Dow Jones Industrial Average was also on the rise. It stood 224 points higher, at 13,271, though in the US shares enjoyed an added boost from positive non-farm payroll data which showed that a surprise 201,000 jobs had been added to the economy in August. Consensus estimates had put the figure at 100,000.
Matthew Nelson, a trader at Spreadex, said the ECB's move to announce 'war' on market risk and potentially introduce unlimited, if conditional, bond buying was read as suitably aggressive by markets.
'European stock markets across the board have rocketed up following news,' he said.
Spanish 10-year bond yields followed equities and cheered Draghi's announcement.  The yield on Madrid paper was down 29 basis points on the day, taking them to 6.09%, with Italian 10-year bond yields down 11.5 basis points at 5.3%.
OMG! It's OMT not MOT
14.00: Mario Draghi has finished reading from three European Central Bank press releases and is now taking journalists' questions. It never ceases to amaze me that despite central bankers' emphasis on effective communication they're pretty poor at expressing what they are doing. Draghi's presentation was filled with jargon and acronyms.
Unfortunately, the ECB has decided to go for good English over a good acronym. This means no 'MOT' as the programme is now called 'outright monetary transactions' (OMT).
Whatever it's called, the main points are all there. The ECB is prepared to buy an unlimited number of short-term bonds (between one and three years) if member countries accept the bank's (and quite possibly the International Monetary Fund's) conditions, and it will not take seniority over other bank holders but the purchases will be 'sterilised', meaning this is not quantitative easing.
There was one dissenting vote on the ECB governing council, presumably from Germany's Bundesbank which is fearful of the ECB straying beyond its remit.
Draghi claims the programme is 'an effective backstop', but warns the risks are 'to the downside', adding that the ECB has cut its forecasts. It now expects the eurozone economy to shrink by between 0.2% and 0.6% this year and has halved its mid-point projection for next year to 0.5%.
This strikes a chord with a report from the OECD which earlier today cut its 2012 predictions for six of the largest developed economies. The UK suffered the biggest downgrade with the organisation forecasting its economy to fall 0.7% in 2013 instead of its previous prediction of a 0.5% increase.
However, Chris Williamson, chief economist at Markit, questioned the UK downgrade pointing out the OECD's admission that its figures excluded any impact from the Olympics.
Also, while we waited for Draghi to speak, the US released two employment reports. Private employers added 201,000 jobs in August, well ahead of analysts' forecasts. The encouraging sign for the US economy was bolstered by separate figures showing the number of Americans filing new unemployment claims fell last week to its lowest level in a month.
Markets are taking it all in their stride. The FTSE 100 stays 32 points or 0.5% higher at 5,689 with the Euronext 100 doing better up seven points or 1.1% to 658. The S&P 500 in the US is expected to rise eight points or 0.5% to 1,411.
On the currency markets the euro has risen to £0.7915 against the pound and $1.2589 against the dollar.
Nick Gartside: Draghi's MOT is not the solution
12.45: The European Central Bank has held its main interest rate at its record low of 0.75%.
Nick Gartside, international CIO for fixed income at JP MOrgan Asset Management, predicts more market volatility as he looks beyond Mario Draghi's press conference at 13.30pm. He writes:
'Will they, won't they? Well, we'll soon know what the ECB intend to communicate to markets with regard to the "seniority" issue as well as the "modalities" of the proposed bond buying programme. Ultimately though, the eurozone is a coin with two sides. The market has latterly focused almost exclusively on the ECB. What actions it may take, how much liquidity it may, or may not, provide. This represents just one side of the equation; the provision of liquidity. This is a very effective life support system, but does very little for long-term patient recovery and can only be a short-term solution that buys time.
 
'The other side of the coin, and one that markets have had the luxury of ignoring recently, is structural reform, political direction and leadership. This is much slower moving than monetary policy, but does set the direction and speed of central bank actions. As the hysteria from today's ECB pronouncements dies away the focus will switch back to all those unresolved and open questions: will there be a Euro wide banking supervisor in place before year end, which banks will be supervised, what will be the relationship between national supervisors and the ECB? Not to mention all the discussions around enforcing a fiscal compact, setting up the European Stability Mechanism (ESM) and competing national visions of what "Europe" is.

12.01: The Bank of England has left interest rates at their record low of 0.5% and has made no change to its plan to buy another £50 billion of government bonds by November. This will take the total of new money created in its three-year quantitative easing programme to £375 billion.
11.40: Lee McDarby of Investec Corporate Treasury has spotted that the name the European Central Bank has given to its latest programme of intervention stands for MOT.
Hopefully ECB president Mario Draghi will do the decent thing and explain what on earth 'Monetary Outright Transactions' means when he speaks at the 1.30pm press conference.
Nevertheless, it neatly raises the question: will markets like what they hear? Draghi massively raised expectations in July by promising to 'do whatever it takes to save the eurozone', but since then he has fought with the German Bundesbank, which thinks the ECB should focus on price stability and inflation rather than supporting distressed euro members.
As Kathleen Brooks for Forex.com points out, the talk that the ECB's purchases of Spanish and Italian bonds will be 'sterilised', ie the bank will remove as many euros from the system as it spends on distressed sovereign debt, risks the charge of being seen to give with one hand and take with the other.
Paul Donovan of UBS says Draghi has a balancing act to perform as disappointing investors significantly will escalate the crisis he seeks to resolve. Donovan expects little detail in the ECB's statement but says Draghi will use the press conference to 'wave pom-poms in the air' and boost morale. 
He does expect the ECB to cut interest rates but to trim its refinancing rate not its discount rate.
The Bank of England will shortly announce its monthly interest rate decision.
The FTSE has extended its rally to 35 points or 0.6% up at 5,693. The Euronext 100 is more than five points or 0.6% higher at 656 while the euro is trading up at $1.2619 against the dollar.
Morrisons toughs out recession to lead FTSE higher
10.35 (updates the 8.15 post with share prices and analyst comment): A flurry of retail news and a bid approach for Timeweave (TMW.L) helped distract investors ahead of the European Central Bank (ECB) press conference this afternoon.
Mario Draghi, ECB president, is expected to announce some the details of its 'monetary outright transactions' programme. This will see it buy bonds of up to three-year maturities in Spain and Italy, but will set no cap on yields or borrowing costs it wants to achieve. The purchases will be 'sterilised', meaning the ECB will withdraw deposits of an equal value.
The FTSE 100 extended its early gains to trade 29 points or 0.5% up at 5,687.
Morrisons (MRW.L) jumped over 9p or 3.3% to 290p after the UK's fourth largest supermarket group declared underlying profits of £445 million for the six months to 29 July. This is up 1% on a year ago and at the top end of analysts' forecasts. It says it is on track to meet expectations for the full year, despite the intense pressure on consumer spending. It is increasing its interim dividend by 10% to 3.49p per share.
Analysts remain unconvinced, however. Philip Dorgan of Panmure writes in a note:
'Interim pretax profits are flat, which is slightly worse than we were going for and we are downgrading for the full year by £5 million as a consequence. We are sellers because we believe that Morrison's P&L has more risk than its peers, primarily because investment in new formats and new revenue streams has only just begun. We think that it should spend considerably less than it plans to currently. In the short term, industry underperformance is not helpful. We therefore remain sellers with a target price of 240p.'
Sheridan Admans, investment research manager at The Share Centre, continues to recommend Morrison as a 'hold' liking the company's conservative approach to management that it says should reap rewards for shareholders in the long term. However, it says Morrison has been slow to move into online services and delivery and doesn't have an overseas strategy. He adds:
'Competition in the sector is likely to remain and although the company has been increasing market share recently it still struggles to do so against Tesco, which has seen its own market share eroded by other competition.'
Electricals chain Dixons Retail (DXNS.L) firmed 0.4p or just over 2% to 19.5p after reported an encouraging start to the year, with like-for-like (LFL) first-quarter sales up 5%.
Analysts at Oriel Securties said:
'Dixons is really pressing home its advantage in the UK and across the Nordics with like-for-like sales in Q1 up 7% and 13% respectively. However difficulties in southern Europe and within Pixmania [its loss-making French electricals website] mean that there is no upgrade with the result that the shares are likely to be range bound.'
And Whitbread (WTB.L) charged 5% or £1.09 higher to £22.08 after growing like-for-like sales by 4.2% in the second quarter as the coffee shop, restaurant and hotel group got a bit of a boost from the London Olympics. Total sales for the 11 weeks to 16 August rose 14.8%, with Costa Coffee up 25.3% and budget hotels chain Premier Inn up 13%.
Greg Johnson of Shore Capital was impresed:
'Following today's better-than-expected update we are increasing our 2013 full-year profit before tax estimate by £16 million to £346 million (EPS: 146p) reflecting 3% LFL sales growth for the year (previously c1.5%) or just 2% LFL sales growth for the balance of the year. Given the current momentum and easing comparatives during the second half forecast risks continue to appear weighted to the upside. On a 2013 PER [price-earnings ratio] of 14x and an EV/EBITDA [embedded value / earnings before interest, tax, depreciation and amortisation] of 8.4x we reiterate our BUY stance with a fair value of c2,400p based on 12x EBITDA for Costa and c9x for Premier Inn (especially given the excellent property backing).'
Billionaire and former currency trader Joe Lewis has made a £50 million bid for Timeweave, the company formerly known as Alphameric but which changed direction and snapped up licences to broadcast to race courses. The company said its board would considering the 22p per share cash offer from Lewis' Mayfair Capital Investments vehicle, which says it has a total interest of 45.8% in the company after receiving undertakings from other shareholders. This is Lewis' latest attempt to take over a public company after failing to gain control of pub and restaurant group Mitchells & Butlers last year.
ValiRx (VALX.L), the AIM-listed biotech, says early-stage trials of its VAL201 treatment have shown some success in treating breast cancer. Its shares gained nearly 8% to 0.7p valuing it at nearly £9 million.