FTSE 100 slips as FED glow fades
Fingers crossed, US should avoid the 'fiscal cliff' 
Ashmore leads FTSE as markets take a breather
Chemring rises as Carlyle seeks Woodford's backing
UBS: Unilever 'gets its act together on food'
16.55: Markets slipped and Spanish bond yields topped 6% as investors refocused on the challenges facing the eurozone and the sparkle of quantitative easing dulled during Monday trade.
The FTSE 100 shed 0.37%, or 22 points, to 5,894 and the Mid-250 index dropped 0.29%, or 35 points, to 12,081.
In Europe markets also slipped following a meeting of eurozone finance ministers over the weekend that highlighted the debt mountain faced by Spain as people took to the streets to protest about planned austerity measures.
The yield on 10-year Spanish bonds rose 18 basis points to 6.01% in Monday trade as scrutiny on the Iberian country's finances increased. Spain may be forced to accept a sovereign bailout in the coming weeks, which could be exacerbated by higher borrowing rates.
Spanish 10-year bond yield: Click to enlarge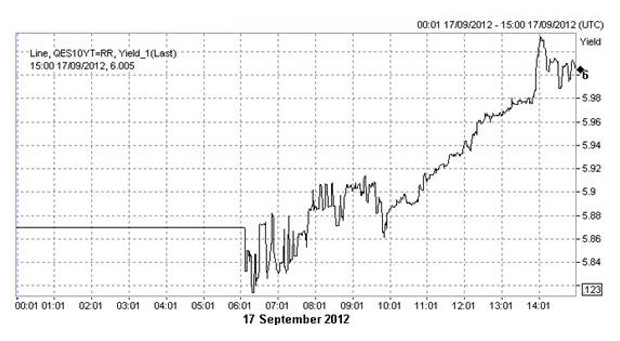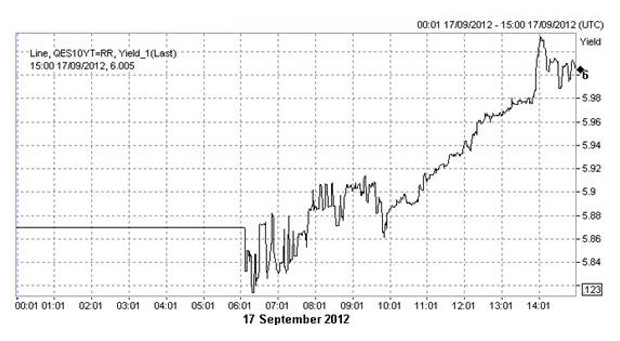 Brent crude also reached four-month high, as prices rose above $117 in intraday trade, to close down 0.45% to $116.12, following the announcement of further QE from the US Fed last week.
British Airways owner International Consolidated Airlines Group (ICA) shed 4.1p, or 2.6%, to 156p as Qatar Airways dismissed reports of a partnership with the group. The announcement dashed hopes that the airline may team up with another group, after Qantas ended its alliance with British Airways earlier this year.
Investment group Ashmore (ASHM.L) led the FTSE 100 leader board, up 10.3p, or 3.14%, to 336.7p on striking a deal with Central China Securities Co (see earlier post).
Fingers crossed, US should avoid the 'fiscal cliff'
14.50: Profit taking sees Wall Street open lower. The Dow Jones industrial average fell 16 points to 13,577 in early US trading after four days of gains.
A poor set of figures showing factory activity in New York state falling to its lowest level in three and half years contributed to the slightly downbeat feel to the market after last week's Fed inspired rally.
However, Simon Laing, head of US equities at Invesco Perpetual, is feeling positive after the Federal Reserve's launch of QE3. Partly prompted by Fed chairman Ben Bernanke, who is clearly worried, investors are now looking towards the threat of the post-election 'fiscal cliff' in which a combination of tax rises and spending cuts could wipe 4% off US GDP.
Laing says that although reaching an agreement will be dificult he anticipates Congress will do a temporary deal at the end of this year paving the way for a 'massive budget package and reform bill' in the first quarter of next year.
Thereafter, he concludes:
'Given the health of corporate profits, a well capitalised banking sector, lower commodity prices, shale gas and oil discoveries and a potential housing recovery, an achievable fiscal plan that is seen as putting the US on a road to fiscal stability could be met by an improvement in long-term corporate confidence. This would potentially lead to improved private sector spending. The road to any agreement is going to be a rocky one, which could also put pressure on what is left of US economic momentum in the short-term. Long term, the prognosis improves, assuming a sensible deal is reached.'

Ashmore leads FTSE as markets take a breather
11:00: Emerging markets fund manager Ashmore (ASHM.L) is having a final hurrah in the FTSE 100. The company, which last week found out it was being demoted from the blue chip index, today jumped 2.2% or 7.2p to 335p after replacing Aviva (AV.L), down 1.5% to 357p, as partner in a joint venture with Central China Securities Co.
The battered Chinese stock market is not the attraction it once was and Aviva, undergoing a major restructuring and downsizing, has other priorities. Ashmore, an emerging markets specialist which issued good full-year results last week, said it had been looking to expand in China for some time.
Markets continue to pause for breath with the FTSE 100 down 0.3% or 18 points at 5,897 and the Euronext 100 off three points or 0.4% at 671.
Gold hung on to its gains from last week, up  28 cents to $1,769 an ounce, as the pound gained a bit more ground against the dollar at $1.6226 although the euro dipped to trade at $1.3116 against the greenback. Brent crude oil price breached $117 a barrel.
The S&P 500 looks to add six points or 0.4% to 1,465 when Wall Street opens this afternoon.
A report in the Financial Times that the Federal Reserve's attempt to stimulate the economy and increase employment with a third round of quantitative easing, or money printing, could be held up as banks struggle with a backlog of mortgage applications, seems to be a worry for another day.
At a stock level in the UK RBS (RBS.L) fell 2.2% or 6p to 273p after Investec cut the nationalised bank from hold to sell
Miners paused for breath with Evraz (EVRE.L) and Anglo American (AAL.L) down 1.9% and 1.2% at 288p and £20.57 respectively.
Imagination Technologies (IMG.L) fell 23p or 3.9% to 567p after UBS cut the chip designer and Apple supplier to sell after last week's trading statement from the Citywire Top Stock.
Reckitt Benckiser (RB.L) gained 0.7% or 25p to £35.97 after poaching Smith & Nephew's chief financial officer Adrian Hennah to replace Liz Doherty.
Chemring rises as Carlyle seeks Woodford's backing
10.00: Chemring (CHG.L) advances another 9p or 2.6% to 355p on reports that Invesco Perpetual, the defence contractor's biggest shareholder, has agreed in principle to a takeover by Carlyle, the US private equity group.
According to the Sunday Times Invesco and Carlyle are negotiating on price with Invesco, owner of 30% of Chemring's shares, seeking a bid of 450p per share.
Chemring is held by a number of Invesco funds including the Invesco Perpetual Income and High Income funds, managed by star manager Neil Woodford (pictured). Each of these funds own around 5% of Chemring shares.
Chemring shares shot up on Friday after the Takeover Panel gave the Fareham-based company more time to talk to Carlyle. This revived hopes of a deal after a profits warning at the end of last month appeared to threaten the private equity bidder's interest expressed a few weeks earlier.
Chemring shares have fallen over 11% this year valuing the company at £686 million.
Meanwhile BAE Systems (BAES.L), in which Invesco has a 13% stake, firmed 2.8p to 349.5p after it was reported to be prepared to offer Germany a veto right and job guarantees in return for backing its proposed £30 billion merger with EADS. 
UBS: Unilever 'gets its act together on food'
09.15: Unilever (ULVR.L) briefly topped the FTSE 100 leaderboard with a 1.3% or 29p rise to £22.75 after UBS upgraded the consumer goods giant to buy from neutral, saying it was 'finally getting its food act together'.
'For the first time, a clearly defined food strategy is being put in place that seeks to leverage Unilever's scale (particularly its R&D capability and consumer/shopper insight) and scope (particularly its EM platform) to drive sales and increase competitive advantage. CEO [Paul] Polman views food, with its combination of strong cash flow and global growth platforms, as an integral part of the
"Unilever model".'
UBS analysts believe the 'residual scepiticism' of investors about Unilever's reliability underplays the changes taking place in the food business that could see sales grow by 5% a year up from an averate of 3% in the past decade.
Unilever's food brands include Knorr, Hellmann's and Litpon. Its shares have risen 4.4% this year but have gained nearly 9% in the past three months. It is one of the Citywire Top Stocks based on its top 10 position in the Artemis UK Special Situations fund managed by Derek Stuart.
FTSE 100 slips as Fed glow fades
08.40: Markets have reversed course this morning as investors begin to take profits following stellar gains in the previous session, which saw markets hit a 14-month high in the wake of the Federal Reserve's stimulus plans.
The FTSE 100 shed 0.26%, or 15 points, to 5,900 and the Mid-250 index dropped 0.38%, or 46 points, to 12,070.
A meeting of European finance ministers over the weekend refocused investors on the core concerns in the single currency union. Leaders softened their approach to Greece, allowing the country more time to get its finances in order, and discussed Spain's need for a sovereign bailout.
Other stock markets in Europe also gave up gains: Germany's DAX index gave up 0.31% to 7,389, France's CAC 40 index lost 0.46% to 3,565, and the FTSEurofirst 300 index of top European shares shed 0.21% to 1,118.