The Expert View: Ladbrokes, AO World and Prudential
Our daily roundup of the best analyst commentary on shares, also including Hargreaves Lansdown and Serco.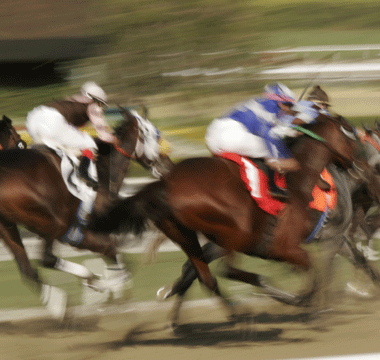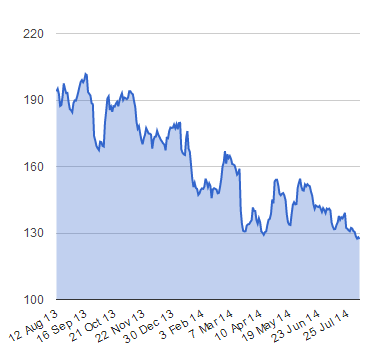 Numis bets on Ladbrokes turnaround
Numis analyst Ivor Jones is betting on a turnaround in performance for Ladbrokes (LAD) in the second half of the year, after first half results that were marred by a broader slump in the sports betting sector and disruption from change in its online business.
'Ladbrokes' online business now has the right people in the right place using the right technology – but can they get it right?
'We forecast a material turnaround in group profitability in [the second half of the year], largely dependent on online. Trading over the next few weeks should help clarify how credible that forecast is.'
Ladbrokes has been a poor performer of late, with the shares down by a third over the last 12 months. Jones said that picture was unlikely to change until investors received proof of a turnaround.
'The recent share price performance suggests scepticism among investors about the online strategy as well as concern over the somewhat hostile regulatory environment,' he said.
'Given the uncertainties and the track record we don't expect the share price to perform until there is evidence of success at the bottom line.'
Jones maintained his 'hold' recommendation and target price of 150p on the shares, which were trading at 131p yesterday.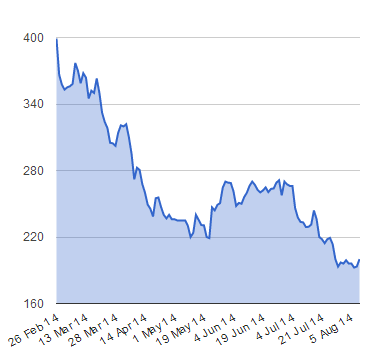 AO still a 'buy' for Jefferies after shares slump
Jefferies analysts are hanging on to their 'buy' rating on AO World (AO) despite the hammering the company's shares have taken since its initial public offering in February.
Online white goods retailer AO has lost almost half its value since its market debut earlier this year, but after meeting with management, Jefferies said it was impressed by their 'positive tone'.
'Despite the downward trajectory of the equity price, the core business, UK TV and the prospective German launch remain very much on track,' it said.
'With repeat customer revenues nudging 40% of the mix, brand momentum and customer experience seems in good shape.'
'Safe to say the market has been challenging this year, the heady days of late February a late memory,' it added. 'But the company have done what they said they would do.'
Jefferies has a 410p target price on the shares, which rose 7% to 213.9p yesterday.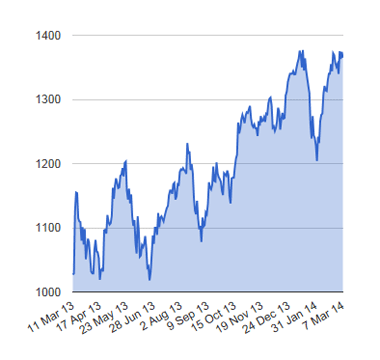 Resilient Prudential still a 'buy' for Shore Capital
Prudential's (PRU) 'excellent set of results' despite foreign exchange and political challenges means the insurer is still firmly a 'buy' for Shore Capital analyst Eamonn Flanagan.
Investors responded enthusiastically to news of a 17% rise in operating profits in the first half of the year, sending the shares 2.2% higher at £13.68 yesterday.
'We reiterate our "buy" recommendation on Prudential… the strength of the group's business model is clearly demonstrated in H1 2014 despite the forex, regulatory and political headwinds it faces,' said Flanagan.
'The outlook statement reads well, in our view, with underlying optimism wisely tempered by pragmatic references to these headwinds.'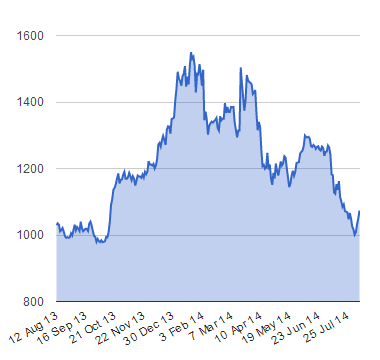 UBS starts Hargreaves Lansdown coverage with 'sell' rating
Analysts at UBS triggered a dip in the shares of Hargreaves Lansdown (HRGV) yesterday, after they initiated coverage of the online stock broker with a 'sell' rating and target price of 850p.
Hargreaves fell 2.9% to £10.50 yesterday after UBS issued the 71-page report, which warned the company's shares were pricing in 'challenging' inflows to its Vantage platform.
'To drive the earnings growth that would take Hargreaves Lansdown to a "normalised" 20 times price-earnings multiple… we estimate the company's flagship Vantage platform has to draw in 25% net flows each year over a three-year time horizon,' said analysts Gregory Simpson and Arnaud Giblat.
'This acceleration looks challenging given Hargreaves Lansdown achieved 20% flows in 2013 calendar year, the year when Hargreaves Lansdown shares doubled as the regulatory boost from the retail distribution review came into play.'
Shares in Hargreaves, which doubled in value over the course of 2013, have been among the worst performers on the FTSE 100 so far this year, down 20%.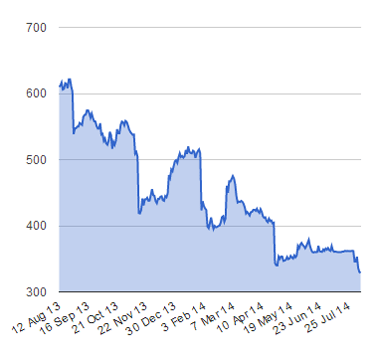 No quick fixes for Serco
Analysts at Liberum are maintaining their 'hold' recommendation on Serco (SRP) after the outsourcing firm delivered first half results that were less bad than feared.
After a torrid year for the company that has seen several profit warnings and its share price slide by 32%, Serco stuck to 2014 profit guidance, albeit warning that meeting expectations would depend on delivering savings and fixing underperforming contracts.
Profits before tax were just £33.3 million, slightly below Liberum's £33.8 million forecast, while the order book was flat, ahead of the analysts' expectations of a drop. Net debt was also lower than they had been expecting, falling from £745 million to £559 million.
But it was not enough to shake the analysts from their 'hold' recommendation and 350p target price on the shares, which shed 2p to 331p yesterday.
'We have looked at a variety of different scenarios and it is difficult to identify a scenario where the shares appear cheap,' they said. 'Average contract duration is seven years and there are no genuine quick fixes.'