The UK stocks these small-cap stars have bought & sold
Ruffer, Giles Hargreave, Mark Hall & Paul Spencer and Paul Marriage feature among the trades which caught our eye during the festive period.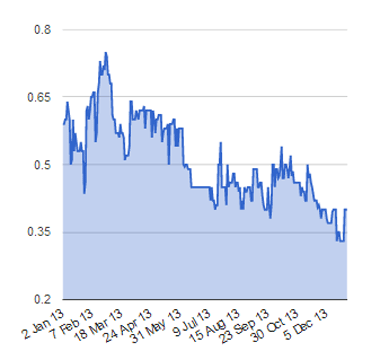 Hall & Spencer add more WYG shares
Citywire AA-rated UK equity veterans Mark Hall and Paul Spencer have aggressively upped their investment in design and engineering consultancy WYG.
Hall and Spencer upped their holding in the company from 2.63% to 5.22% or 3.37 million shares worth £3.54 million at a share price of 105p.
While that is up 96.7% over two years versus a FTSE Small Cap return of 63%, it remains 99.6% down on the £30 that the shares were valued at five years ago.
The shares are held in the pair's £99 million Franklin UK Smaller Companies fund.
WYG has been rapidly upgraded this year as its order book has filled up and its revenue grown, with broker WH Ireland upping its target price from 100p to 140p since June.
Shares in the business plunged in 2009 as it restructured and refinanced, rolling over £52 million of outstanding debt into equity.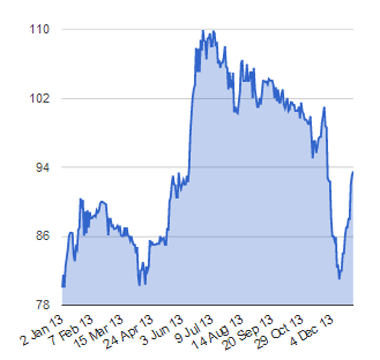 Ruffer cuts back on Creston
Ruffer, one of the most highly respected boutique fund managers in the UK, has shaved its stake in marketing services group Creston.
The company sold 1.9 million shares, bringing its total position up to a little under 5 million shares. This equates to 8% of Creston's capital.
The stake is held on behalf of the company's private clients. Ruffer has developed a following in the City in recent years due to the firm's ability to call some of the most significant consequences of the credit crunch.
Over the six months to the end of September, Creston posted a £1.5 million fall in revenue to £37.2 million in comparison to the first half of the company's financial year, but noted a steady flow of net new business wins. At the time it also posted digital and online revenue growth of 11%.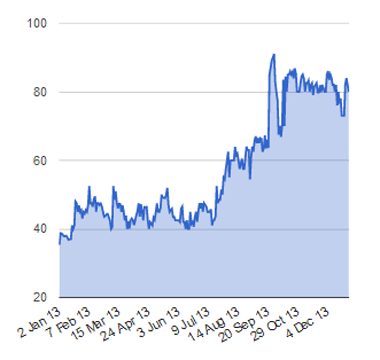 Hargreave snaps up Pure Wafer
Veteran small cap stockpicker Giles Hargreave has upped his stake in AIM-listed silicon specialist Pure Wafer Plc as its shares surge on a return to profit.
Hargreave increased his holding in the company from 3.06 million shares to 3.08 million or 11.02% worth £2.46 million at a share price of 80p, up 116% over one year.
The shares are held on behalf of private clients at his broker and investment business Hargreave Hale, and in portfolios it manages on behalf of Marlborough Fund Managers.
Pure Wafer is rated a strong buy by broker WH Ireland with a price target of 115p. The company, which supplies a number of the world's biggest chip manufacturers, recycles silicon which would otherwise be wasted in the production process.
It returned to the black for the first time in five years in 2013, reporting pre-tax profit of $3 million (£1.8 million) versus a $700,000 loss in the same period of the year before.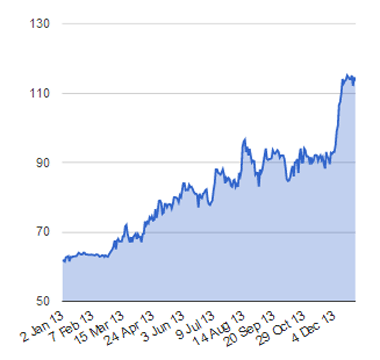 Marriage takes profits on Scapa Group
Citywire AAA-rated UK equity veteran Paul Marriage has banked some returns on his investment in sticky tape and adhesives manufacturer Scapa Group after it revealed a big bump up in profits.
Marriage reduced his holding in the business from 36.4 million shares to 34.8 million or 23.8% worth £11.86 million at a share price of 34.5p.
Scapa shares gained around 8% at the end of November after it revealed a 20% gain in profit before tax to £5.8 million. Over one year it is up 87%.
Marriage holds the shares in both his £1.06 billion Cazenove UK Smaller Companies fund and his £445 million Cazenove Absolute UK Dynamic fund.
Numis upped its price target on Scapa from 100p to 112p following the profits upgrade, rated buy. Analysts estimate a further 20% growth in earnings per share over the next two years.