Tanfield shares hit as flotation of partner company ditched
Spanish bond yields ease as bailout eyed
Investors await imminent Glencore-Xstrata merger decision
FTSE gets off on the right foot, tracking overnight gains in Asia
14.45: The UK's budget deficit widened to an August record of £14.41 billion last month, up from £14.365 billion a year ago, according to new figures. This is significant because only last night Sir Mervyn King, governor of the Bank of England, said it would be 'acceptable' for the government to relax its debt target in the face of a global downturn.
The rise in public sector net borrowing comes as tax receipts fall and spending on benefits rise in the recession, making it difficult for the chancellor George Osborne to meet his target of reducing the debt deficit in the first term of the coalition government.
King told Channel 4 News it would be alright to allow the debt burden to rise after 2014: 'If it is because the world economy is growing more slowly, then it would be acceptable. It would not bit be acceptable to miss the debt target if there were no excuse for it.'
Markets took the news in their stride, although the price of 10-year gilts slipped to 99.07 edging the yield up three basis points to 1.849%. On currency markets the pound strengthened 0.4% to $1.6282.
The FTSE 100 is only a point down at 5,853 after Wall Street opened with the S&P500 gaining five points to 1,465. 
'Quadruple witching' causes FTSE 'hiccup'
12.40: Britain's FTSE 100 tipped down as a range of options expire today. A 'quadruple witching' – when a number of stock index futures, index options, stock options and single stock futures expire in one day – can cause market volatility.
The FTSE 100 shed seven points, or 0.11%, to 5,848 and the FTSE 250 mid-cap index added 42 points, or 0.35%, to 11,966.
However, the slight downturn comes amid a wider market rally. David Jones, chief market strategist at IG Markets, said: 'This is a small hiccup when compared to the general strength we have seen in equity markets of late.'
Tanfield shares crash 38% as IPO dropped
10.20: Shares in electric vehicle manufacturer Tanfield (TAN.L) tumbled 19.6p, or 38.4%, to 31.4p as Smith Electric Vehicles, a company in which it owns a 24% stake, pulled plans to float.
Bryan Hansel, chief executive officer of Smiths, said: 'We received significant interest from potential investors, however, we were unable to complete a transaction at a valuation or size that would be in the best interests of our company and its existing shareholders.'
The company has now opted to pursue private finance, but the news is just the latest piece of bad news for Tanfield. The company was investigated in 2008 by the London Stock Exchange following an 80% drop in share price on shock profit warnings. 
However, fund manager Deryck Noble-Nesbitt, who runs the Close Brothers' Beacon and Special Situations funds, is a big fan of the stock, and it makes up 4% and 5.4% of the funds respectively.
Noble-Nesbitt bought the shares back in August 2010, when shares hit a low of 14p after the company had year of poor trade.
Spanish bond yields ease as bailout eyed
09.25: European markets rallied on news that Spanish government officials and the European Commission are in discussions to pave the way for a rescue programme for the country.  
Germany's DAX index took on 0.21% to 7,405, France's CAC 40 index added 0.6% to 3,531, and the FTSEurofirst 300 index of top European shares increased 0.51% to 1,121.
Officials are in talks to agree on structural reforms that would be demanded by international lenders ahead of a formal bailout, according to the Financial Times.
The yield on benchmark 10-year Spanish bonds eased on the development losing 13 basis points to 5.758%. The yield has fallen back 28 basis points since the start of the week.
Spanish 10-year bond yields: Click to enlarge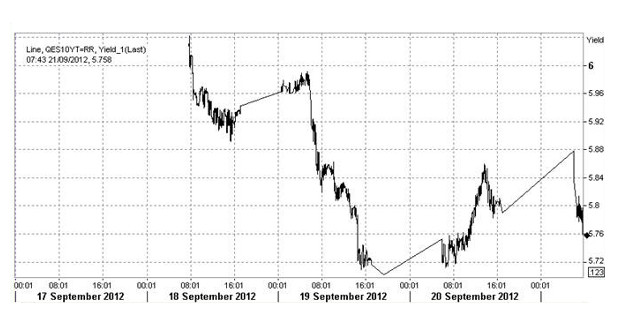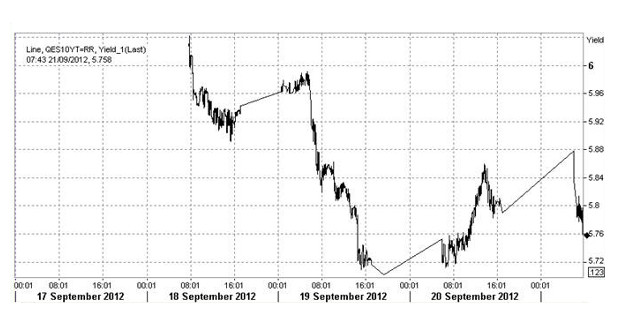 If a bailout from the European Stability Mechanism (ESM) is requested by Spain it will trigger the European Central Bank's (ECB) new bond-buying programme.
The ECB would purchase Spanish sovereign bonds through Outright Monetary Transactions (OMT), in an effort to reduce the debt burden on the country. For a recap on OMT take a look at our snappy explainer!
FTSE rallies; Glencore-Xstrata decision awaited
08.13: Britain's stock market rose in Friday trade, tacking overnight gains made on Wall Street and in Asia.
The FTSE 100 added 26 points, or 0.46%, to 5,881 points and the FTSE 250 mid-cap index rose 36 points, or 0.3%, to 11,966 points.
A new bailout plan for Spain is being discussed by the European Commission and is expected to be unveiled next Thursday, according to reports in the Financial Times.
Xstrata (XTA.L) could give its view on Glencore's (GLEN.L) latest offer within hours, possibly closing the what could be mining's biggest ever deal.
Management of defence giant BAE Systems (BAES.L) has met with 600 head office staff to persuade them about the proposed £30 billion merger with EADS.
The platinum miner at the centre of industrial action in South Africa, Lonmin (LMI.L), has said its wage bill will increase 14% from October as it agreed a pay-deal with workers.