The FTSE 100 falls 31 points or 0.5% to 5,857, dragged down by mining stocks  
Further signs of global slowdown emerge from China, Europe and US 
Bond markets let Spain off the hook as fall in country's borrowing costs mean no bailout is imminent 
BSkyB is 'fit and proper' to broadcast, says Ofcom
Hot stock Xcite Energy slides 15%
Imperial Tobacco is the top FTSE riser after trading statement. 
16.20: Weakening signals from the US economy confirm the sense of a global slowdown.
Chris Williamson, chief economist at Markit, the financial information firm, said the US economy looked to have moved 'closer towards stagnation' in the last quarter. Markit's preliminary manufacturing purchasing managers' (PMI) index showed US manufacturing scoring a 51.5 in September, the same as August. Although a reading over 50 is positive and indicates growth, overall the third quarter was the weakest three months in three years.
Meanwhile figures from the US Labor Department showed a small decline in new claims for state unemployment benefit last week. Claimant numbers fell 3,000 to a seasonally adjusted 382,000 which disappoints economists who had expected a bigger fall after a spike in unemployment caused by Hurricane Isaac.
The S&P 500 dipped four points to 1,456.
The dollar had another good day with the pound, euro and yen slipping between 0.1% and 0.8% against the greenback. This pushed gold 0.4% to $1,769 an ouce. Meanwhile the price of Brent oil traded at $109 per barrel, up from $108.66.
Approaching close the FTSE 100 traded 31 points or 0.5% down on the day at 5,857.
Where are the bond vigilantes when you want them?
11.20: Spain's bond auction went well. Not only did it raise more money than it was looking for (€4.8 billion, £3.8 billion, instead of an upper target of €4.5 billion) but its 10-year borrowing costs fell to just below 5.7%, their lowest level since January.
This reflects the positive view investors have taken of 'peripheral' European government bonds since the European Central Bank launched its OMT programme earlier this month.
However, the bond buying the ECB is promising to keep Spanish interest rates low requires the country to ask for a bailout. And that's the last thing Spain's PM Mariano Rajoy wants to do if the country's bond yields are falling, as it will entail further tough austerity measures for a country sick of tax rises and spending cuts. He also faces local elections next month.
So Rajoy is off the hook  – for now – and European markets are still with the Euronext 100 down four points at 664. Nerves are heightened by weak purchasing managers index (PMI) reading from France underlining the deepening recession in the eurozone.
John Magrath of TwentyFour Asset Management, a bond specialist, says:
'The longer Spain waits, the higher the chances that markets will put pressure back on them.'
So where are the bond vigilantes who could sell Spain's bonds and push up its yields and help kick start the ECB's action plan? Perhaps Moody's will come to the rescue and downgrade Spain's credit rating to junk later this month. It's possible, although rival ratings agency Standard & Poor's said yesterday that it was unlikely to cut Spain below investment grade because of the impending ECB support.
We're in a catch 22. It goes to show that bond holders don't want to fight the new Fed, the ECB.
Sales fell during Olympics
Retail sales fell last month as Britons gave up online shopping to watch the Olympics instead.
Sales fell 0.2% in August, admitteldy half the decline economists had expected, leaving the annual growth in sales at 2.7%. Non-store retail sales plunged 6.7% from July although retailers of sporting goods and toys did much better. Over three months the rate of growth in sales slowed from 0.7% to 0.6%.
Howard Archer of HIS Global Insight says:
'Looking ahead, it seems likely that retail sales will remain muted overall in the near term at least. Consumers still face serious headwinds that are limiting their willingness as well as their ability to spend.'
Xcite Energy falls  
Hot stock Xcite Energy (XELL.L) tumbled nearly 12% despite the North Sea oil and gas explorer completing pre-production testing at its Bentley field and saying the results had beaten its expectations.
The shares fell 15.25p to 115.25p, valuing Xcite at £320 million, after a 42% surge in the past month partly fuelled by bid speculation.
Mike van Dulken, head of research at Accendo Markets, predicted bargain hunters would mop up the shares:
'"Buy on rumour, sell on fact" has never been a more applicable statement. The company's prospects remain solid, however, commercialisation is not quite round the corner and work still to be done, meaning plenty more such moves and trading opportunities in the run-up.'

Ofcom rules BSkyB 'fit and proper'
08.55: BSKYB (BSY.L) advances 6p or 0.8% to 733p after Ofcom, the media regulator, finds the pay-TV group is fit and proper to hold its broadcast licences. It began its investigation following the phone-hacking scandal at News Corp, its largest shareholder.
News Corp is controlled by Rupert Murdoch (pictured) and his family. Before the furore broke at the News of the World he had sought for News Corp to buy the rest of BSkyB it did not own. Public outrage over the widespread abuses forced him to withdraw and led to his son James stepping down as chief executive and chairman of BSkyB.
BSkyB share price: Click to enlarge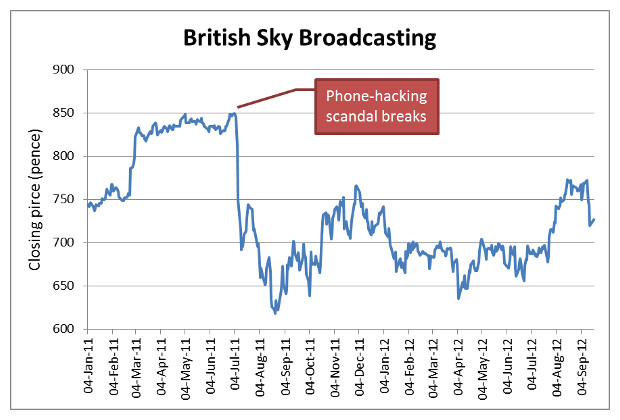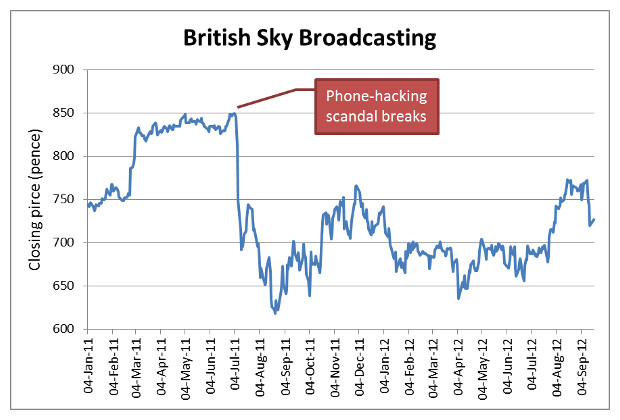 BSkyB shares have not recovered since the hacking scandal broke and derailed News Corp's bid, although the broadcaster's £1.2 billion full-year pre-tax profits have since shown why the Murdochs were keen to gain full control of the company. 
Ofcom said: 'To date, there is no evidence that Sky was directly of indirectly involved in any of the wrong doing either admitted or alleged to have taken place at the News of the World or The Sun.'
BSkyB welcomed the ruling which it said acknowledged that its record of compliance in broadcasting had been good. 
Mining stocks hit by weak China data 
Elsewhere Imperial Tobacco (IMT.L) is another early riser, up 21p or 0.9% to £23.56 after a fourth quarter trading statement shows it is pushing through price increases for its cigarettes to make up for a slip in sales caused by tough markets in Spain, Ukraine and Poland.

However, BHP Billiton (BLT.L) drops 57p or 2.78% to £19.42 after it was reported to have shelved plans to build a big coking coal mine in Queensland, Australia, as part of spending cuts announced last month.
All miners fall in response to the HSBC Flash China survey (see below) which showed a further slowdown in the country's manufacturing sector. Evraz (EVRE.L) was again the biggest faller, down 5.4% to 263p, with Xstrata (XTA.L), Rio Tinto (RIO.L), Fresnillo (FRES.L), Kazakhmys (KAZ.L), Anglo American (AAL.L) and Vedanta Resources (VED.L) sliding between 1.6% and 3.7%.
United Utilities (UU.L) softens 2p or 0.3% to 725p after saying trading is in line with expectations and expressing confidence in delivering its 2010-15 targets.
See our FTSE pages for the day's other risers and fallers
FTSE falls as China continues to slow
08.10: The FTSE 100 falls 48 points to 5,841 after a survey showed manufacturing activity in China shrank for the 11th month in a row.
The latest reading from the HSBC Flash China manufacturing purchasing managers' index (PMI) pushed markets lower overnight with Asia falling 1% and Japan's Nikkei falling 1.4% as the surprise effect of yesterday's stimulus by the Bank of Tokyo rapidly wore off.
Although the index rose to 47.8 from 47.6 in August a sub-index measuring output fell to 47.0, its lowest since November 2011. The 50 mark divides expansion from contraction in the survey.
Meanwhile Markit, the financial data provider and forecaster, has reported a bleak outlook for dividends in Hong Kong, saying over a third of companies there had cut or skipped shareholder payments this year. As a result it expects dividends to grow by around 4% this year down from growth of 17% last year. Only utilities and property companies in Hong Kong have positive prospects for dividends, it says.
In Europe the Euronext 100 was subdued, down six points or 0.9%, to 662 as investors wait to see how Spain fares in its latest bond auction in which it will seek to raise up to €4.5 billion.