Citywire printed articles sponsored by:


View the article online at http://citywire.co.uk/wealth-manager/article/a668040
Vigilante Draghi holds a gun to Cyprus' head
by Robert Kyprianou on Mar 22, 2013 at 10:40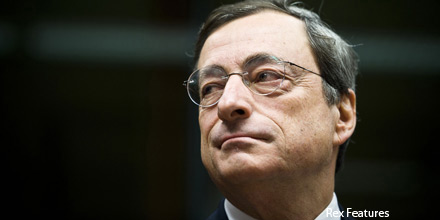 Citywire columnist Robert Kyprianou follows his personal comment piece earlier this week with a second look at the crisis unfolding in Cyprus.
The term 'bond vigilante' was first coined in the 1980s to designate private investors selling a particular bond market heavily and hard to demonstrate serious disagreement with some act of public policy, thereby forcing those policymakers to adjust their policy.
This past week we have seen the birth of a new form of financial vigilantism from a highly unexpected and wholly surprising new source – the European Central Bank (ECB), led by Mario Draghi (pictured above).
No lender of last resort
Since central banks were first set up we have come to expect that one of their fundamental functions is 'lender of last resort'. The Wikipedia definition of this role is:
'A lender of last resort serves as a stopgap to protect depositors, prevent widespread panic withdrawal, and otherwise avoid disruption to the entire economy caused by the collapse of one or a handful of institutions.'
Typically, a central bank discharges this role by providing liquidity to a distressed bank or financial institution. In the eurozone, during the current euro crisis, this has been discharged by the ECB through its emergency liquidity assistance (ELA) programme.
Instead of protecting credit institutions and banking systems, last Friday we witnessed a central bank using its lender of last resort role to drive through a political agenda in a part of its sphere of influence. The ECB participated in the ambushing of Cyprus' new leader in order to force through the eurogroup's desire to alter the structure of the Cyprus economy, and to target a specific community of depositors – foreign residents.
Controversial intervention
Since when were foreign resident deposits regarded as unacceptable in the eurozone? Yesterday, Jeroen Dijsselbloem, the head of the eurogroup, made it clear that it is their objective to change the 'growth path' of Cyprus away from international banking. Where is it designated that international banking is an undesirable activity?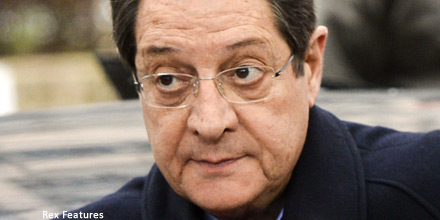 The gun that was held to the head of President Anastasiades (pictured) was the threat to withdraw ELA to Cyprus' second largest bank, Laiki. The consequences of such an action would have been a financial and economic meltdown – in effect a bullet to the head.
Cypriots show solidarity
Following what I termed Cyprus' 'Molon Lave' response, the Cypriot people have been desperately looking for ways of creating a national salvation fund in order to pay for a bank bailout without 'help' from the troika. The church – the nation's richest entity – has put its wealth of cash and land at the disposal of the salvation fund. The government is considering putting state assets into the fund – utility companies, future hydrocarbon revenues, airports etc. Ordinary citizens have offered to contribute their savings or a part of their deposits.
There is a real spirit of solidarity emerging and a determination to find their own solution to save their country. It is this same spirit that rallied the people in response to the wholesale devastation caused by the Turkish invasion and partition of their island 40 years ago, rebuilding their lives and economy.
And how does the ECB respond to this will to pay for the necessary bank bailout funds themselves? Do they assure Cypriots that they will give their banks the necessary support while Cypriots examine all options? Do they acknowledge and reward the nation's act of self-sacrifice in response to the troika's blackmail? Do they provide technical support and advice in finding solutions?
Instead, the ECB has raised the revolver once again, pointing it squarely between the eyes of all Cypriots, saying that come Monday morning, if Cyprus has not accepted the troika's terms they will pull the ELA plug.
Who's next in new world order?
It now seems we have to redefine the term 'solidarity' as it relates to the European Union. It now seems we have to add 'vigilantism' to the tool box of European policy weapons. This is a new world – what is next? Will other potential victims of vigilantism be satisfied by the eurogroup's assurances that Cyprus is a special case? After all, they said that about Greece.
When we are asked who presents the biggest risk to the euro, will we in future answer Greece, or Spain or Italy? Or will we look to euro policy makers? Not satisfied by driving euroland into a deflationary cycle by their failure to put in place the right institutions and framework and through their ad hoc responses to crises up to now, they now have become proactive destroyers of local financial systems and local economies. 
We used to think that the ECB was the backstop for European leaders' flawed policies on the euro debt crisis – the 7th Cavalry that rode to the rescue with the LTRO and OMT programmes. Now they have sold their souls to the devil and conspired with those dark forces. Welcome to the new era of central bank vigilantism. Who else will ask – is this a way to run a monetary union?
Robert Kyprianou is a Citywire columnist and former chief investment officer at AXA Framlington Investment Management.
News sponsored by: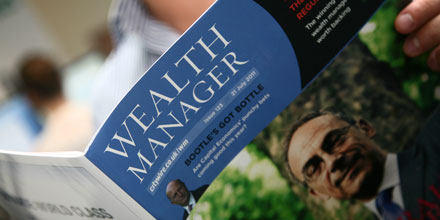 Subscribe to Wealth Manager magazine and rack up CPD points
Citywire Wealth Manager has partnered with CISI to enrich the experience of subscribers to our magazine.
Today's top headlines
More about this:
More from us
What others are saying
Archive
Aberdeen Live supplement: Fundamentals point to ongoing flows and solid returns from EMD
After a record year for inflows and market-leading performance in 2012, emerging market debt has taken a large step towards the mainstream. Our recent debate covers the outlook for the asset class this year and where opportunities can be found.
On the road
Click here to find out more from the Audience Development team.
Read more...
by Dylan Lobo on May 16, 2013 at 16:17