Citywire printed articles sponsored by:


View this article online at http://citywire.co.uk/wealth-manager/article/a403225
Wealth Adviser: Chris Stothard of Vestra on the company's roots in Equitable Life
Cut into Vestra, runs the popular perception, and you will find a vein of UBS running through the business like a stick of Brighton rock. Famously founded by the Swiss bank's UK head of wealth management David Scott – leading to an exodus of 50 wealth managers – it is probably inevitable that Vestra's name remains closely associated with UBS.
While the boutique has begun to distance itself from that association – it has recruited widely across the industry since launch in 2008 and five of the original UBS staff left earlier this month – it has not extricated itself as cleanly as it would have liked.
A painful court battle over client access had all the hallmarks of a difficult divorce and the air has yet to clear. In an interview last year, Scott told Citywire that UBS was one of the few City firms it did not work alongside – although he insisted that he had no objection to doing so, should the opportunity arise.
A fairer and more historically accurate association might be with Equitable Life, however, a company that shared Vestra's values, culture and ethos more deeply than UBS ever did, or aspired to. It was there that Scott launched his career and benefited from the company's sector-leading training programme, and where he was a contemporary of Chris Stothard, Vestra's current head of wealth planning.
'Equitable Life was in many ways like a club,' says Stothard. 'The training was first class and there are similarities between the company then and what Vestra is now: a perception among staff and clients of being part of a clique with something special.'
Vestra senior partner Julian Goodman, who has worked alongside Scott for almost all of his professional life, is another Equitable Life alumnus. The preponderance of senior staff with backgrounds in planning (Scott and Goodman alongside Philip Harris also founded high net worth advisory Scott, Goodman & Harris in 1997) has led to an unusual harmony between the wealth advice and wealth management, says Stothard.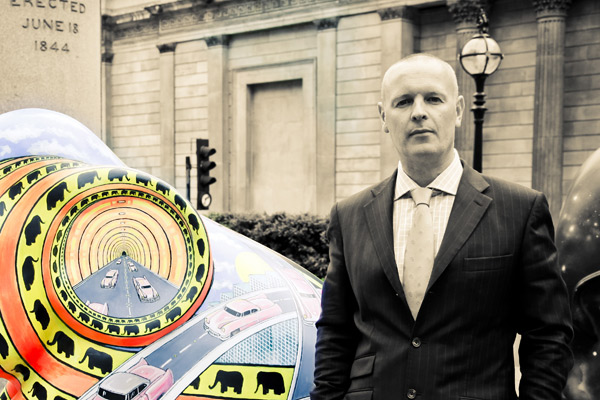 'It is all about the marriage of two different but complementary skill sets. I provide the structure and the investment manager provides the strategy. I was very happy at [previous employer] Brewin Dolphin but it took me about 20 minutes with David to convince me to come aboard. He told me what he wanted to do: provide investment management on a level par with planning in a company based on transparency.
'He offered me the opportunity to work together to put our ideas into practice. We have the retail distribution review (RDR) coming at the end of 2012, which we both believe will be a unique opportunity for industry-wide change for the consumer-focused marketplace. It was a chance to respond to that with a blank slate.'
Scott was born in 1967 in Darlington, and spent the early years of his career in international banking before joining Equitabole life in the late 1990s. 'I managed to join a company that during my induction period launched a major lawsuit, which of course went disastrously against them in the House of Lords in 2000, with some very upsetting consequences.'