Citywire printed articles sponsored by:


View this article online at http://citywire.co.uk/wealth-manager/article/a715039
Wealth Manager: Heartwood - why we sold to Handelsbanken
The Heartwood and Handelsbanken tie-up, which came into force earlier this year, may have been a surprise to some, but a closer look at the apparent complementary nature of the two organisations appears to make it a logical move.
Heartwood chief investment officer Noland Carter explains: 'If you are going to get yourself aligned with a financial organisation, then Handelsbanken is a good one to get aligned with in the current environment with their business philosophy and approach to clients being very similar to our own. Their decentralised business model allows people to do the job they have done in the past.
'Six months since we started working with them, they have not in any way tried to change or influence how we do business, which has been great. The opportunity with them is two-fold for us. One is they provide us with a potential new route to market through our private wealth management capability, but also for our Heartwood investment management capability.
'The second thing is they provide us with a fantastic balance sheet and deep pockets. They are in growth mode and in the UK they don't have a private wealth management or investment management capability.'
Carter is particularly positive about the potential that Heartwood Investment Management, its dedicated investment subsidiary, has to develop a proposition that can be rolled out through Handelsbanken's branch network to target smaller clients later down the line.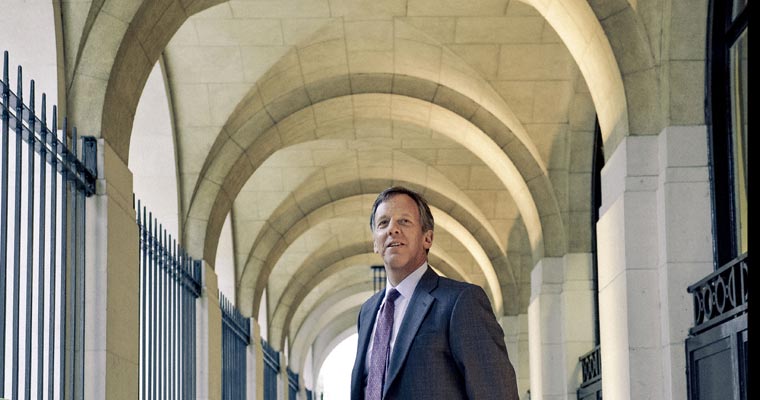 'It gives us opportunities for distribution, resources and they have lived up to their word to let us run the business the way we always have done,' he adds.
The firm's centralised multi-asset investment proposition has certainly gained traction since Carter joined the business as CIO back in late 2008.
At the time Heartwood ran three different investment propositions, which he quickly merged into one with a global multi-asset approach as its basis. Four strategies lie at its core – defensive, cautious, balanced and growth – which can be accessed through the firm's model portfolio service or fund range. All invest in the six major asset classes, with over 30 sub-asset classes accessed below that.
At a strategic level, he explains that views are taken on each asset class. 'They are merged together in an optimal mixture to create a long-term risk and return framework. Each of those strategies then sits on an efficient frontier and each strategy is managed relative to each other. They move up and down the efficient frontier together so there is always the same gap between them.'
More about this:
Look up the shares
More from us
Archive