Your BusinessRSS
The Alternative Investment Fund Manager Directive (Aifmd) risks raising the cost of closed-end funds and could have a detrimental impact on performance.
The Financial Services Compensation Scheme (FSCS) has declared Honister Capital in default and will accept complaints against collapsed IFA networks Sage Financial, Honister Partners and Burns Anderson.
Aberforth Smaller Companies trust director Paul Trickett has joined the wealth firm's board.
A gaping shortfall in client cash, transactions in frozen accounts and a two million unit discrepancy in  holding records have all been uncovered in the failed stockbroker's records.
Jersey-based boutique Affinity Private Wealth has surpassed its growth forecasts in its first year of existence.
Vestra Wealth has launched as US wealth division to address the complex regulatory and tax issues of investors with a transatlantic footprint.
Almost four years after Kaupthing Singer & Friedlander went into administration, Duncan Lawrie has received more than £370,000 from the Isle of Man Depositors' Compensation Scheme.
JO Hambro Investment Management went into its March part management buyout from Credit Suisse on the back of a near 10% rise in profits in 2012.
The Isle of Man's chief minister has sounded a warning on competing tax transparency rules, voicing concerns they could place an 'intolerable' strain on some firms.
A growing trend towards segmentation could drive profitability in the wealth management industry, according to a recent report by Pershing and Scorpio Partnership.
Two people have been arrested and questioned in connection to an insider dealing and market abuse investigation, the Financial Conduct Authority said.
Nine sports stars including England cricketer James Anderson and former Everton footballer Craig Short are suing their financial adviser.
Brewin Dolphin has named a new Leicester head as Charles Stanley added another 12 of the rivals' staff to support the local office it expects to open in six months.
As another successful event in Chepstow drew to a close, wealth managers took to the golf course to unwind ahead of the weekend.
On Citywire today
Citywire TV
Giving US companies a tax break on repatriated profits would go down even better than Apple's popular iBond, says the manager of JP Morgan American investment trust.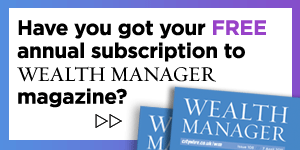 Wealth Manager features