Industry news
Cornelian faces the departures of Bill Bulloch, an associate director who sits on the investment team, and Dougie Robb, director of finance, compliance and operations.
Top investment insights
Time to kick that equity addiction, or let go of that desperate needy bond habit? We ask eight readers what they're planning to give up this Lent.  
OTHER STORIES
David Solo, group chief executive officer of GAM, has insisted that his group will not cut its fees to attract greater flows.
Our daily roundup of analysts' share recommendations and commentary, also including Shaftesbury and Devro.
Schroders Private Banking name to be consigned to history as Cazenove brand kept for enlarged wealth business.
Brewin Dolphin has launched a High Court action against Charles Stanley and six former senior Brewin employees in its Leicester office.
Henderson property securities head will retire from the firm in June to pursue some 'long-held personal ambitions'.
RIT Capital Partners, the £2.4 billion investment trust, has dramatically increased its debt in order to allocate more to absolute return strategies.
Microsoft founder Bill Gates has regained his spot as the world's richest person, according to Forbes annual billionaires survey.
Analysts are pleased to note listed managers have marginal representation on Hargreaves Lansdown's discounted Wealth 150+ list.
Highlights
And Poland, Hungary, the Czech Republic and Slovakia have urged the US Congress to help them buy American natural gas.
Funds are getting bigger and bigger, but can the managers handle the capacity? Jonathan 'JB' Beckett explores.
Catherine Grum joins Salamanca to head family office services.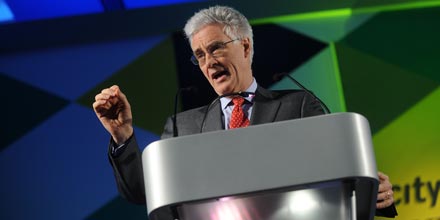 Citywire Wealth Manager Conference & Awards 2014: Day 1 pictures
We bring you the pictures from first day of the Wealth Manager Conference & Awards at Westminster Plaza hotel, which saw former FSA head Lord Turner take the stage.
CITYWIRE TV
Lord Turner, a fund pricing debate and a heroic tale from 'Touching the Void' mountaineer Joe Simpson were among the highlights from this year's event held at the Westminster Plaza hotel.
INVESTMENT TOOLS